7: Osney Lock Hydro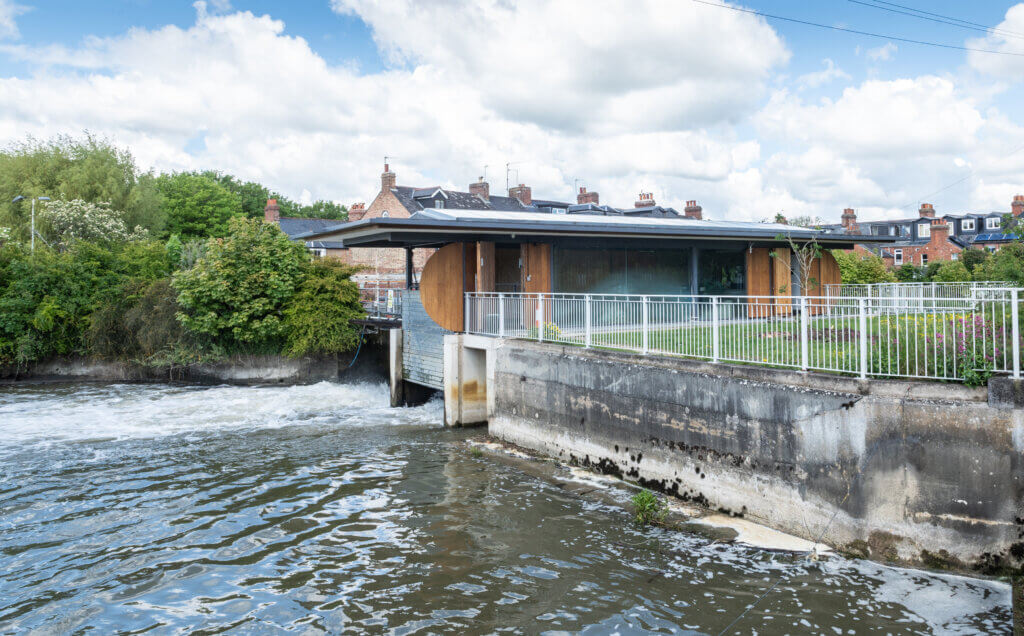 Osney Lock Hydro is the first community-owned hydro on the Thames. The £750,000 capital needed to build it was raised as community shares, with many of its 200 investors living locally. The hydro is managed by local volunteers.
The project contributes twice to reducing local carbon emissions. First, it generates green electricity. The 49kW reverse archemedian screw generates around 180,000kWh of electricity each year – enough to power 60 typical homes. The hydro typically generates throughout the autumn and winter, with generation depending on local river conditions. The powerhouse also has solar panels on the roof, contributing to summer energy generation.
The second carbon cut arises from the range of local community carbon cutting activity that is funded by the financial surpluses the project makes from the sale of the electricity.
As part of Osney Supercharge the hydro provided 'anchor load' generation data to the project. An 'anchor load' is a continuous, predictable, long-term use or generation of electricity. Two 24 kV batteries were also installed in the powerhouse. They enable power generated by the hydro to be stored on site, and dispatched on demand, to meet local need.
Real-time, live data about the energy generation and storage at the hydro was shared with the project, enabling us to build up a picture as to how collectively electricity was used, stored, and generated by participants in the Osney Supercharge trial. From the monitoring it was discovered that the combination of local generation and battery storage was sufficient to meet the electricity needs of trial participants on some days during the trial. Current electricity licensing regulations mean that the hydro is only able to sell to a single 'off-taker'. The electricity generated by the hydro is sold to the Environment Agency depot, just across the weir pool, and anything that they don't use is exported into the local grid.
Reflective questions:
Where is your nearest hydro?
Why do you think this location was suitable for a hydro scheme?
Do you think more hydro plants could be placed along waterways? What might the challenges be?
Resources and reports:
Osney Supercharge was just one of many trials that took place across Oxfordshire as part of Project LEO. See what we learned in Project LEO Final Report; A digest of key learnings and hear the reflections of Project LEO partners in this video
Learn more about Osney Lock Hydro and check their opening times on their website.