Energy Solutions Oxfordshire (ESOx)
The complete energy efficiency service helping organisations lower their energy use, while saving time and money
Energy Solutions Oxfordshire (ESOx) is a one-stop service, making it simple for businesses and organisations in Oxfordshire to undertake energy efficiency improvements to make assured savings on their energy bills, reduce their carbon emissions, and improve the comfort of their buildings for staff and customers.
Many organisations are keen to undertake energy efficiency improvements in their buildings but struggle to find the upfront capital. That's why we've built 'assured savings' into Energy Solutions Oxfordshire. Financial risk is removed through identifying financing and loan opportunities for those upfront costs, with the payments covered through assured savings on energy bills.
To drastically reduce our carbon emissions, we must quickly address the high energy usage of our buildings – increasing energy efficiency and reducing energy demand. We are thrilled to be a partner on this innovative project, supporting Oxfordshire businesses to implement energy efficiency measures, reducing their costs and carbon emissions.

Barbara Hammond, CEO of the Low Carbon Hub
If you're interested in the service please head to the ESOx website and fill in our online survey as a first step – or contact our ESOx Business Development Manager, to find out more.
How does the service work?
There are several stages to the process of having energy efficiency measures installed. Our role at Energy Solutions Oxfordshire is to act as the project manager for the whole process, saving you time with help and guidance from our expert team.
You can watch a video of the Energy Solutions Oxfordshire process at work in this video, detailing energy saving measures at a 1990s office building on a small business park in Kidlington, Oxfordshire.
How did the programme come about?
Energy Solutions Oxfordshire formed part of a wider project led by EP group called ESCO-In-A-Box (ESCO is an abbreviation for 'energy services company'). They believe that the best way to engage organisations with energy efficiency work is through trusted, local support – equipping local community-based organisations with the knowledge and tools to deliver energy efficiency projects for organisations, based on internationally established good practice.
The project was part-funded by a £1.1M grant from the UK Department for Business, Energy, and Industrial Strategy through their Boosting Access for SMEs to Energy Efficiency (BASEE) competition programme which powered the development of a unique community ESCO-In-A-Box – Energy Solutions Oxfordshire.
This funding formed part of the Government's Clean Growth Strategy (2017), a commitment to enable businesses to improve their energy efficiency by at least 20% by 2030.
EP Group worked with Energy Solutions Oxfordshire to lead the development of ESCO-In-A-Box. This virtual box – filled with low-carbon resources, best practice guides, and practical tools – helps local authorities, organisations, and community co-ops to offer energy efficiency support.
Other ESCO-In-A-Box projects are now being established in Greater Birmingham and Solihull, as well as Kenya.
In 2021, the countrywide Energy Pathfinders: 2050 competition awarded a first place prize to EP group for its 'ESCO-In-A-Box' project.
This business model aims to prove that a local, trusted organisation can successfully deliver energy efficiency services to SMEs provided they are equipped with the right toolkit: standardised project development process, vetted technology partners and contractor, guaranteed savings and suitable finance.

Alex Rathmell, Managing Director of EnergyPro
Oxfordshire is the pilot area for this work, through the Low Carbon Hub involvement in the project, as well as the Oxford Brookes Environmental Information Exchange (EiE) team, who are providing energy auditing, feasibility, and project management. Together our two organisations are acting as the first 'franchisee' of the ESCO-In-A-Box toolkit, setting up Energy Solutions Oxfordshire to deliver the service and test the model.
We already have a growing relationship with local businesses in Oxfordshire through running the OxFutures programme since 2017 – this initiative aims to boost the low carbon economy in Oxfordshire by offering free energy audits to SMEs, as well as the opportunity to win grant funding to part-pay for implementation and innovation.
Energy Solutions Oxfordshire allows us to offer an additional route to businesses that are unable to provide the upfront capital to make use of OxFutures grants.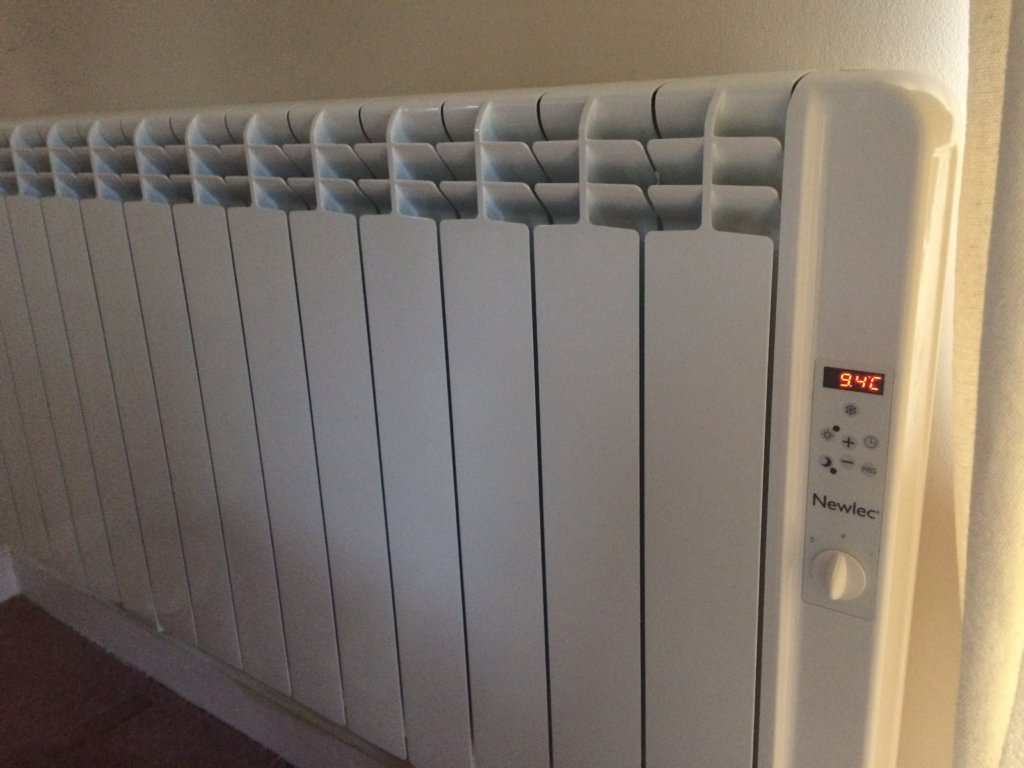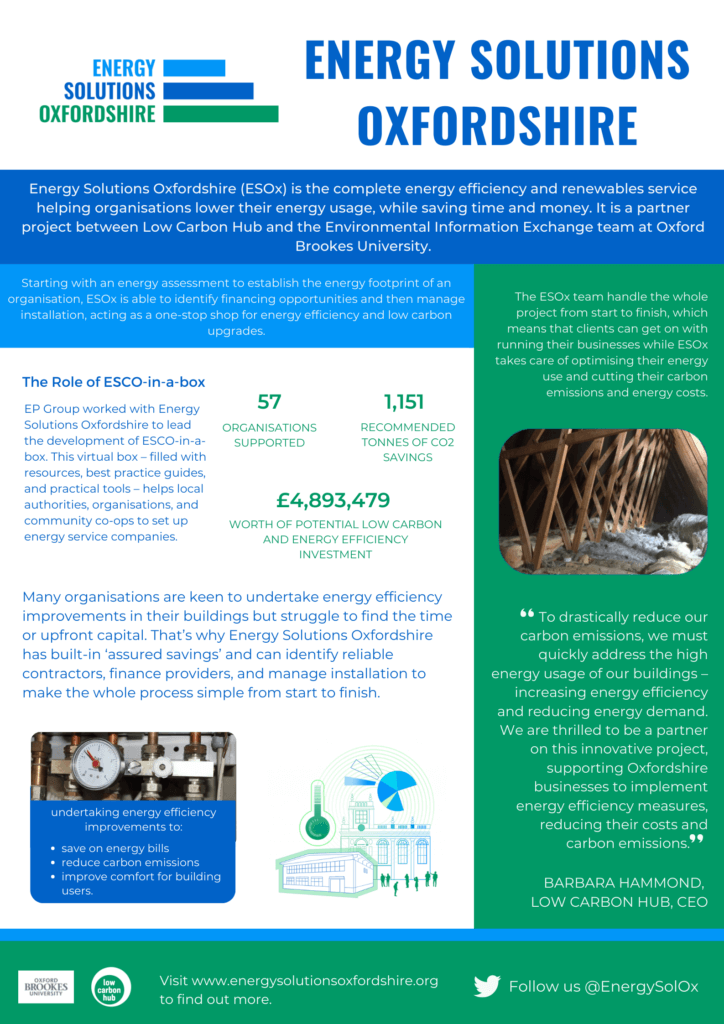 News story

Join us for webinars on energy efficiency for businesses This autumn Energy Solutions Oxfordshire is holding a series of fortnightly online webinars exploring topics relating to the importance of energy efficiency for businesses – how it can help organisations save money on their energy bills, improve comfort for staff and customers, and do their bit…