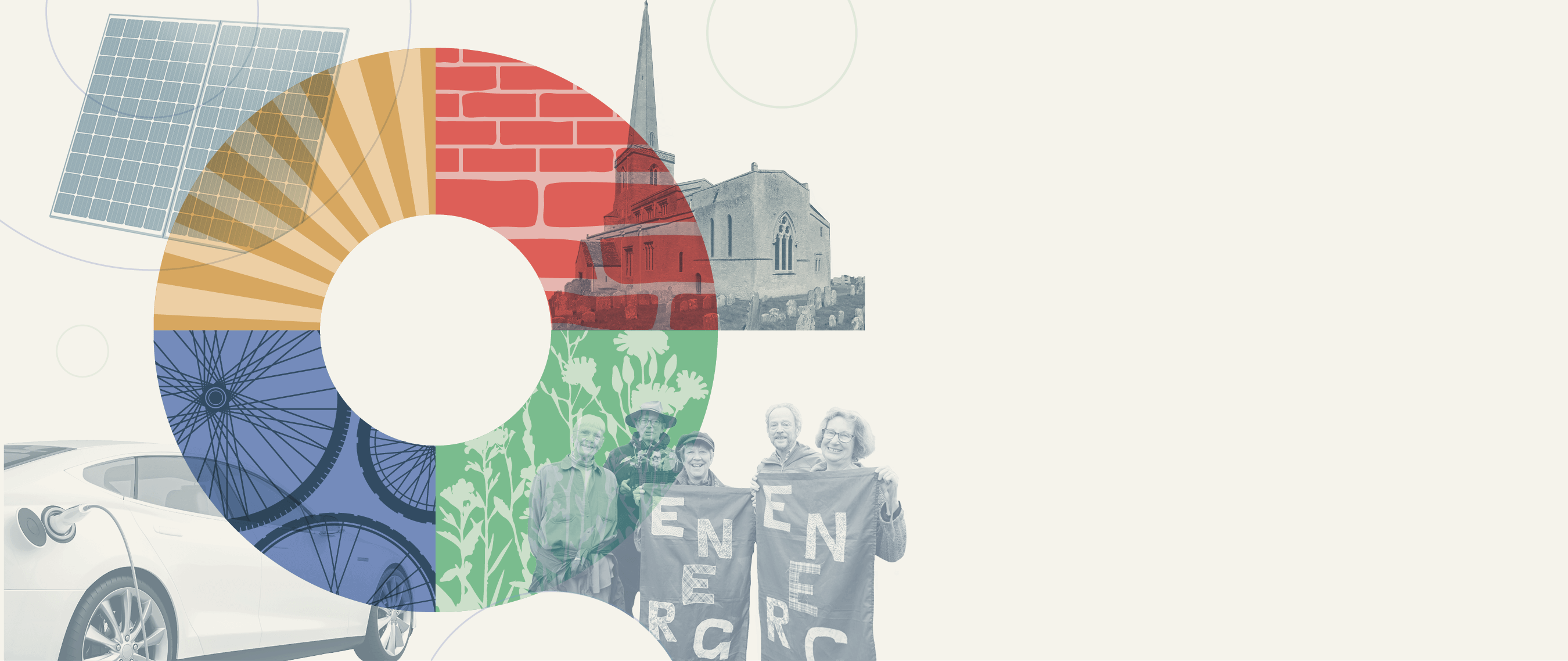 Community Action Plan for Zero Carbon Energy (CAPZero) is the first local energy action plan in the UK developed at a community level.
The plan has been prepared as part of Project LEO (Local Energy Oxfordshire) a national innovation project; this is the CAPZero Summary Report.
The Cuckoo Lane electricity primary substation area includes all or parts of the parishes of:
Cassington
Eynsham
Freeland
Farmoor in Cumnor
Hanborough
North Leigh
South Leigh
Stanton Harcourt & Sutton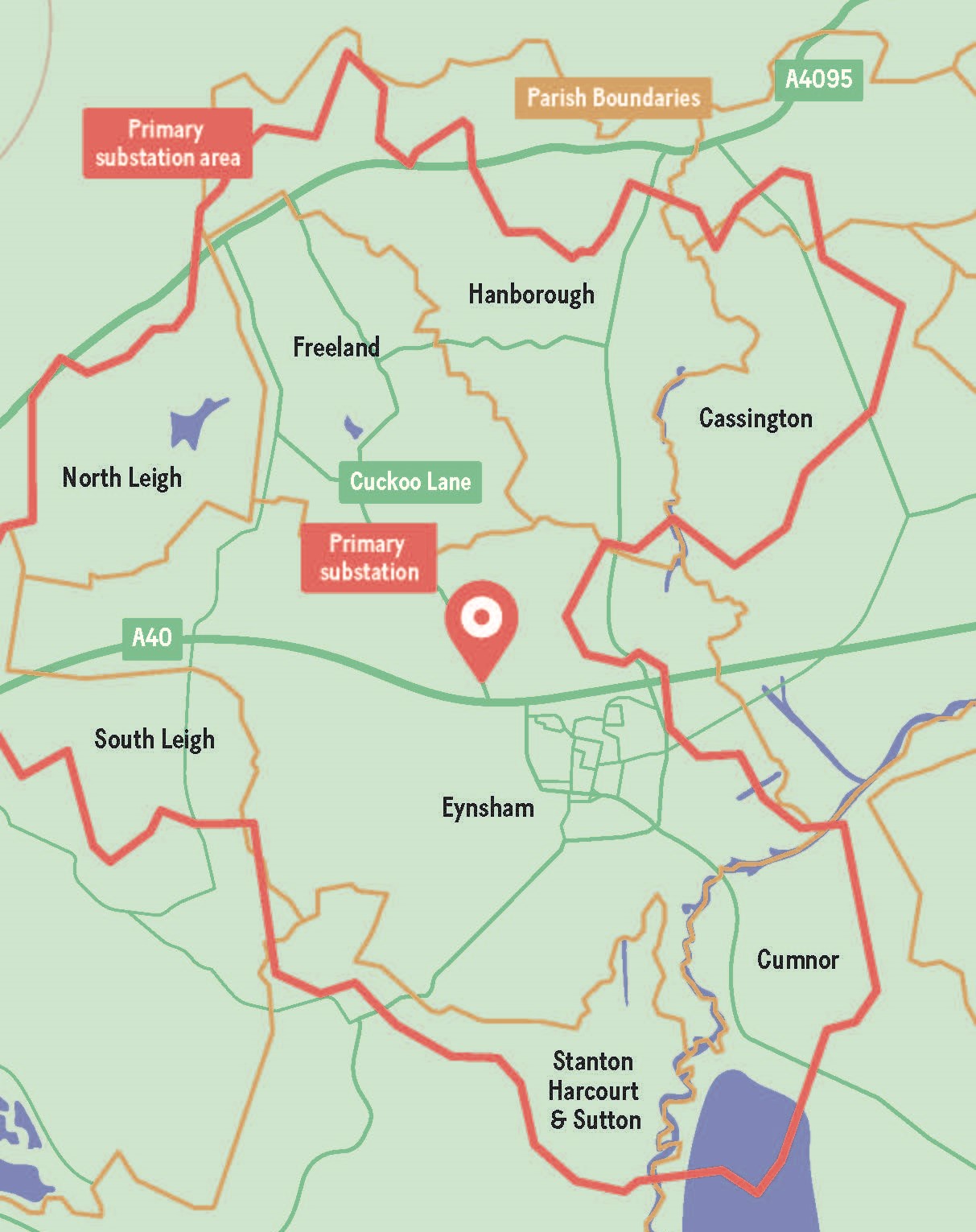 The UK has set a legally binding target to achieve a 78% carbon reduction by 2035, and net zero by 2050. Our whole energy system needs to change to reach that target.
---
Our vision
To reach net zero and have a cleaner, greener energy system as soon as possible. To do this we need to halve energy usage and double our renewable energy generation. A zero carbon energy system is possible if we act now, both locally, at primary substation level, and nationally.
What is a zero-carbon energy system?
The energy system we currently have is partly powered by fossil fuels like oil and gas, and energy is responsible for most of our carbon emissions. We need to change to renewable electricity, for our heating and transport needs, and we need to improve the fabric of our existing and new buildings.
Why the primary substation area?
This focuses on the primary substation area because that is our local network where we all live and work and can make a difference. Energy planning is usually done at a larger scale, but we want this action plan to be at a community scale and be a useful model for others to follow to speed up the move to zero carbon.
We CAN do it!
Extensive modelling has shown that we can reach zero carbon energy by 2050 and we can generate all the energy we need locally over a year. Although we hear a lot about the government target to achieve net zero by 2050, there is mounting evidence that we need to be much more ambitious, so we have set targets for 2030 as well as 2050 (in line with Pathways to a Zero Carbon Oxfordshire).
---
Urgent actions we need to take by 2030 to set us on the path to net zero by 2050…
Reduce our energy usage and switch to renewable energy sources:
40% of existing households in the primary substation area could install energy-efficient measures such as improved loft and cavity wall insulation, rooftop solar panels, and replacing gas boilers with heat pumps.
We learn how to balance energy needs within our homes and buildings, allowing home and business occupiers to generate and store the energy they need through rooftop solar installations and batteries.
Building better:
Make sure the new houses built by 2030 are built to LETI zero carbon standards, which are 35 kWh of energy demand per square metre, and generate their own electricity.
Smarter, more efficient businesses:
20% of all businesses develop an energy strategy.
70% of large businesses to have their zero-carbon energy transition largely completed.
A smart and connected community:
Invest in safe, accessible routes for cycling and walking between key areas.
Realtime information on transport and energy available across the area.
35% of households reduce their energy bills by having 'Time of Use Tariffs', by avoiding energy use during peak periods.
Install vehicle-to-grid battery technology when it becomes available, as it can help to store and balance our energy needs.
At least 40 MWp of new solar ground mount with 25MWh of new batteries installed.
What new opportunities should we explore to help achieve these aims?:
Shared heat networks, such as ambient shared ground loops with heat pumps.
The option to buy electricity directly through a local renewable energy organisation could help reduce the costs and maximise the benefits of the change for everybody.
Smart community energy schemes which would allow the community to trade energy locally.
Shared local energy storage.
---
How do we get started?
Parish and district councils:
Adopt CAPZero plan and targets in planning policy.
Include the CAPZero in planning consultations.
Share the information with businesses and households.
Households:
Head over to Low Carbon Hub and GreenTEA websites for further information.
Look out for news on follow up pilot projects and see whether you can get involved.
Talk to your neighbours about what you can do in your street.
Check-out case studies on the Cosy Homes Oxfordshire website and try out the free Plan Builder tool to see what energy efficient measures might work in your home.
Businesses:
We believe the transition to zero carbon will build a stronger and a healthier world. Everything, everywhere…starting now 2023!