Celebrating Our 2023 Social Impact Report
We are thrilled to present our highly anticipated 2023 Social Impact Report, showcasing the impact we have created over the last financial year. This is a summary of the contribution we have made towards the creation of an energy system that's good for people and good for the planet.
2022/23 was an incredibly busy year, with:
Ray Valley Solar, the largest community-owned solar park in the UK, started generating with a total installed capacity of 19.2MW.
we commissioned two new rooftop solar PV arrays 12.46 GWh of renewable electricity generated.
over £4.2 million of community benefit activities carried out across Oxfordshire, supporting individuals, communities, and organisations and catalysing innovation
100 new active partners, reflecting our commitment to collaboration with individuals, groups, and organisations across all strands of our work.
The last financial year was one of successful conclusions. Project LEO concluded on Friday, 31 March, with celebrations including an event at the House of Commons sponsored by Chris Skidmore MP who led the Mission Zero report for the government. The six-year OxFutures programme also drew to a close having achieved a massive boost to low carbon business development in Oxfordshire. And Ray Valley Solar came online in August 2022, resulting in a five fold increase to our renewable energy generating potential.
Our commitment to energy efficiency continues through programmes such as Energy Solutions Oxfordshire, Cosy Homes Oxfordshire, and Action on Carbon & Energy in Schools, and our Energy Advice programme trained Energy Champions to help people struggling with the spiralling cost of energy.
It was also the year where the pivot from our first ten years to our next ten years started happening in earnest. With the addition of RVS to our portfolio, we have the asset base of a medium-sized enterprise and can forecast our business out for at least the next 40 years. The engine of community-led carbon reduction we had imagined in 2010 is firmly in place and ready to super-charge our impact.
How we measure our impact
Metric 1: Planet
We want to protect our warming planet with a better energy system. We do this with 'powering up' projects which supply renewable energy, such as our solar schools and Sandford Hydro. We also work on 'powering down' to reduce energy demand, with energy efficiency programmes such as Energy Solutions Oxfordshire for businesses, Cosy Homes Oxfordshire for homes, and Action on Carbon and Energy in Schools.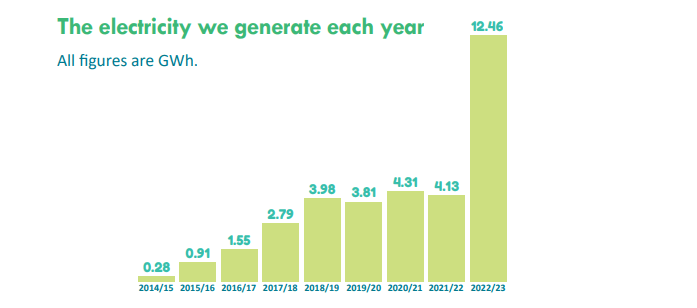 Metric 2: People
Community energy is a grassroots, people-centred movement for change. The success of Low Carbon Hub is due to the phenomenal support of individuals and organisations. Everyone can play a part in making the shift to a sustainable energy future.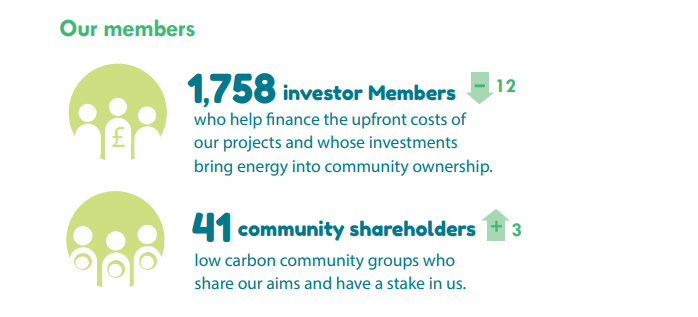 Metric 3: Prosperity
By pooling energy, enthusiasm, knowledge, and expertise, our projects create collective wealth, and keep more of the money we spend on energy in the local economy.
The benefits of our installations are then shared:
Investors get a return on their investment for helping fund the upfront costs of our projects.
The host organisations – schools, businesses, organisations, and innovation pilots – get discounted electricity and a cost-effective way to reduce their carbon footprint.
Low Carbon Hub has a sustainable income stream to support further local action to tackle the global issue of climate change through advice, practical help, and grants.

Metric 4: Perception
We are committed to developing a sustainable energy system that works for everyone. We aim to be a transparent and trusted partner, and to share knowledge and expertise openly. In April 2023 we conducted our seventh 'How are we doing?' survey to see how our members, partners, and supporters think we're doing and to learn how we can improve.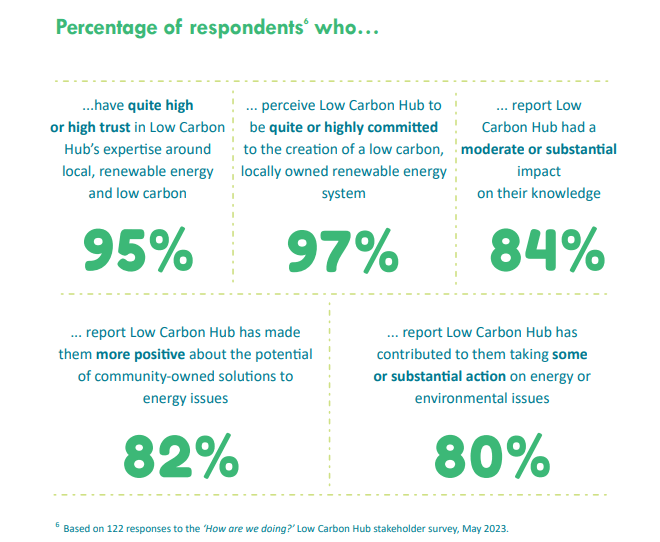 Thank you to our members and partners: through your collective dedication and support we have been able to push the boundaries of innovation and sustainability, ensuring a brighter and greener future for Oxfordshire and beyond.