The impact of OxFutures on the low carbon economy in Oxfordshire
The impact of OxFutures so far: case studies
OxFutures is a programme that offers free energy audits to SMEs (small and medium enterprises) in Oxfordshire to identify energy-saving opportunities, which will reduce energy bills and cut carbon emissions. The project also has grants available to part-fund implementation of the measures recommended by the audit, as well as innovation grants which are available to support innovative low carbon start ups or technologies.
The programme has been running for three years and has achieved an incredible amount in this time, including:
Delivering 136 energy audits to organisations in Oxfordshire.
Making 800 recommendations on how to save energy and cut carbon emissions – 40% of these recommendations have been implemented, and 28 of those were done with OxFutures funding.
Supported the creation of 4 new low carbon start ups, as well as the development of 6 new low carbon products and services from existing businesses. There are also 4 more products close to completion, but which have been delayed by the lockdown.
Run 12 conferences or workshops for 650 people.
Delivered 3110 hours of support.
Sparked both Project LEO and Energy Solutions Oxfordshire, bringing £41m of low carbon funding into Oxfordshire.
In this blog, we're showcasing some of the energy efficiency projects that have been funded by the first three years of the programme.
We also recently announced a three-year extension to OxFutures, allowing the delivery of 45 additional energy efficiency audits and grants for SMEs as well as funding for six more low carbon innovation projects– we're very excited that the programme will be able to continue supporting SMEs like those in this blog.
OxFutures Case Studies
EV Carshop
EV Carshop is a start up committed to accelerating the electrification of mobility across the UK. They supply vehicles, charging and know how, all the way from installing infrastructure to vehicle comparisons, and understand what businesses need to know to make informed decisions.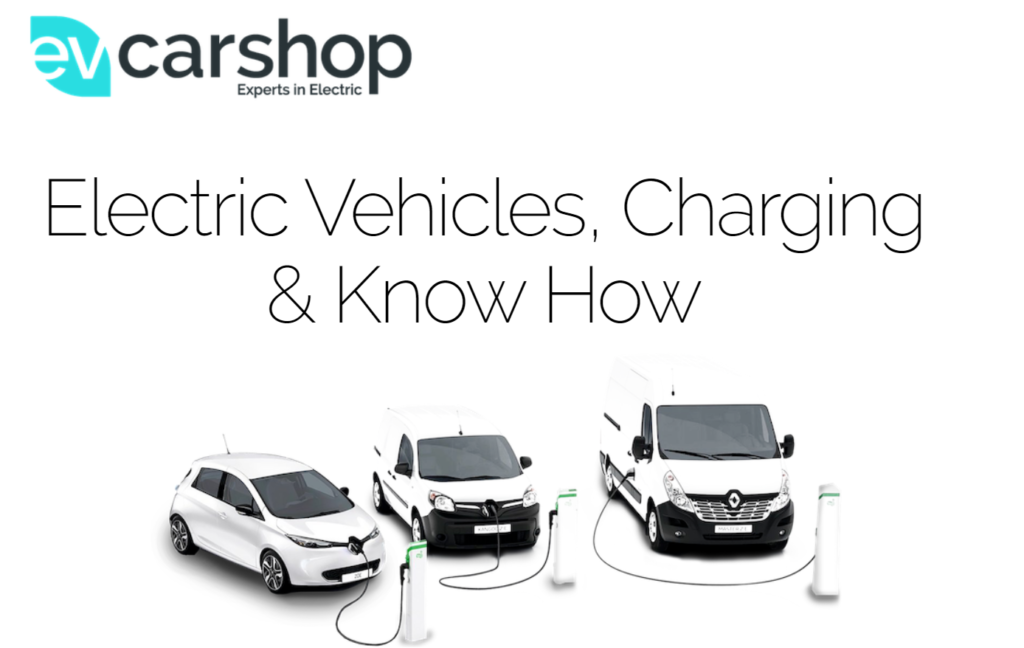 EV Carshop sought the support of an OxFutures grant at a critical time in their development. It was vital that in all areas, they preserved their impartiality and independence, with processes, products and services built from the ground up and developed bespoke to the needs of the clients (rather than for the benefit of the dealer and manufacturer).
The early cash flow from the OxFutures GreenFund Grant allowed us to take the time to foster relationships that helped bring this vision to reality. Extending the impact of the financial support from our incredible early stage investors and allowing us to develop and test unique new in-house products and services bespoke to the needs of the EV driver.

Holly Peters, EV Carshop
3Keel Sustainability
3Keel is an Oxford-based firm of sustainability advisors specialised in working with food systems, supply chains, and landscapes. They take their own environmental and social impacts seriously and are committed to going 'beyond the minimum' in all aspects of their work. By upgrading their electric heating system to utilise more modern technology (Wi-Fi controllable independent thermostats on each unit) as well as simple things like adding sensors to extraction fans they have been able to reduce the amount of energy they use and increase their savings.
In addition to these more technical changes, 3Keel also changed all their lighting to LEDs and installed a 9.7 kWp solar array on their roof. The solar array is now making them a significant net exporter of electricity in the late spring to early autumn and is delivering about half of their total energy demand.
Higgs Group
Higgs Group printing and publishing company received an OxFutures grant from GreenFund to install new lighting and insulation to increase the energy efficiency of their building.
Staff at the Higgs Group had several issues with their lighting – they had maintenance issues with them regularly and didn't like the way they looked in the shop and advertising area. Very few of the lights that were originally installed in the building were LEDs, therefore, by changing them over Higgs would be able to save thousands of pounds through reduced energy bills, as well as improving the atmosphere in their offices and shop spaces.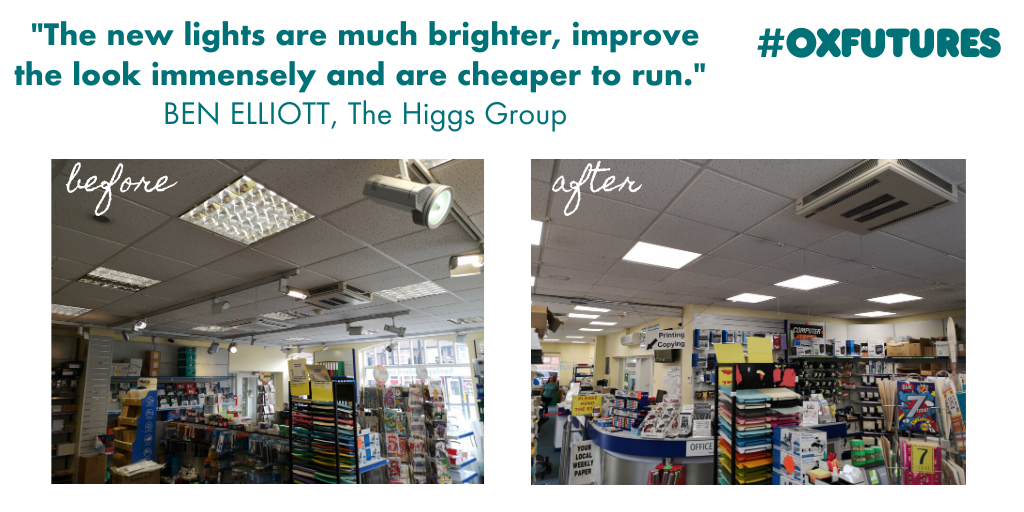 The Abbey
The Abbey is a conference and retreat centre built between the early to mid-1200s and late 1400s. Staff at The Abbey wanted to improve their guest experience, whilst also cutting their energy bills and their carbon emissions. Following their energy audit, they decided to prioritise their guesthouse and used grant funding from OxFutures and the Trust for Oxfordshire's Environment (ToE2) to implement the recommended measures, including installing loft insulation to reduce heat loss.
The Abbey drew on an existing collaboration with Shed Oxford, a volunteer group of upcyclers and recyclers who are based on their site, to install most of the measures for free, reducing the installation costs.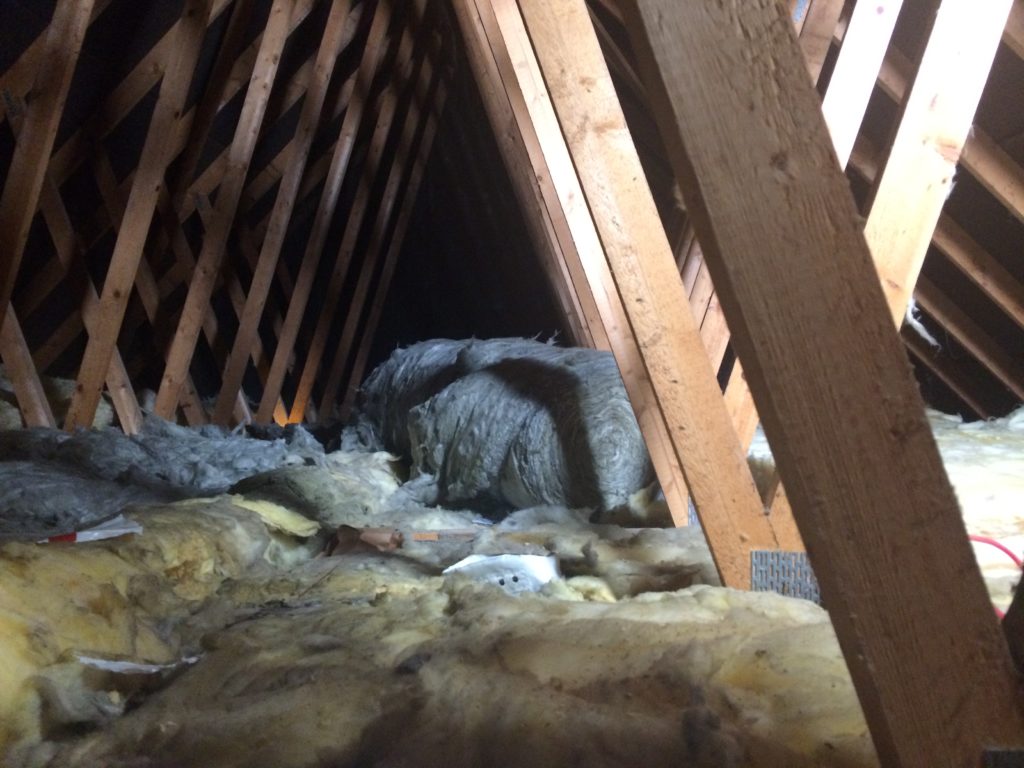 Oxford River Cruises
Oxford River Cruises have made significant progress on the conversion of their fleet to electric vessels as part of their effort to reduce their overall energy consumption.
Benefitting from an OxFutures grant, Giles Dobson (owner of Oxford River Cruises) has been able to convert his third passenger boat to electric propulsion. Oxford River Cruises currently operates three passenger boats, two of these are 12 seat vessels and are already electrically powered.
The electrification of the 50-seat vessel, the Serafina, will make it the largest electrically powered boat on the Thames and an example of what can be achieved in electric transportation. The project with Serafina is pushing on even given the current restrictions but, at the moment, there unfortunately isn't a clear idea when she will be back in service.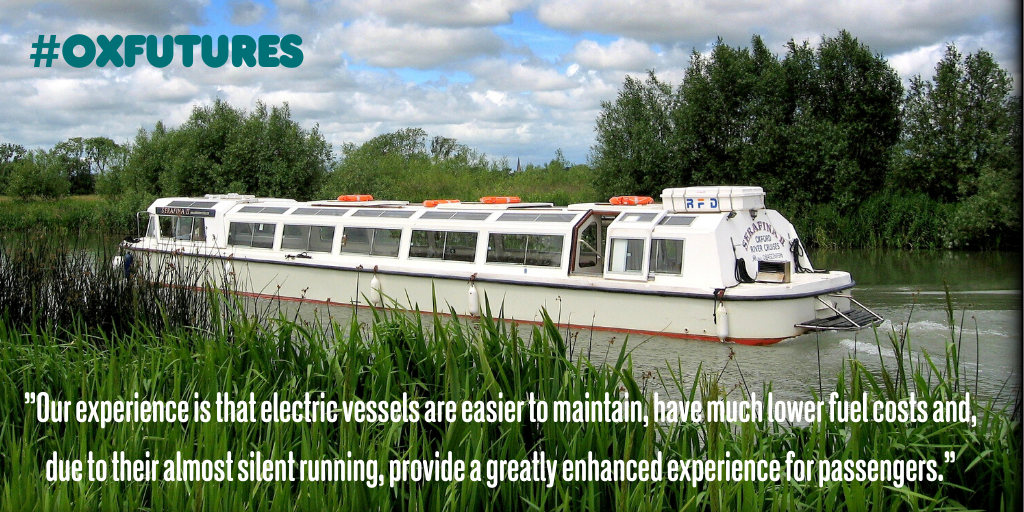 Hill End
Hill End has been offering unique outdoor learning experiences since the 1920s. They are a multi-use site, providing a diverse range of outdoor activities and facilities to schools and organised groups. They contacted Ox Futures and the Low Carbon Hub to investigate how much energy they were using and how best they could reduce wastage and improve the experience of their customers at the same time.
One of the dormitory buildings has since replaced the previous draughty units with double glazing. Hill End have seen a saving in their energy bills with consequent reduction in their carbon footprint, whilst also being able to extend their residential season into the winter.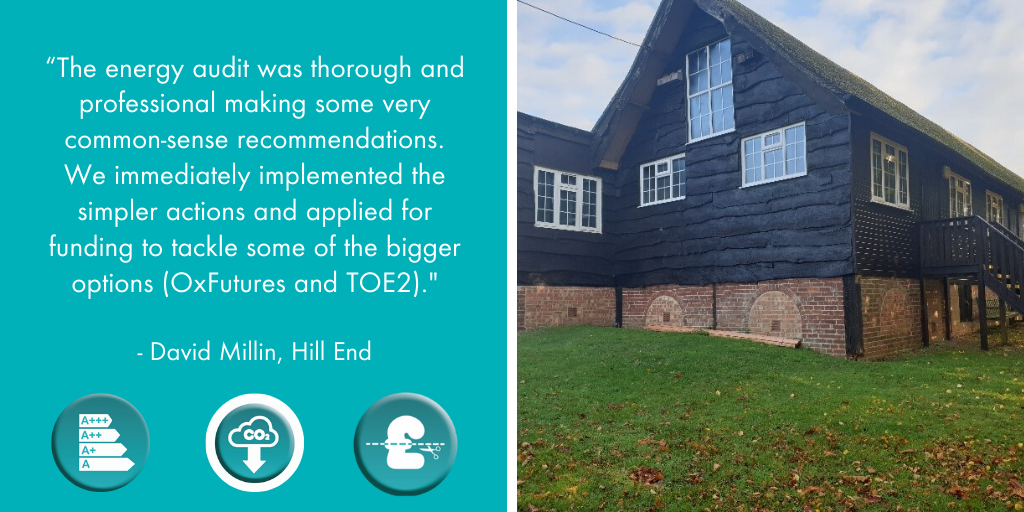 Pietersen Fine Furniture
Pietersen Fine Furniture Ltd specialises in the manufacture and installation of bespoke furniture and fitted interiors.
Staff at Pietersen Fine Furniture realised that they could reuse/recycle the waste that was created from the manufacturing of the furniture to generate heat for the workshop. It was determined that if the organisation had a more effective biomass heat system, specifically one that would burn MDF as well as 'unprocessed' woods then this would increase the quality of heat occupying the workspace. An OxFutures grant allowed them to install this improved biomass heating system, reducing their energy costs and carbon emissions.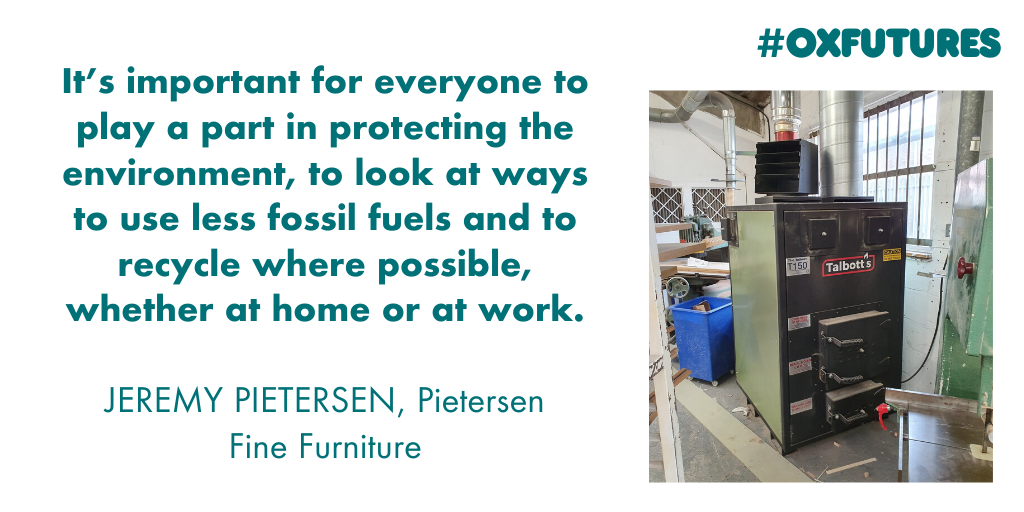 The Mix
The Mix in Wantage offers skills workshops, upcycling activities, resource swaps, repair cafes, meetings and information, as well as hosting hot-desking and local groups. The motivation for getting in touch with OxFutures and getting an energy audit was prompted by the cancellation of a couple of events over the winter due to the lack of heating and insulation making it a rather unpleasant environment to be in. Even when using plug-in heaters on full blast it wasn't a warm space and they knew that by implementing several measures they would be able to change the atmosphere and usability of the space for their community.
By changing to an electric boiler heat pack system from Scoop Electrical Services, the space is now a much more welcoming temperature for users at all times of year. They also installed a radiator in the bathroom rather than a heater as then it comes on with the rest of the system and there's less chance of it being left on accidentally.

Over the next three years we are looking forward to partnering with Oxford Brookes' Environmental Information Exchange (EIE) team to deliver 45 more energy audits, as well as continuing to support innovation projects, encourage knowledge sharing, and provide grant support for new low carbon start-ups and those developing new technologies.
Read next…
News story

Three more years of OxFutures! We have some extremely exciting news: a three-year extension to the OxFutures programme has been approved, meaning we are now able to continue the programme through to 2023. The extension will be continued by partners, Low Carbon Hub and the Oxford Brookes Environmental Information Exchange team, and means that we…