Project LEO (Local Energy Oxfordshire) is an ambitious, wide-ranging and innovative trial, seeking to accelerate the UK's transition to a zero-carbon energy system.
This collaborative project aims to provide the evidence needed to support the policy changes and investment needed to create the technological, financial and social conditions for successful systemic change.

Project LEO is:
Testing new market and flexibility models – exploring new products and services that create new opportunities to benefit from the way we generate, store and use energy in our homes, organisations and communities
Advancing the capabilities of networks to manage smart, renewable and storage technologies – learning what needs to happen to our electricity networks to make them ready for a change to a local energy system.
Facilitating local participation in the energy system –ensuring that individuals, households and organisations are part of the energy transition
Through Project LEO we will demonstrate how a smart, local balanced energy system can bring social, economic and environmental benefits for all.
Project LEO explained in our two minute animation
Find out more at the Project LEO website
People and communities first
Our energy system is changing. Increased local generation and storage, electrification of our heating and transport systems, the rise of flexibility services to help balance the grid in real time will require a smarter way of managing our energy system.
But its more than just the wires and switches that make up its physical infrastructure. It's a social system, developed by people for people. As we make the transition to zero carbon energy, the changes required will be just as much about people and the way they interact with it as it is about technology. Communities and people need to be at the heart of our new energy system.
We want to make sure that no one is left behind in the transition to a new energy system and that everyone can realise the benefits.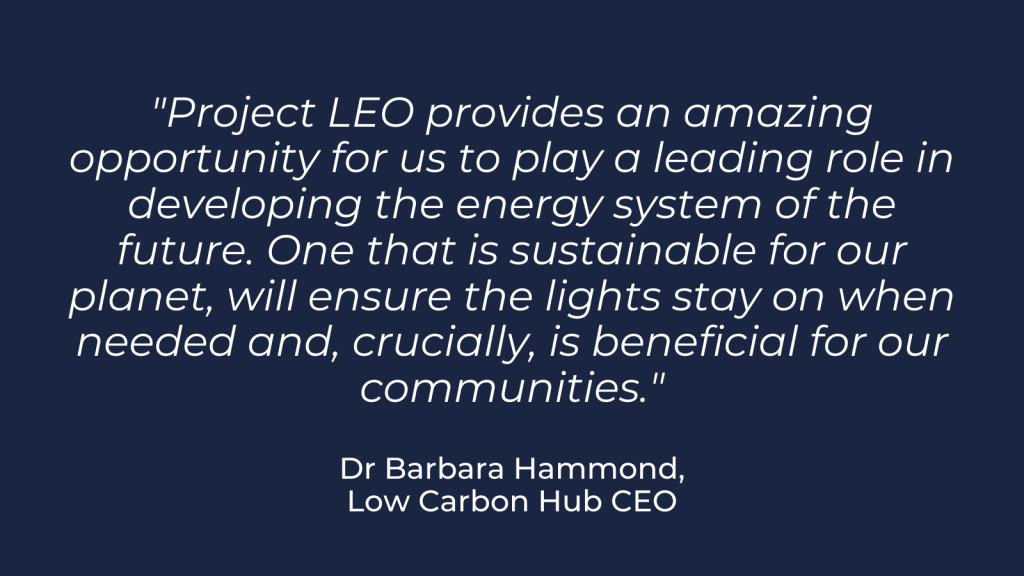 What is the 'grid edge' and why is it important?
The 'grid edge' refers to where electricity is put to use in our communities, homes and businesses. It is crucial part of the picture because the way we use energy in our lives needs to change just as much as the technology and financial systems.
We believe that our collective actions can have significant impacts. We want to encourage lots of local participation in the new energy system to ensure we all feel the benefits.
Flexibility services – meaning changing the generation or consumption pattern of an energy asset – at the grid edge are vital part of meeting our zero carbon targets and creating systemic change.
How to be flexible?
When local supply capacity is tight, we could:
Reduce our energy demand or shift it in time e.g. turning the washing machine on a different time of day
Increase local generation
Discharge a battery
When there is too much local generation:
We can turn generation down (responsive generation)
Charge batteries
Increase demand by pre-heating water, pre-cooling buildings, rescheduling tasks etc.
Making room for more demand with what we've already got:
With intelligent coordination we can make room for EV charging, heat pumps etc while minimising the need for infrastructure investment
Building a knowledge base
Project LEO is building the capacity of individuals and organisations to adapt and work within a new energy infrastructure – one that is based on a smart local energy system (SLES). Through trials and demonstrator projects, we are building up a bank of valuable data and insights that can be used to support policy changes in the UK's energy transition.
Change is happening – let's be prepared
There is no 'one' solution to meeting our zero carbon targets. Flexibility services are just one of the pathways to this change. Our work through project LEO will help develop the plans, policies, technologies and investments now to enable them to function at the scale and speed required.
These actions are necessary as without them, we won't achieve the scale of change required to meet net zero carbon targets by 2050.
Change is already underway. But we need more evidence to support and inform the right strategies to meet net zero targets.
The team:
Project LEO is a collaboration between:
Scottish & Southern Electricity Networks
Low Carbon Hub
University of Oxford
Oxford Brookes University
EDF energy
Piclo
Oxfordshire County Council
Nuvve
Oxford City Council
Origami
It is funded by:
Find out more about Project LEO


Watch these videos to find out more
Hear from our Smart and Fair Neighbourhood communities:
Hear from our project partners: