Coalition For Healthy Streets And Active Travel: creating accessible, attractive, and people-friendly streets
Coalition For Healthy Streets And Active Travel (CoHSAT) project summary
The Coalition for Healthy Streets and Active Travel (CoHSAT) is a group of voluntary and campaigning organisations working across Oxfordshire to create attractive, accessible and people-friendly streets. They are working to promote efficient, active, low carbon and sustainable travel, which will reduce traffic, air pollution and noise, and enable healthy and thriving communities.
The group has been supported by Low Carbon Hub funding through our community grants programme.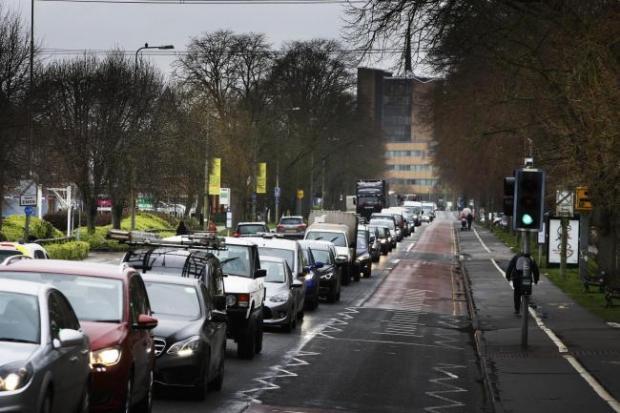 How the project came about
Each year every Community Member of the Low Carbon Hub is eligible to apply for a large grant of up to £5000, to support carbon-cutting activities. We are usually able to award 2-3 large grants.
In 2019 Low Carbon Oxford North applied for a large grant for their 'Healthy Streets and Active Travel' project. They were part of a recently-formed coalition focused on reducing pollution and traffic congestion in Oxford in order to improve air quality and make streets healthier to use. At the time they submitted their grant application, transport was the cause of 40% of all carbon dioxide emissions in Oxfordshire.
The organisations who are part of the Coalition are:
CoHSAT also work closely with the University of Oxford and Oxford Brookes University, Oxford City Council, Oxfordshire County Council and Oxford University Hospital Trust.
We were thrilled to be able to offer CoHSAT a Low Carbon Hub community grant to get started on several projects around air quality and low carbon transport in Oxford, which you can find out more about in the rest of this project summary.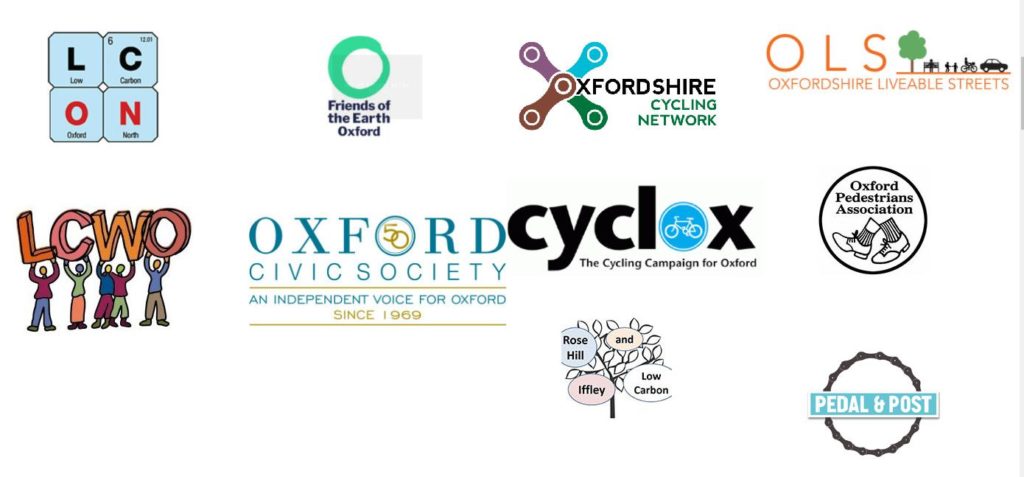 The first year of CoHSAT
In 2019-20 CoHSAT successfully appointed a part-time Project Manager to begin project work and the website was launched. The group defined five projects that they wanted to work on, supported by our grant funding.
Active Travel in Schools
A growing number of schools across Oxfordshire are active on environmental issues. High on the list for many is the issue of air pollution, with schools being near to roads with heavy traffic. Pollution is also made worse by many people driving children to school and causing congestion in nearby streets.
CoHSAT worked with Oxford Friends of the Earth to carry out a survey of primary schools in Oxfordshire to collate information on existing active travel plans. They then held a 'Clean Air Day' seminar on 20 June 2019, where they disseminated best practice gathered from the survey responses, with speakers from Windmill, Cherwell, and Botley Schools. As a direct response to the 'Clean Air Day 'seminar, Oxfordshire County Council have pledged to increase spending on improving air quality around schools.
Another piece of engagement work on this project was a competition for children, which was launched earlier this year in partnership with Oxford City Council to design an active travel banner.
The eventual aim is to set up an Oxfordshire Schools Clean Air Network (OxSCAN) which Oxford Friends of the Earth is supporting – so far there is a database of 55 schools positively interested in active travel.
Parking and deliveries at Oxford Colleges
The University of Oxford has been gradually reducing the number of departmental parking places, but it has no jurisdiction over the autonomous Colleges. Little is known about how many parking spaces the Colleges possess, but it is probably in the 1000-1500 range.
CoHSAT wanted to research the factors that might influence individual colleges to voluntarily reduce their car parking provision. They also surveyed College bursars to understand the issues around parcel delivery and establish an evidence base for taking action to reduce deliveries and their impact on air pollution and carbon emissions.

Their research found that around 3,000 parcels are delivered each day to the colleges, primarily for students. This causes obstruction on the roads outside, pollution from the diesel vans, inconvenience at the porters' lodges and excessive packaging for college disposal. A survey of 1,220 students and staff indicated few options to reduce their demand for on-line shopping: it appears here to stay.
Suggested interventions, therefore, are replacing the diesel delivery vans with cargo bikes (for small parcels) and out-of-hours electric vehicle for large parcels. The City Council has now taken over policy development on parcel deliveries.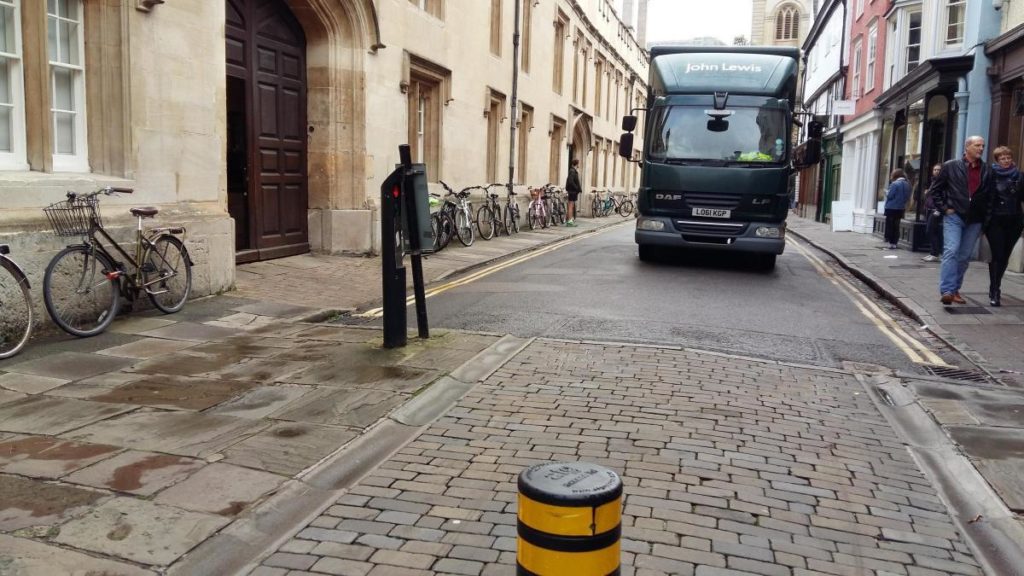 Florence Park healthy streets
CoHSAT wanted to find out more about what residents of Oxford think about their local neighbourhood, and particularly the health of their streets. They chose two areas to survey: Florence Park and Headington Quarry using the Healthy Streets Approach successfully trialled in Waltham Forest, London, which has been visited by members of COHSAT. Lucy Sanders who developed this approach for Transport For London came to Oxford to present a talk to CoHSAT about how the system could be applied here.
This allowed local communities and other users of the streets to assess the air quality of their environment and encourage city planners to place human health needs at the heart of future proposals. Oxford Brookes students carried out the surveys and collection points were set up at Flo's Café and the Jolly Postboy pub. 70 responses were returned by September and the students are now making a film about the possibility of carless streets titled 'Oxford Mini Holland'.
The consensus was that something needs to be done to reduce rat-runs, make cycling to school safer and generally make the area a pleasant place to walk around. Draft plans are being considered and there is strong support from local councillors. Residents of Florence Park are developing a Low Traffic Neighbourhood scheme and sharing their experience by helping other communities to establish one in their own areas.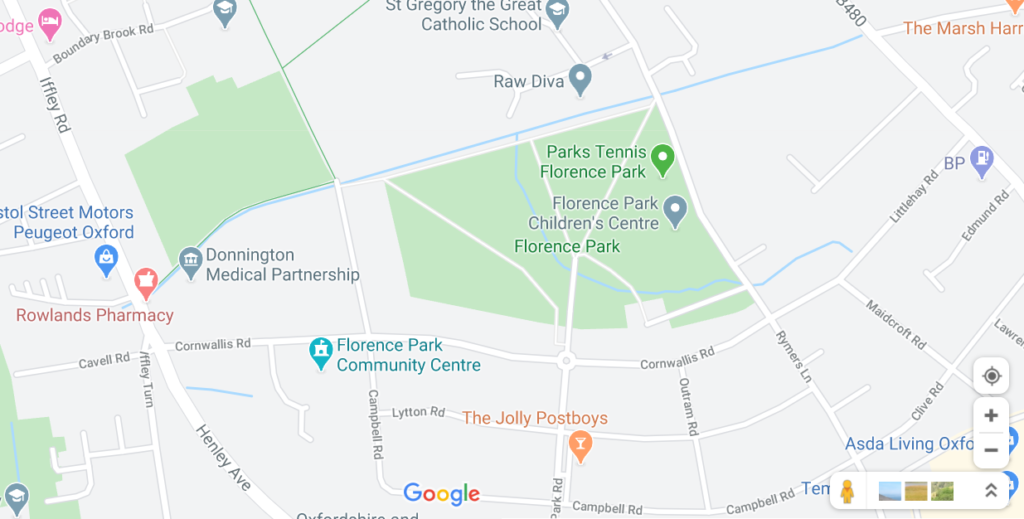 Car-free Broad Street
Broad Street is a wide street in Oxford City Centre, just north of the former city wall. There are parking bays in the middle of the road and it is also used for loading and by tourist buses. CoHSAT has the goal of removing car parking and vehicle access to the whole of Broad Street, creating a city square to be enjoyed.
Volunteers from Cyclox and Oxford Pedestrian's Association stopped and surveyed drivers returning to their vehicles at car park entrances in October 2019 to find out the reason for their journey. They discovered that the majority of people interviewed were tourists and had been directed to park in Broad Street by parking apps and satelline navigation systems.
As a first step to improving this, they have recommended that Oxford City Council's proposed Zero Emissions red zone be extended to include Turl Street and the west end of Broad Street.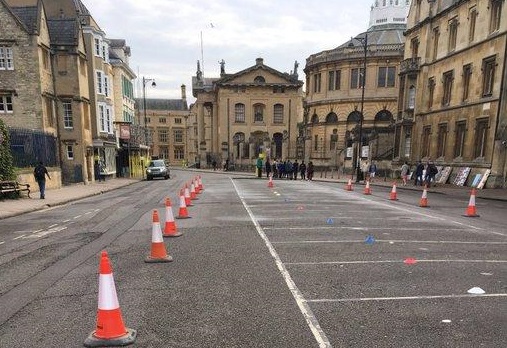 Reducing traffic in New Inn Hall Street
New Inn Hall Street is a short connecting road between George Street and Queen Street, as well as being part of the National Cycling Route. Unfortunately, it is often clogged with delivery vehicles – and CoHSAT wanted to address this. Over a busy Saturday and Monday in November 20l9 a group of volunteers from CoHSAT members conducted a survey, by counting pedestrians, cyclists and drivers and interviewing shop staff and delivery drivers to find out more about the use of the street.
Three volunteers visited eleven shops and one volunteer interviewed twelve van drivers, discovering that most shops used a creative set of measures to avoid the street loading ban. Most van drivers were aware of the loading ban but were self employed, poorly supported and felt unable to take action themselves.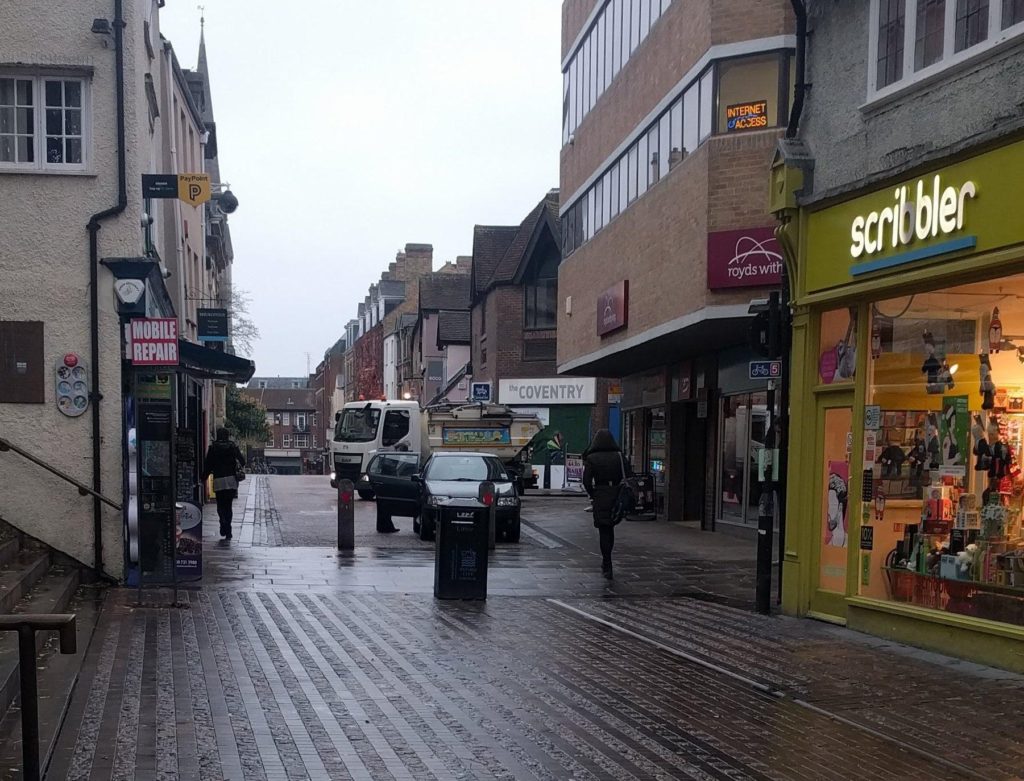 CoHSAT Conference on transport in Oxfordshire
As well as their project work, CoHSAT also organised and ran a conference in February 2020 to discuss the impact of the Local transport and Connectivity Plan on different road users. The event was packed with attendance by over 200 people. There was a presentation on the need for change on all aspects of transport, as well as small group workshops on how changing transport would impact different road users.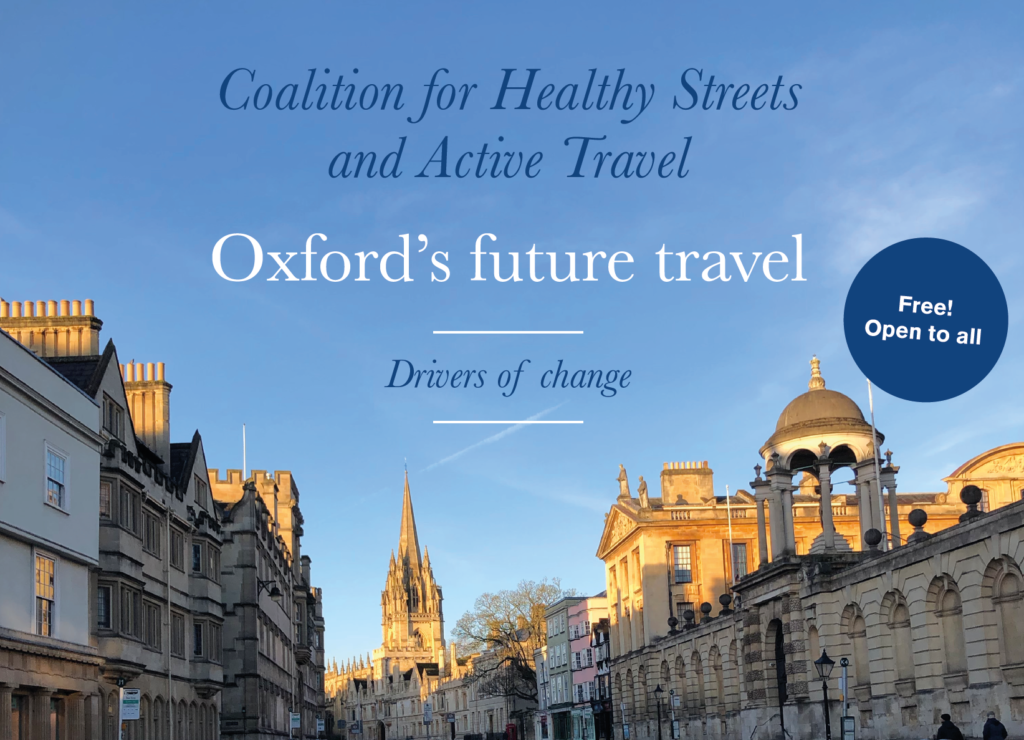 Has COVID-19 presented an opportunity to change our streets?
Although COVID-19 has impacted everyone worldwide with many negative impacts, it has also presented some opportunities. One of those opportunities is around active travel and how we use our streets. During lockdown in the UK there were very few cars on the roads, and outdoor time and space became extremely valuable to many people. It showed what our streets could be like if we shifted to focusing their use around people instead of cars. CoHSAT recognised this opportunity and have been working hard to act on it.
COVID-19 surveying
CoHSAT conducted a survey in April 2020, aiming to record people's experiences of their environment and streets during the unusual times of COVID-19. UK traffic was down about 40% from 'normal', returning the streets to a state of being not experienced since 1955.
Some key findings from the survey include:
55.8% of respondents are now working from home
79.5% of respondents highlighted a positive attribute of the pandemic as there being less motorised traffic about
Other commonly cited positive attributes include: there's more wildlife around (52.3%), there are more people walking around the street (46.8%), more people are cycling in the street (34.1%), and my front garden is more pleasant to spend time in (29%)
At the same time, common negative attributes included: cars are driving faster than usual (55.6%), and there are more delivery vehicles (24.3%)
When asked what they wanted traffic in the street to be like after the coronavirus pandemic was over, 71% of respondents said they wanted it to be more like it was during the pandemic.
#BetterOxford – a pop-up experience
CoHSAT then created an exhibition in the centre of Oxford, from 26th July to 1st August 2020. They wanted to share ideas on how we could 'Build Oxford Back Better' in the post-pandemic world, and open discussions for a re-imagined Oxford with a better public realm, more cycling provision and pedestrianisation, less congestion, and better air quality.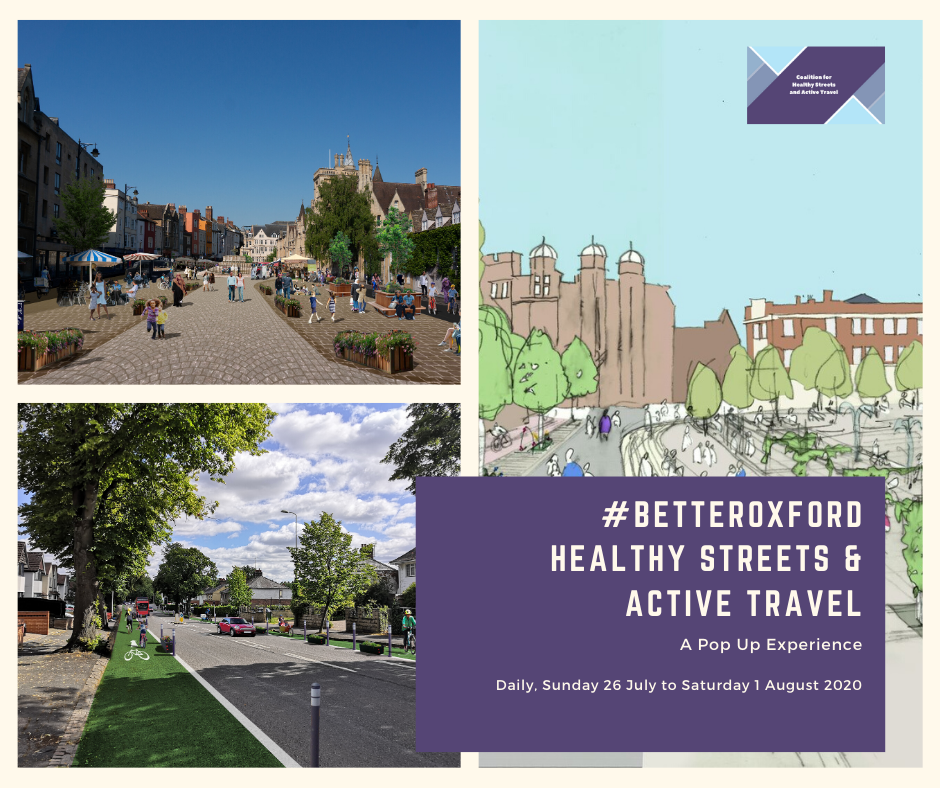 What's next for CoHSAT?
In 2019 CoHSAT applied for a second Low Carbon Hub grant in order to continue their work and explore new projects. They were successful, and so now have a new pipeline of projects that they will be focusing on for 2020-21, which are strongly focused on reduced car use and thus carbon emissions and air pollution:
The opportunities to convert St Giles into a public space
The mismatch of narrow pavements and wide roads on certain streets
The provision of good quality, on-road cycle parking where none exists at present
Assisting the development of new Healthy Streets and Active Travel groups in several county towns, including Didcot, Bicester, and Abingdon
Examining the feasibility of producing an annual 'state of travel in the county' report that can monitor progress.
News story

Each year every Community Member of the Low Carbon Hub is eligible to apply for a large grant of up to £5000, to support carbon-cutting activities, and we are usually able to award 2-3 grants per year. This year one of our grant recipients is GreenTEA (Transition Eynsham Area). They applied for a Low Carbon…

Find out more

Could your community save money on energy and cut carbon emissions?

If you have any questions about saving energy or developing your own community-owned renewable energy project, we're here to help via our Helpdesk.