Press release: Two Oxfordshire social enterprises win national recognition at the UK Social Enterprise Awards 2022
On Thursday evening, 8 December 2022 the work of two local social enterprises was recognised at the at the annual national awards held in London celebrating the achievements of the UK's social enterprise sector.
Low Carbon Hub won the Environmental Social Enterprise category at the Social Enterprise Awards 2022, for its work towards an energy system based on community energy supply, and reducing energy demand. People, Place and Participation Ltd also based in Oxford, won as the UK's Place-Based social enterprise of the year for its work creating Flo's – The Place in the Park, a community owned enterprise hub creating many new opportunities for local people work, eat, play, learn and connect in OX4, across Oxford and beyond.
In 2014 Oxfordshire was recognised by Social Enterprise UK as the first Social Enterprise County under their 'Places' Programme. These latest awards show how local social enterprises in Oxfordshire continue to be recognised for their socially and environmentally purposeful work, and the impact they are having on local communities.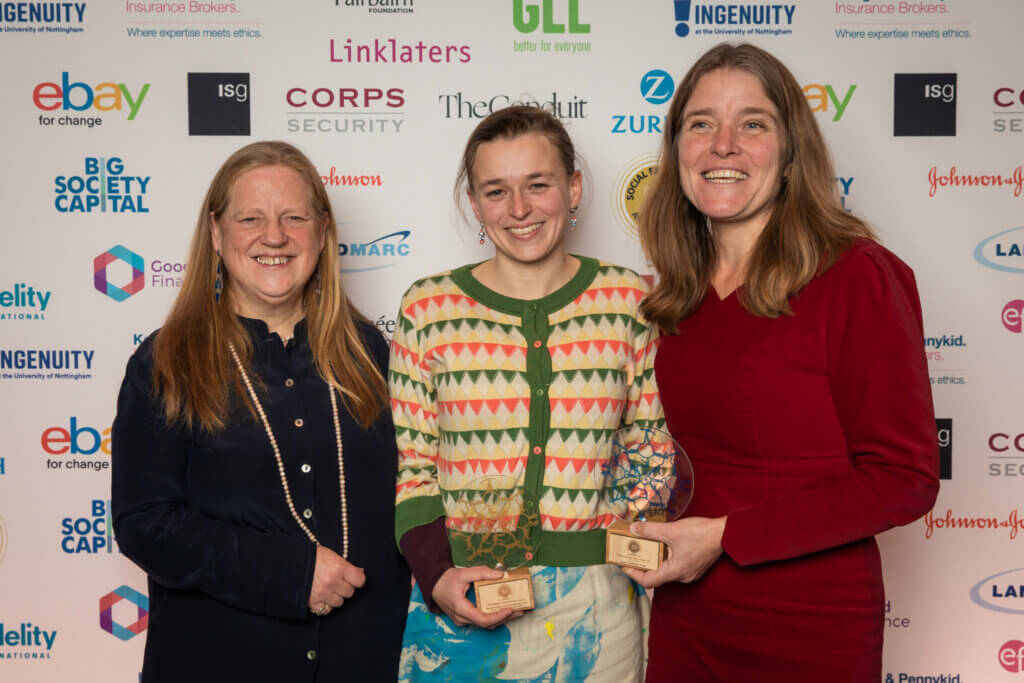 For over a decade, Low Carbon Hub has been at the heart of a growing partnership of people and organisations working together for a low carbon future. Growing from just ten pioneer investors, the Low Carbon Hub now has 1,770 investor members who have collectively invested over £10 million in the Low Carbon Hub. This investment has allowed them to build 50 renewable generation installations across Oxfordshire, working with schools and businesses to tackle the global issue of climate change locally. Most recently they completed Ray Valley Solar, the largest community-owned solar park in the UK, generating enough clean electricity to power over 6,000 homes.
Flo's – The Place in the Park, which gave new life to a decommissioned children's centre when it opened in 2018, combines having a real community impact with supporting the local economy. People Place and Participation Ltd is a charitable Community Benefit Society set up by and for people in Cowley, has set up this flourishing social enterprise hub, which houses a nature nursery, café, plastic free shop and the NHS community midwives. They also host many other organisations, and work with others to deliver numerous community programmes for children under 5, and for people facing barriers to accessing support. This includes the OX4 Food Crew for people experiencing food poverty, and the new Early Lives Equal Start project for pregnant women and new parents. They have created 40 local employment opportunities and host 20 volunteers and have supported other, diversity led social enterprises to set up, such as Damascus Rose Kitchen, No Vice Ice and Oxford Community Action Kitchen.
The Environmental award was accepted by Alison Grunewald, Business Relationship Manager at Low Carbon Hub.
Alison Grunewald, Business Relationship Manager, Low Carbon Hub attended the awards and said:
"We were delighted to get this national award. It recognises the place we've reached, after 10 years of real ingenuity, progress and passion from all our staff team. There are more than 100,000 social enterprises in the UK, employing around two million people, so to be considered one of the top environmental social enterprises is superb."
Saskya Huggins, Social Impact Director, Low Carbon Hub said:
"We're so proud to have won the Environmental award from Social Enterprise UK. Tackling climate change is at the core of our mission and collaboration is at the heart of everything we do. From our investor members, community group members to school and business hosts and partners, we thank everyone who has been involved with, and supported, our work – working together to create an energy system that's good for people and good for the planet."
The Place-based social enterprise of the year award was accepted by Makena Lohr, Communities Manager, and Candida March, Interim Director from Flo's – The Place in the Park.
Makena Lohr, Communities Manager at Flo's – The Place in the Park, said:
"We're delighted to be recognised as the place based Social Enterprise of the UK 2022. Flo's is the effort of local people coming together to make a difference in Cowley, Oxford – it's an experiment in bringing together the local economy with providing vital community service. And it's working. A good example is that on Mondays, lunch and drinks at Flo's Café are on a pay-what-you-can basis."
Annie Davy, founding member of Flo's – The Place in the Park, said:
"Thanks to SE Awards and to Esmee Fairburn for this honour. The last four years have been an exciting journey for Flo's and we could not have done it without the support of our local community. We are also grateful for the many other enterprises who have gone before us, such as Aspire Oxford who helped us in the early stages, and the support and solidarity of other enterprising local organisations such as Makespace, Community Action Groups and Oxfordshire Social Enterprise Partnership.
"We have a talented team and we are very proud of what has been achieved. But we are acutely aware that there are many and growing needs in our community. There is a 13-year life expectancy gap between some communities living in OX4 and the wealthier better known parts of Oxford City. There is real food insecurity and inequality and there are many families needing more support and fairer chances to get the skills, jobs and health services they need."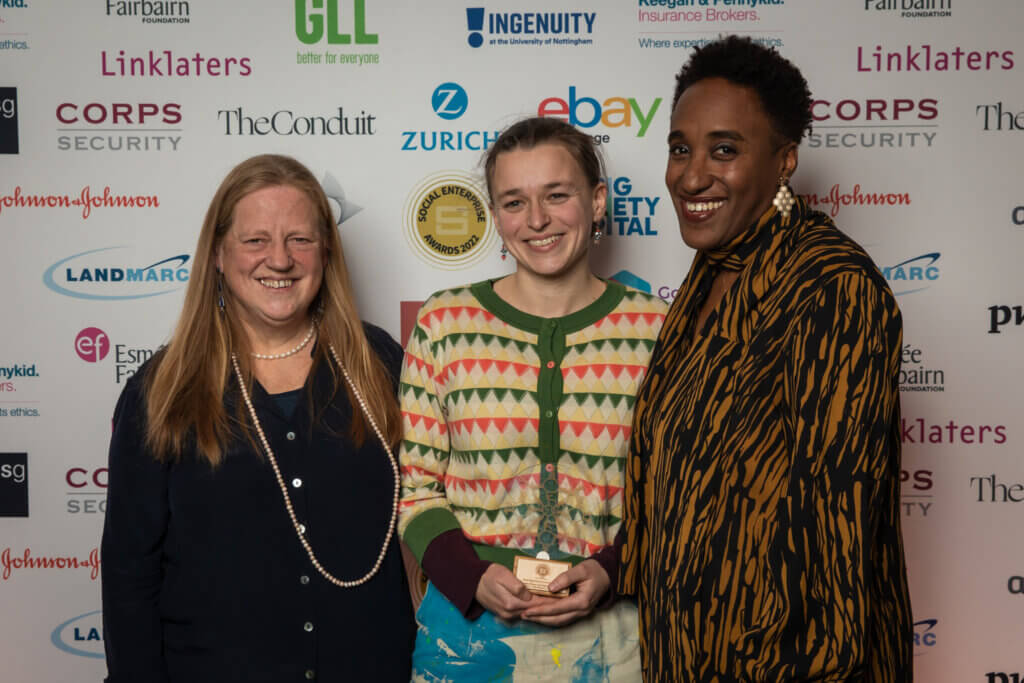 Images supplied by Social Enterprises Awards UK.