Launching the Osney Island Grid Edge Tour 
Welcome to Osney Island, the heart of Oxford and a community of a few hundred households ready to showcase their journey toward a sustainable net zero future.
Embark on a virtual tour with us as we delve into the intricacies of the 'grid edge' – the point where electricity from the wider network connects to our homes and businesses.
Osney Island, surrounded by waters of the Thames, serves as an ideal locale to explore the transformative potential of the grid edge. Our self-guided tour commences at Electric Avenue on Ferry Hinksey Road and culminates at Osney Lock Hydro, with seven insightful stops along the way.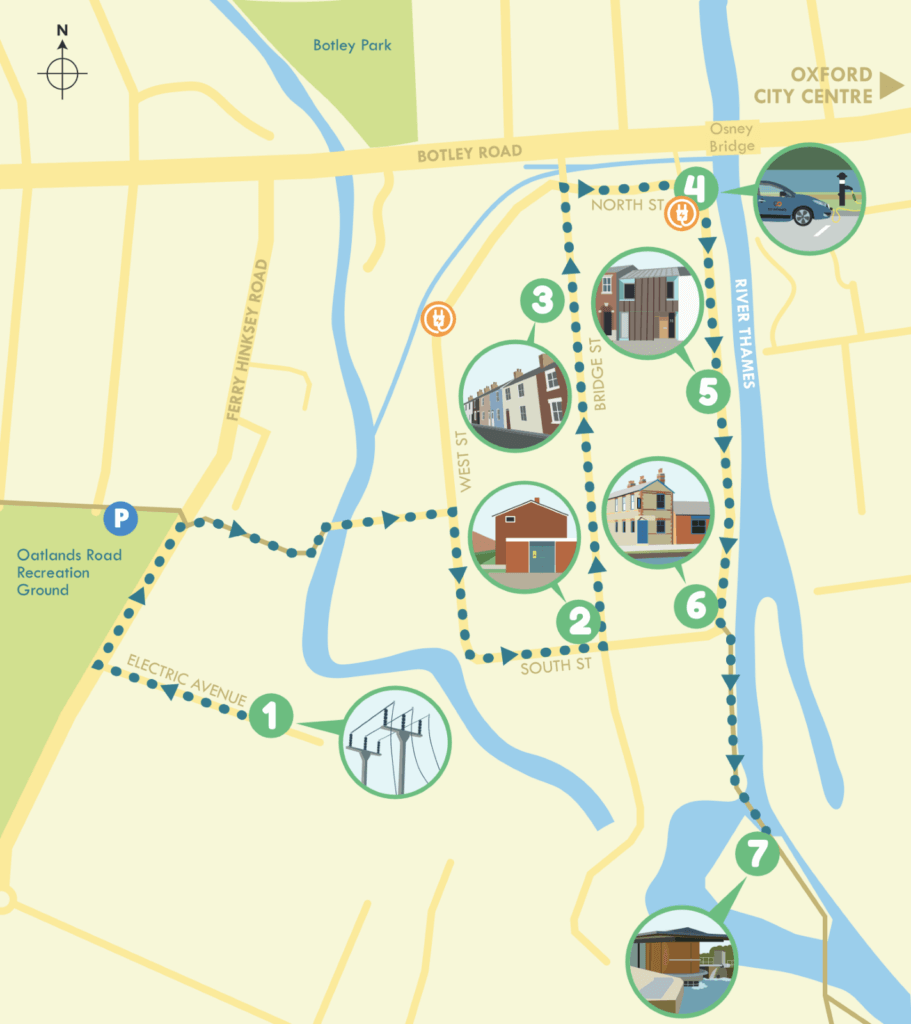 The grid edge, often overlooked, plays a pivotal role in realising our net zero carbon ambitions. Why does the grid edge matter? As we transition to a more sustainable lifestyle, millions of electric vehicles and electric heat technologies could potentially double our electricity demand. The question arises: do we add more infrastructure, incurring costs and disruptions, or do we adopt a smarter, more efficient approach maximising use ofthe existing system? 
Flexibility is the key, and Osney Island is at the forefront of this paradigm shift. Through Project LEO, we explored how flexibility at the grid edge can reduce energy demand peaks and enhance network efficiency. Osney Supercharge, one of six smart and fair neighbour trials under Project LEO, demonstrated the potential of local generation and battery storage in meeting peak electricity demand, minimising reliance on the wider grid.
Discover the fascinating workings of our local electricity network and hear about the real-life experiences of participants in the recent Osney Supercharge trials. This groundbreaking project recruited a group of households and businesses on Osney Island to take part in the trial and agree to generate and store their own electricity, sharing their data with us. We wanted to explore how homes and businesses could share energy and flexibility for the benefit of all within the island community.
The trials aimed to examine the opportunity for and benefits of, solar PV generation combined with battery storage, hydro generation and electric vehicle charging within the Osney electricity system.
As we advance into an era where electricity consumption and generation are evolving through the electrification of heat and transport as well as the transition to a net zero energy system, understanding the role we can all play at the grid edge becomes crucial. Residents and businesses are no longer mere consumers as more renewable electricity will be produced within communities, in addition, with domestic batteries, and electric vehicles which also can store as well as use electricity, we can choose when to turn and turn down demand. These changes, happening at the local level, collectively hold the power to make a significant impact. 
Join us on this enlightening virtual tour of Osney Island to witness first-hand the power of flexibility at the grid edge. Discover how these small, individual changes can collectively contribute to a sustainable net zero energy system. If you're keen to explore the Osney Lock Hydro site, please check their website for opening times.