Great Big Green Week 2022 Roundup
Oxfordshire Great Big Green Week 2022 was 9 days of events (Sept 24 – Oct 2) encouraging people and organisations to act to help tackle the climate crisis, and to protect and improve our environment. It was part of the national 'Great Big Green Week'.
Events were organised by groups of all types and sizes across the county, including many of our Low Carbon Hub community group members.
The main theme for this year's week was Energy in light of the huge impact this was having and will continue to have on all households and businesses across the country. Energy-themed events and hubs took place around the County; with our organisational focus on energy we attended many of the events that took place, providing expertise, support, and advice.
Bonn Square launch event
On 24 September, Great Big Green Week launched at Bonn Square in the centre of Oxford. The event kicked off with inspiring speakers, poets and performers; the stage was powered by solar thanks to Cyc du Soleil, the cycle solar stage company.
Low Carbon Hub attended the launch with an informational stall alongside other local charities and groups who are working towards a more sustainable future for Oxfordshire. We provided energy saving advice and funding resources.
There were plenty of stalls to get creative with free drop-in craftivism activities, and the chance to have a go at pressing your own apple juice from surplus fruit with Disco Soup.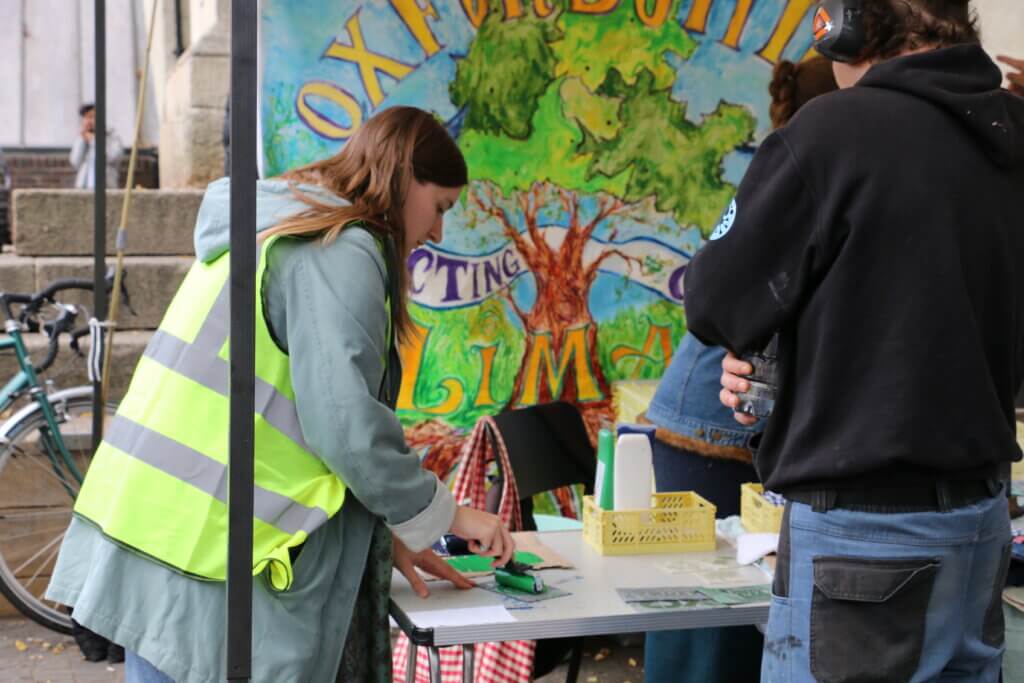 Great Big Energy Saver, Eynsham
GreenTEA, Low Carbon Hub and Project LEO (Local Energy Oxfordshire), organised the Great Big Energy Saver at St Leonard's Church Hall, Eynsham on Thursday 27 September, from 4pm to 9pm.
There was something for everyone as the first part of the event began at 4pm with a drop-in session for anyone seeking advice on how to improve the insulation of their homes through simple, low-cost materials. Green TEA partnered with local DIY company, Evenlode, to provide free samples of radiator foil, draught proofing strips and internal window insulation film, that were available to take away. The Energy saving Bite-Sized films from Communities for Zero Carbon Oxford were available to view and independent advice on understanding our energy bills and how to find extra support during the energy crisis was on hand from Citizens Advice West Oxfordshire.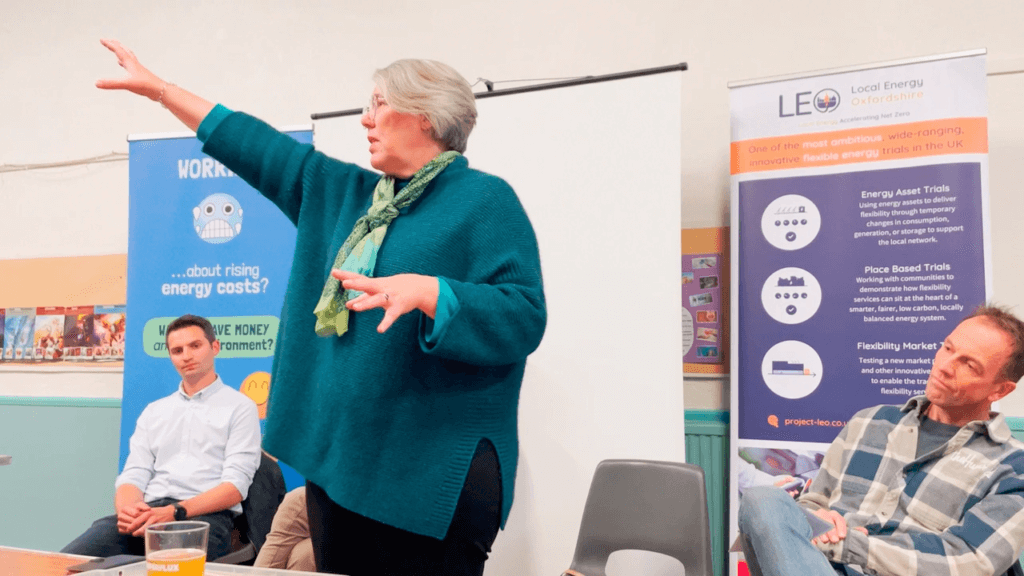 The second part of the event involved an informal discussion with three experts who shared their vision of how to reach net zero with a sustainable energy system for the future in the Eynsham area. Dr Scot Wheeler from the Department of Engineering Science at University of Oxford showed us how to balance the grid with his engaging Pint-Sized Science demonstration. Barbara Hammond described how Green TEA and Low Carbon Hub are working with Project LEO to develop a Zero Carbon Energy Action Plan for the Eynsham area that will indicate which actions can be taken locally to achieve net-zero. Sam Hampton from the Environmental Change Institute at the University of Oxford summarised the Pathways to a Zero Carbon Oxfordshire, created by the Environmental Change Institute and Bioregional, which provides a road map for a zero-carbon future for Oxfordshire by 2030 and 2050.
Watch the Pint-Sized Science video here
Energy Saving Bite Sized Films launch
The launch of Communities for Zero Carbon Oxford's Energy Saving Bite Sized films took place during Great Big Green Week at the Town Hall, Oxford on 27 September. The films form a vital part of the Energy Saving Homes project, carried out by a group of nine environmental community group members of Low Carbon Hub.
The seven short films show people in their own homes who have installed a range of energy saving measures and who are benefiting by saving money on their heating bills. Eleanor Watts from Rose Hill & Iffley Low Carbon worked with local filmmaker, Benedict Robbins, to develop and produce the films, which are available to view on YouTube. They have been shared with local community associations, surgeries, bus companies, football clubs, cinemas and libraries across Oxfordshire.
Each film shown was followed by a short talk and discussion with experienced Retrofit Coordinators from Cosy Homes Oxfordshire, contractors and members of the City Council.
The films will provide a legacy that will encourage and inspire people, whatever their budget, to take action to install measures that will make their homes warmer and lower their energy bills, at a time of rising energy costs.
We the Power film screening and panel discussion
The future of energy is community owned; as a newly community owned cinema, The Ultimate Picture Palace was the perfect venue for a film screening all about the importance of community energy.
During the evening, two short films about community energy were screened:
The first short film was about two artists in London currently working to turn their street into a power station, called 'Power'.
The main documentary screening was 'We the Power', which follows friends, families, and visionaries as they try to break down legislative barriers and take power back from big energy companies to put in the hands of locals.
Both were a celebration of community action's capacity to tackle climate change and safeguard a future under threat from environmental, social, and democratic challenges.
Afterwards there was a panel discussion exploring community owned energy local to Oxfordshire, hosted by Green Arts Oxfordshire Network with Low Carbon Hub, Youth EmPowered, and Westmill Sustainable Energy Trust.
This event was supported by WeSET, the Tandem Collective and the Climate Coalition.
Oxford 4 Nature march
To round-off the week of climate and community action, Oxford 4 Nature held a climate march across Oxford on the last day of Great Big Green Week. The march started and ended in Broad Street, Oxford. Citizens gathered to call on politicians for local and national climate action. The XR Samba Band created a great atmosphere and there were some fantastic banners and sculptures on show.