Energy Champions: watt's the buzz?
Our Low Carbon Hub Energy Champions have been creating a buzz across Oxfordshire, bringing energy advice and support to neighbourhoods across the county.
In November 2022, volunteers from 14 Oxfordshire-based community groups joined Low Carbon Hub and facilitator Chris Church for a day's training to empower them to become Energy Champions in their community. At the end of the day, equipped with a set of large plastic boxes filled with materials for creating visually appealing and informative stalls, they returned to their neighbourhoods across the county, tasked with identifying opportunities to engage with and support their community around bills, fuel poverty, energy efficiency, and decarbonisation.
The spark
Our network of Energy Champions is a key part of the work Low Carbon Hub kick started in 2022 in response to skyrocketing energy bills and the cost-of-living crisis. Thanks to funding from Westmill Solar Cooperative and a successful Crowdfunder, the Hub has been able to recruit an Energy Advisor, a role that came with free Energy Advisor training from National Energy Action (NEA). Ros Woodhead joined Low Carbon Hub in the autumn and as our Energy Adviser, provides additional expertise to our Energy Champion-led advice stalls, as well as responding to and identifying her own opportunities to offer support across Oxfordshire.
In addition to creating our network of Champions and Energy Advisor role, Low Carbon Hub has pulled together a library of high-quality information and materials, available from organisations like NEA, Community Energy England (CEE) and the Local Energy Advice Partnership (LEAP). We also developed our own leaflet and guidance, collating tips in our Warmer Winter Checklist, which is available both as a paper leaflet, downloadable pdf and online in a dedicated area of the Low Carbon Hub website here.
What's in a stall box?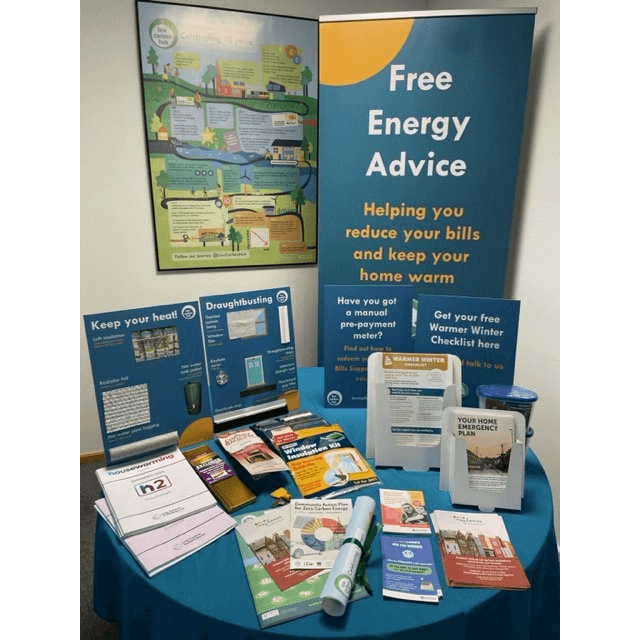 The Energy advice Stall in a box contains:
• A pop-up banner
• Energy advice reference folder and housewarming guides
• Displays stands with insulation samples
• Other draught-busting samples including: Letterbox draught excluder / Window clingfilm insulation / Cloth draught excluder / Radiator foil
• Other example materials such as a meter key, radiator key, and room thermometer
• Giveaways for people to try at home
• The warmer winter checklist
• A range of leaflets on topics such as grants and local services
• A tablecloth, clipboard, and a pen.
So how has it gone?
As we agreed at a recent Energy Champion catch-up, success can be difficult to quantify in this type of work. One short conversation and signposting to the right support may be lifechanging for an individual, whilst other conversations may lead no further. And are we reaching the people who really need our help, like those experiencing fuel poverty?
780
Recorded conversations had in the community
500
Information leaflets handed out
Our Warmer Winter Checklist is in regular demand from local communities and Oxfordshire County Council, has been translated into Ukrainian, and is in the process of being made available in Urdu.  We have a second Energy Champion training scheduled for later in the autumn, and have been in the position to offer the two other individuals who completed the NEA training in the autumn up to 100 hours of paid Energy Advisor work this spring in the community.  We have learnt and continue to learn a lot.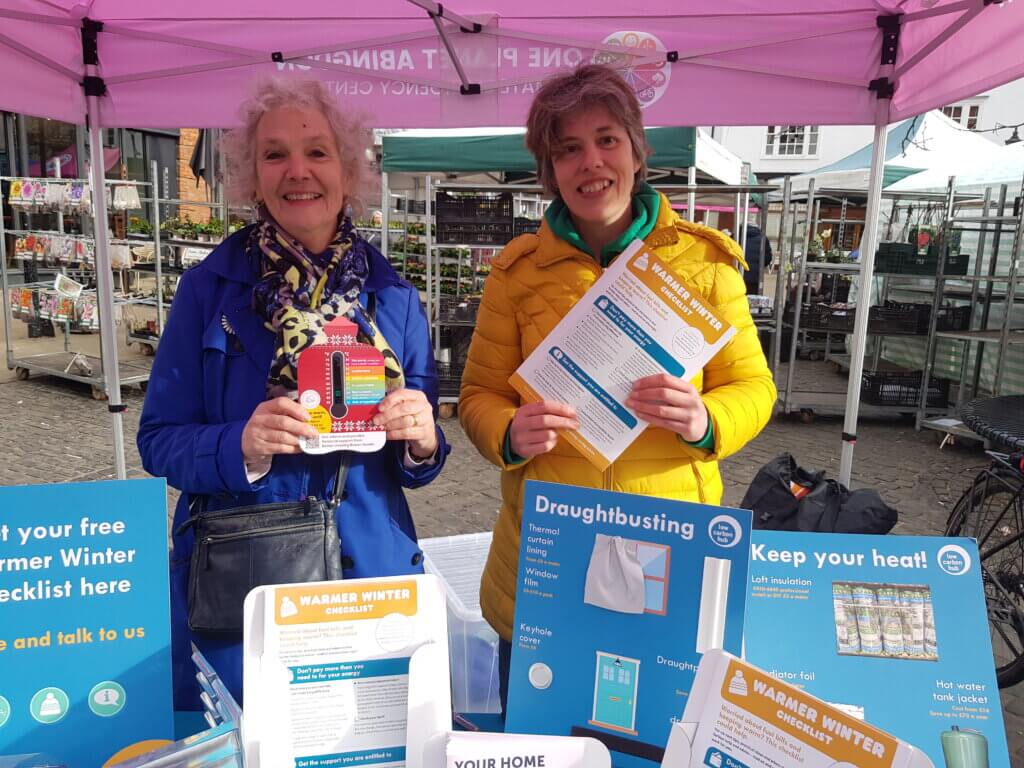 What have we learned?
Our one-day training provides a good starting point for running an energy advice stall.
The wide range of materials the Champions receive in their stall boxes enables them to cater to a wide range of needs and means they have expert information to hand covering an array of topics from funding, to the Priority Services Register and other services available to support, to practical information leaflets about dealing with mould and condensation and using your heating system properly.
People really enjoy our sample boards – being able to come up, touch and play with efficiency measures aids stall approachability, and makes things like draught insulation tangible.
We have accrued some very practical learnings around, for example, what is needed in the kit when doing an outdoor stall as opposed to indoor (think clips, string, weights etc).
Perhaps the key area of learning, which is of course ongoing, is around how we make our support accessible to those needing the support the most, i.e., those in crisis and people living with fuel poverty. Our Champions attend a variety of events and, whilst it is useful to offer support and advice to those attending a lunch club for its social benefit rather than a need for food, we are keen to make sure our programme is meeting those in real need, often called the 'hard-to-reach'.
Enhancing connections with trusted organisations and services is invaluable for building trust – an excellent illustration of this can be seen in West Oxford, where Energy Champion Neville collaborates closely with both Oxford City Larder and Aspire Oxford.
Regularity and repeated visibility at locations where people are already going has proved useful – as with Oxford City Larder, and with the work of Energy Champion Judy in North Oxford. All our Champions have made remarkable efforts by selflessly devoting their time.
The invaluable input from our dedicated Energy Champions highlights the need to increase the number of Champions in each location, to establish a reliable and consistent presence of stalls there. Managing a regular stall as a sole volunteer can be demanding and, while we are eager to train Champions in new areas, it has become evident that a priority should be given to training additional volunteers in existing stall locations. This strategic step will enable community groups to unlock their full potential within the Energy Advice programme.
Next Steps
Our training programme continues with:
• Low Carbon Hub & CAG Network community group's event Draughtbusters – It's easier than you think to set up!, sharing the learning from Sustainable Wantage's pilot
activities providing simple draughtproofing measures.
• Autumn Energy Champions Training.
• Thermal Imaging Training.
---
We continue to support the growing network of Energy Champions with a regular
newsletter, to keep them up to date with new resources, support, and funding
opportunities. We'll also continue to restock the energy advice stalls with materials and giveaways – so if you're an energy champion yourself, let us know if you're missing anything!
The network of Energy Champions is core to the success of the Energy Advice programme at Low Carbon Hub, and we are extremely grateful to them for many activities – and the hours – they have dedicated to taking community energy advice to their communities. Thank you!