Meet Sustainable Botley, our 40th community group at Low Carbon Hub!
We are very excited to welcome Sustainable Botley as our 40th community group and Low Carbon Hub CIC community shareholder.
Sustainable Botley is a newly formed community group that aims to help people reduce their impact on the climate crisis by focusing on energy efficiency advice for the home that might also help residents to cut their fuel bills.
The group are members of the Communities for Zero Carbon Oxford, who are part of the consortium of community groups taking part in the Energy Saving Homes project, which Low Carbon Hub were delighted to support with grant funding from the Community Grants programme.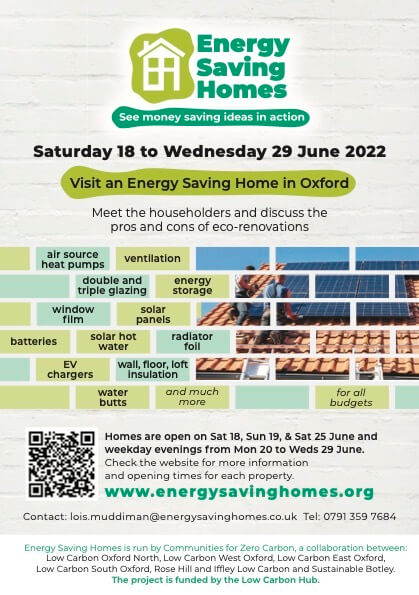 Sustainable Botley will be taking part in the Energy Saving Homes, Open Homes event 18 – 29 June 2022 where residents who have undertaken eco-renovation measures both large and small will open their homes (in person or virtually) and demonstrate the energy efficiency measures they have installed.
Earlier in 2022 Sustainable Botley launched with 'Stay Warm, Save Money' a day long community event featuring talks and discussions on how to save energy and heat your home on a fixed budget. Local organisations offered advice and local residents who had installed energy saving measures in their homes described their experiences.
They also invited Geordie Stewart, Scheme Manager at Cosy Homes Oxfordshire, to explain the holistic fabric-first approach to retrofit and the project management role of the Retrofit Coordinator in a whole house retrofit.