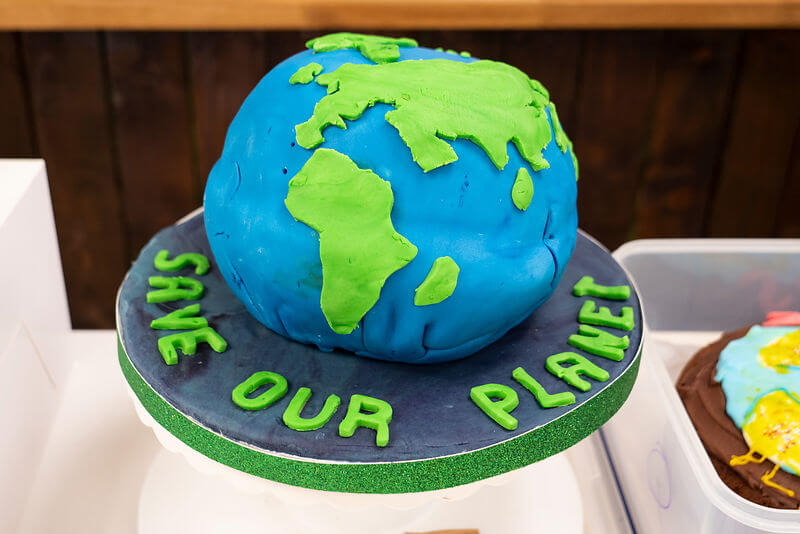 Community Group of the Month: WatlinGton Community Action Group
We are delighted to announce that Watlington Community Action Group (CAG) is our Community Group of the Month for February 2022!
Watlington Climate Action Group was founded in April 2019 and started life as a Facebook community group, with the aim of helping Watlington to address the Climate Emergency. They became a member of Low Carbon Hub in 2020 and are also members of the Community Action Group (CAG) Oxfordshire network.
The group comprises of local residents and volunteers and is fortunate to have many members who work in the environment sector. They have a core steering committee and many active members who help with regular events and activities and promote links to other local environmental organisations.
Believing that community-wide collaboration can have a significant impact, their vision is to help Watlington become climate neutral by 2030, in line with the aims of SODC, through a combination of community initiatives and supporting individual actions.
Objectives:
To promote community action through local initiatives.
To reduce our negative impact on the climate and protect and enhance biodiversity.
To increase awareness through collaborative action and community engagement.
To make the best use of local resources and expertise.
The group has concentrated on three main areas of action, including a Green Plan, Home and Energy project and a Plastic Free Watlington campaign.
Home and Energy project
The Home and Energy project was launched in 2021 with 60 homes taking part in a thermal imaging campaign. This was followed by an energy use survey and over 60 households provided information about their homes and heating systems, cost of heating bills and whether they were planning any home upgrades. More than half of the respondents had solar PV installations and were interested in considering further energy efficient measures such as heat pumps and batteries.
The survey revealed a big opportunity to encourage householders in the parish to adopt renewable technologies and home retrofitting measures. With that in mind the group have invited Geordie Stewart, Scheme Manager at Cosy Homes Oxfordshire, to deliver an introductory presentation and Q&A to explain the retrofitting process on 10 March 2022 at The Spire and Spoke, Watlington, at 7.30pm.
The Green Plan
The Green Plan has been developed to promote biodiversity in collaboration with Watlington Environment Group and Watlington in Bloom.
The aims of the Green Plan:
To protect and enhance biodiversity and green assets within the parish of Watlington.
To help tackle climate change through carbon sequestration.
To improve the resilience, connectivity, and management of local habitats.
To improve access to local green spaces.
To communicate with the local community to increase local awareness and understanding of biodiversity and natural carbon solutions.
The group instigated a hedgerow protection project and have recruited and trained a team of volunteers to survey the hedges in the area. They invited hedgerow expert, Nigel Adams to provide advice and expertise and you can see the video here:
Watlington CAG use a variety of creative ideas to engage with the whole community and worked with local artists, led by Jules Bishop, to create the Green Plan Art Trail and map: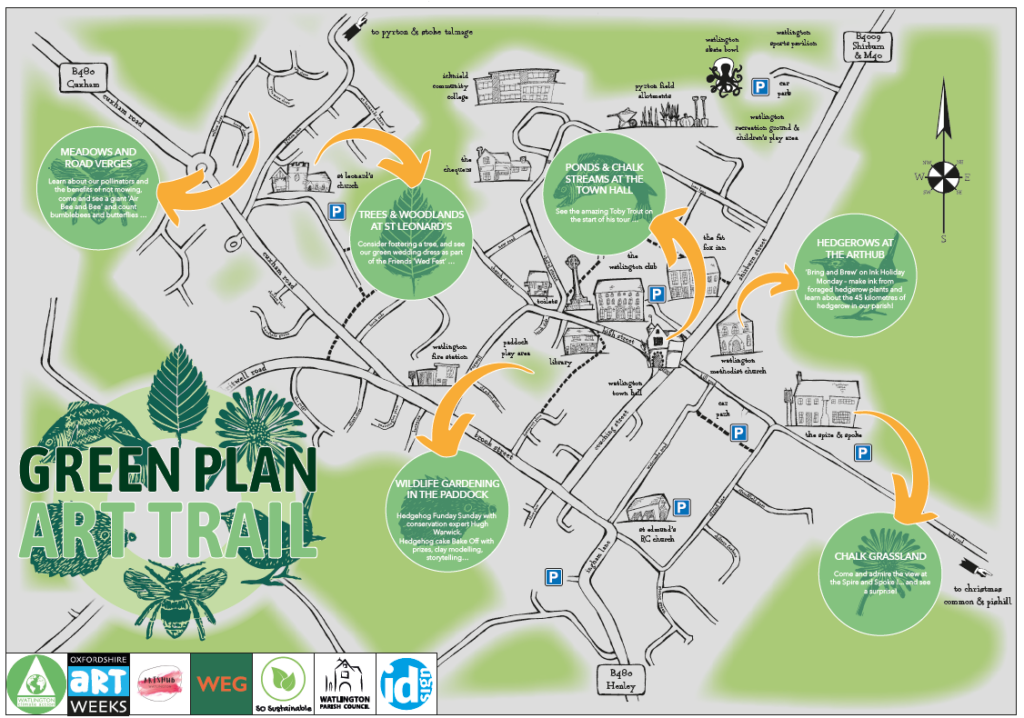 The trail consisted of creative workshops around Watlington that introduced each of the themes that make up the Green Plan. People taking part on the trail were able to make sculptures out of recycled objects and learn about the local chalk streams.
The project was featured as part of the exhibition, "From The Ground Up – Twenty Stories of Climate Action" at the Old Fire Station Gallery in Oxford, which celebrated 20 years of the CAG Network and was supported by the Low Carbon Hub. The exhibition then toured round Oxfordshire by electric vehicle and cargo bikes and completed at Watlington Town Hall in December 2021.
Plastic Free Watlington
The group are working closely with Watlington Parish Council to complete an audit of all single use plastic in the parish, with the aim of working towards its elimination.
They have teamed up with other groups in the community to form a task force that meets each Sunday to clear litter and plastic waste.
The group are planning a whole-community art project later this year to create an art installation made from upcycled objects to raise awareness of plastic waste and the environment.