Climate resources and action for schools
UK schools could reduce energy costs by £44 million per year, which means they have the power to prevent 625,000 tonnes of CO2 from entering the atmosphere.
Schools can play a critical role in helping the UK cut carbon emission levels, and even the most minor actions can have a big difference. Young people have already been calling for climate action for a long time. Taking action empowers young people to respond to an issue they care about – one that profoundly affects them and the people they love.
School-aged children are in 42% of all UK households; therefore, our classrooms can act as conduits to inspire progress across communities. Change in schools is already helping whole families (as well as school staff) see the many benefits of thinking and acting more sustainably. Low-carbon schools plant bright ideas in our homes, streets and workplaces.
In this blog post we have pulled together some of the great resources available to schools in Oxfordshire and nationally to help in the journey to net zero.
Get an energy audit
Thanks to a grant from Westmill Solar Co-operative, we are able to offer fully funded energy audits for school buildings in Oxfordshire. You can nominate a building to receive a free energy audit to help identify ways they could become more energy efficient, saving them money on their energy bills and reducing their carbon footprint.
Let's Go Zero
Led by a powerful coalition of sustainability organisations, Let's Go Zero is uniting and supporting UK schools working to become zero carbon by 2030.
In October 2020, charities including Ashden, Global Action Plan and the Fairtrade Foundation teamed up to launch a new initiative helping UK schools transition to net-zero. The 'Let's Go Zero' programme provides schools that have not yet set net-zero targets with the inspiration, motivation, and practical support they need. Schools that already have net-zero objectives are encouraged to share best-practice advice, develop roadmaps for delivery, and promote climate-related activities to staff, students, and families.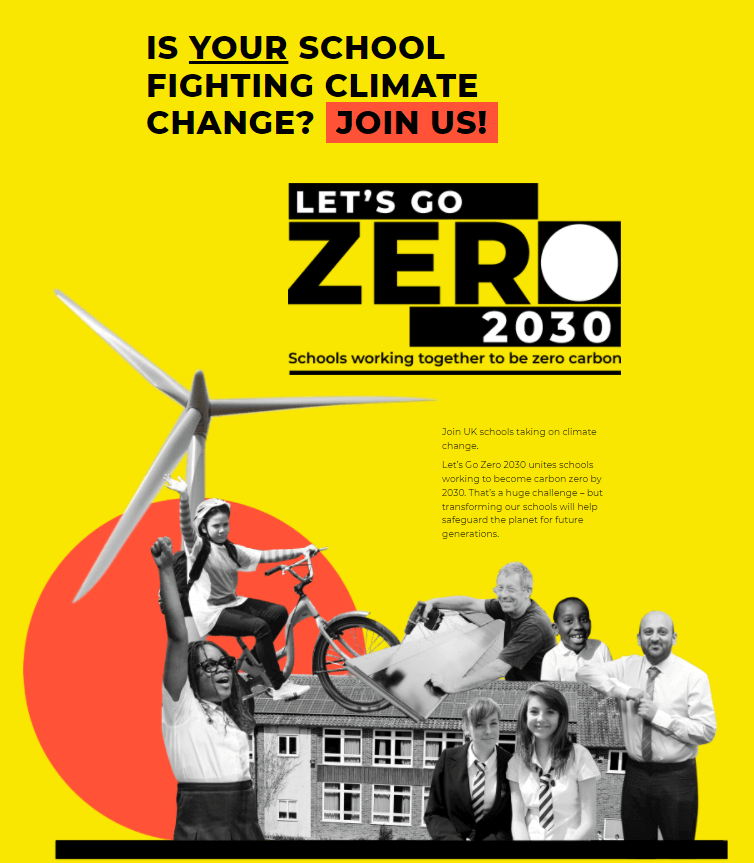 From car-free school runs and plant-based canteens, schools across the country are already inspiring entire communities to think and act differently – but many feel like they are doing so alone and with stretched resources. Let's Go Zero provides a powerful route for schools to drive impact-led action and unite behind a call for much-needed funding to help all schools to become cleaner, healthier and sustainable learning environments.

Sonja Graham, co-chief executive at Global Action Plan
As part of the campaign, a school toolbox has been created to help schools share the pledge, celebrate progress, inspire and empower students, and encourage other schools to join.
If you are a headteacher, governor or another senior team member, you can sign your school up for the campaign. If you don't have that authority, you can still help your school sign up by contacting your school leadership about the campaign.

Transform Our World

Transform Our World is a collaborative online hub that supports teachers in bringing environmental and social action into the classroom through showcasing quality-rated resources, programmes and events available from various organisations.
The hub features a range of themes from Sustainable Development Goals, to Values and Wellbeing and Food and Consumption. Teacher CPD and tools are also featured to help any teacher feel empowered and confident in teaching climate change.
The resources featured are teacher-reviewed and tested, to ensure it is as easy as possible for teachers to channel the excitement around climate action into schools-based activities.
Transform Our World is coordinated by environmental charity Global Action Plan, and aims to work with young people through the UK Schools Sustainability Network and supporting groups of students in 48 high need schools across England.
Westmill Sustainable Education Trust (WeSET)
WeSET is the charity set up by members of the Westmill Wind Farm Co-operative and the Westmill Solar Co-operative. They carry out a wide range of activities, with the core being educational work, supporting local energy conservation and renewable energy initiatives and arts projects.
WeSET also encourage and facilitate visits to the Westmill Wind Farm & Solar Park complimented by additional special events.
Kids Climate Action Network (KidsCAN)
Kids Climate Action Network (Kids CAN) is a coalition of Oxford-based organisations and individuals working to create safe, fact-based and empowering climate change resources and information for children, and to support the adults around them.
The network was set up by Mim Saxl (Lead Programme Manager at Low Carbon West Oxford and Project Manager at Low Carbon Hub), and came together in response to the IPCC Special Report released in October 2018, when it became apparent that our children were being increasingly exposed to potentially terrifying bits of information and language in the news (e.g. 'catastrophic climate change', 'extinction' etc), without necessarily being given the skills to understand and process the information.
KidsCAN's initial aim has been to provide Key Stage 2 children (aged 7-11) with easy-to-understand and accurate information about the IPCC report and climate change more broadly, and specifically, to offer them some avenues of clear, effective and child-friendly action.
They have created a number of resources including a climate challenge booklet, a fact buster sheet, and an example lesson plan.
Oxford School of Climate Change
The Oxford Climate Society is an award-winning University of Oxford society dedicated to connecting and developing informed climate leaders.
​
Their membership extends from students to professionals and the general public, welcoming all levels of interest and experience. The society connects like-minded individuals, inspire and educate the next generation of climate leaders, take action towards ambitious emission reductions in Oxford, and provide platforms for academic, artistic, and social engagement with climate change.
Taught over nine weeks, the School is a comprehensive 'Climate 101' course taught by some of Oxford University's most distinguished climate experts, bringing participants from all over the world for the unique opportunity to learn about the core science, policy, and politics of climate change. The programme is specifically designed so that it delivers the interdisciplinary knowledge necessary for successful climate action, whilst remaining accessible to individuals from all backgrounds.