£3 million target reached!
We are really pleased to announce that we have now met our target of raising £3 million of new investment into the Community Energy Fund. Thank you so much to everyone who has invested, putting their money to work tackling climate change.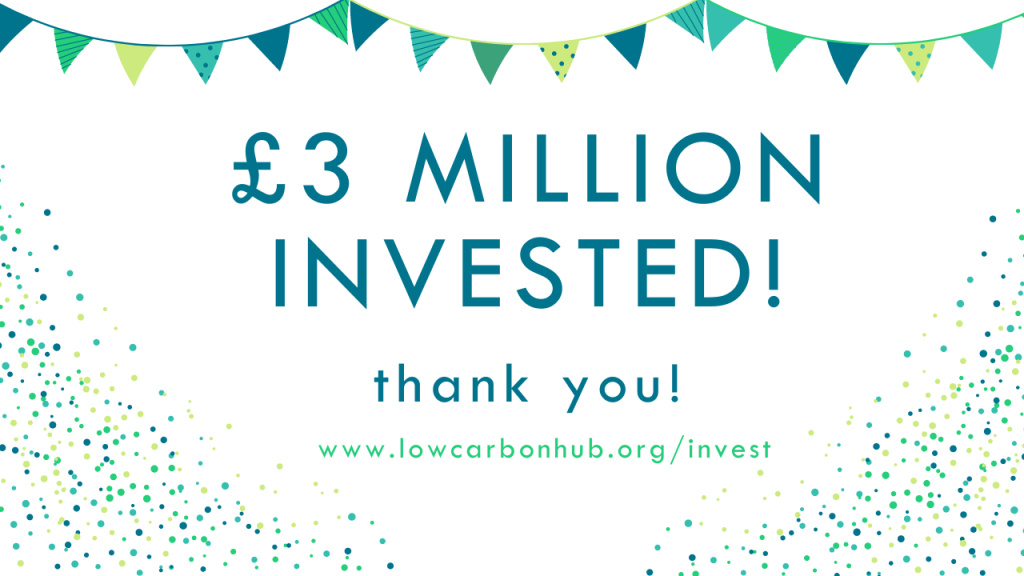 We have been absolutely blown away by the level of support this share offer has received. The share offer re-opened in November 2020 and we had to increase our target twice in order to meet unprecedented levels of early investment. And even now we have reached our target early, before the official deadline of 31 March 2021.
We apologise for any disappointment for those who haven't been able to invest this time. However, we do anticipate opening the Fund each year for new investment. To be the first to hear when we do reopen, please sign up to our mailing list.
What will this money be used for?
As laid out in our share offer document, we set a £3 million investment target for 2021 to develop renewable energy projects in Oxfordshire.
In particular, this investment will be used to:
Build Ray Valley Solar, a 19MW ground mount solar park, situated near Bicester. This will be the largest community-owned ground mount solar park in the UK.
Develop a pipeline of rooftop solar PV projects
Ray Valley Solar
In order to meet our carbon reduction targets, we need significantly more renewable energy generation. In Oxfordshire, this means the development of ground mount solar projects.
Ray Valley Solar will be the Low Carbon Hub's first ground mount solar project and will result in a five-fold increase in our annual green electricity generation. Situated in Arncott, three miles south east of Bicester, the site neighbours an MOD logistics site, HM Bullingdon prison and two existing solar parks.

Ray Valley Solar will:
Generate over 19 GWh of clean electricity a year, enough to power over 5,000 homes
Save approximately 417 tonnes of CO2 being emitted annually
Comprise 35,900 solar panels with battery storage also approved for the site
Keep £2.6 million worth of energy spend in the local economy each year
Generate £13 million in community benefit funding over the project lifetime
Provide an important 'anchor generation load' for Project Local Energy Oxfordshire (LEO) – a collaborative partnership looking at how smart, local and flexible energy systems can accelerate the transition to a zero carbon energy system
The project build is expected to be complete by September 2021. You can find out more about the project in this webinar.
Rooftop Solar PV
The Low Carbon Hub owns and manages over 40 renewable energy installations across Oxfordshire. We will use this funding to continue to develop a pipeline of rooftop solar PV projects.
About the Community Energy Fund
We launched the Community Energy Fund in 2018 as a way of allowing investors to invest in a portfolio of projects that will change over time but will always support our mission to accelerate the transition to a zero carbon energy system.
With this latest round of investment included, the Community Energy Fund now has over £6 million of investment from over 1,700 investors.
A huge thank you to everyone who has supported us and helped make this possible.
"This round of investment in the Community Energy Fund has been something of a whirlwind to witness! Thank you so much to everyone who has chosen to invest in us and put their money to work tackling climate change. We look forward to welcoming lots of new investors to the Low Carbon Hub too. We can't wait to keep you all updated on the build of Ray Valley Solar and other solar projects.

Barbara Hammond, ceo, low carbon hub
"Ray Valley Solar is a hugely exciting project to have in the county. As well as providing the backbone for our Project LEO smart grid trials, we hope it will help build partnerships with local energy users to keep energy spend within the county and make many more projects like this viable. I think this project is a really good reason to be optimistic about the part ground mount solar can play in meeting our 2030 carbon targets.

Tom Heel, business development director