February 2020 saw us welcome two more schools to the Low Carbon Hub. Langford Village Community Primary School (Bicester) and West Witney Primary School and Nursery (Witney) are the latest schools to benefit from a solar programme supported by Oxfordshire County Council and run by the Low Carbon Hub.
Both Langford and West Witney now have fully installed solar PV panel arrays with an installed capacity of 30kWp and predicted annual generations of 28,018kWh and 28,820kWh respectively. This generation of clean electricity every year, will help to power the schools and reduce their reliance on the carbon-intensive national grid.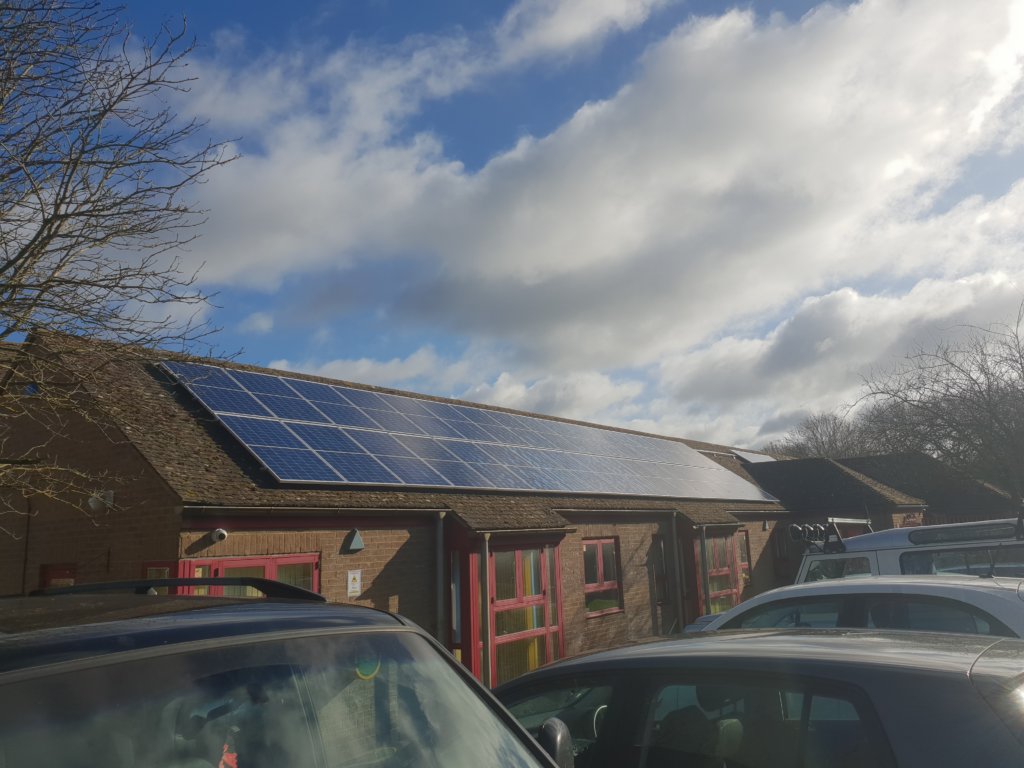 The schools are saving a combined 22 tonnes of CO₂ emissions each year and where West Witney are meeting about 18% of their energy needs, Langford will be meeting about 28% of their needs.
Schools that partner with us to bring community-owned renewable energy to your school do it at no cost to themselves, with Low Carbon Hub installing and managing the panels. We then sell the electricity generated by the panels to the school at a discount, saving the school money on their energy bills. Any surplus is sold to the grid, with revenue paying for the solar installation and maintenance, and for investor returns. The scheme is one of the projects that would receive continued support by the Community Energy Fund 2020.
Despite last year's reductions to the Feed-in Tariff, the subsidiary for renewable energy, schools remain keen to install solar panels and want to work with us, demonstrating what's possible when we work together to power up our communities. We now have over 30 schools across the county who are benefitting from cheaper energy bills as they receive discounted green electricity produced by their solar arrays.
These schools are leading the way in helping to cut our county's carbon emissions and demonstrate their commitment to the environment. They are also supporting the education of pupils by demonstrating, visually, the role of renewables in a low carbon future energy system.
Meet R-ECO – one of our installers
Recently, when both schools were being installed, I was lucky enough to get to go along to Langford with our Project Manager, James, and Asset Manager, Harry. It was a great opportunity to get to see the scheme in action and to meet one of the installers that we use, R-ECO (Renewable Energy Co-operative). The Renewable Energy Co-operative designs and installs systems on all types of commercial and agricultural buildings from factories to fields to theatres.
Whilst on-site, Sales Director at R-ECO Tim Nicholson showed us around and filled us in on the progress that had been made despite the less than desirable conditions. Tim is a chartered surveyor and has worked in both commercial and residential property. He has an excellent knowledge of buildings, renewable energy technology and how the two come together.
One of the most exciting things about this install was the addition of the solar edge which is a piece of equipment that is attached to each individual solar panel. By attaching one to each panel it is possible to monitor the performance of panels on an individual basis and if there comes a time when there is a problem or the install isn't performing as it should it is much easier to identify which panel might need fixing or that is causing the install to be not generating as much as it should be.
This is the first time this bit of kit has been installed on one of our schools and both Harry and James are excited about the addition and are interested to see how much this will make troubleshooting easier when monitoring the installation.
Zoe Toone, Marketing Coordinator at the Low Carbon Hub
We are excited to have Langford Village Primary School and West Witney Primary School as our two newest solar schools. It is fantastic to see the continued engagement of local schools with the climate crisis, and we are glad that we can work together with both schools to further reduce our carbon emissions. The new SolarEdge system will greatly enhance our ability to monitor the solar pv array at Langford Village Primary School. By being able to view the performance of each panel separately we will know to a much greater detail how well the installation is doing and will be able to diagnose performance issues much more quickly.

(Harry Orchard, Asset Manager, Low Carbon Hub)
We're excited to be working with R-ECO and their solar edge offering for the first time. The approachable and personable nature of the organisation towards ourselves and the school has been fantastic, and we look forward to working with them in the future as one of our preferred suppliers.

(James Ochiltree, Project Manager, Low Carbon Hub)
We have long admired the work of the Low Carbon Hub and it is extremely exciting that we have recently undertaken the installation of 103 solar panels at Langford Village Community Primary School on their behalf. The SolarEdge system we installed with the solar panels results in higher output, increased safety, and access to an excellent monitoring platform. Both Low Carbon Hub and the School will be able to easily see how much electricity the system is generating and how all the solar panels are performing. As an Oxford-based social enterprise, we hope this will be the first of many projects on which we can collaborate with the Low Carbon Hub.

(Tim Nicholson, Sales Director, R-ECO)
Could your school become a solar school?
We work with schools across Oxfordshire on their energy efficiency, including installing solar pv panels to generate their own electricity. If you're interested in working with us for your school, please contact our Projects Manager.
Read next…
News story

On Tuesday 28 April 2020 the UK's electricity grid hit a new record for the longest coal-free period since pre-industrial times (previously been held at 18 days), with coal power plants offline from midnight on Friday 10 April. This coal-free period has been due to maximised levels of solar energy generation, due to high levels…