Project RED – Reducing Energy in Didcot Red Alert!
A community response to the climate emergency red alert
In early 2020, in response to the Town Council declaring a climate emergency, Sustainable Didcot applied for and received a large grant from the Low Carbon Hub to help the community investigate ways to lower energy usage and carbon emissions on the path to achieve zero carbon.
All Community group members part of the Low Carbon CIC can apply for a small and large grants that can be used to fund activities that contribute to the Hub's aims: to cut Oxfordshire's carbon footprint and contribute to the creation of a decentralised and locally owned renewable energy system. Community groups can apply for funding individually or in consortia with other community shareholders.
Sustainable Didcot is a community action group for Didcot residents with a shared interest in the environment, living sustainably and raising awareness of climate change. They began in 2010 initially as a swap shop and have grown their activities to include a popular repair café, community allotments, and a thriving energy group. They have been members of the Low Carbon Hub CIC since 2016, when they carried out a successful thermal imaging project to raise awareness of the importance of insulation, help people to improve the energy efficiency of their houses, and reduce fuel bills.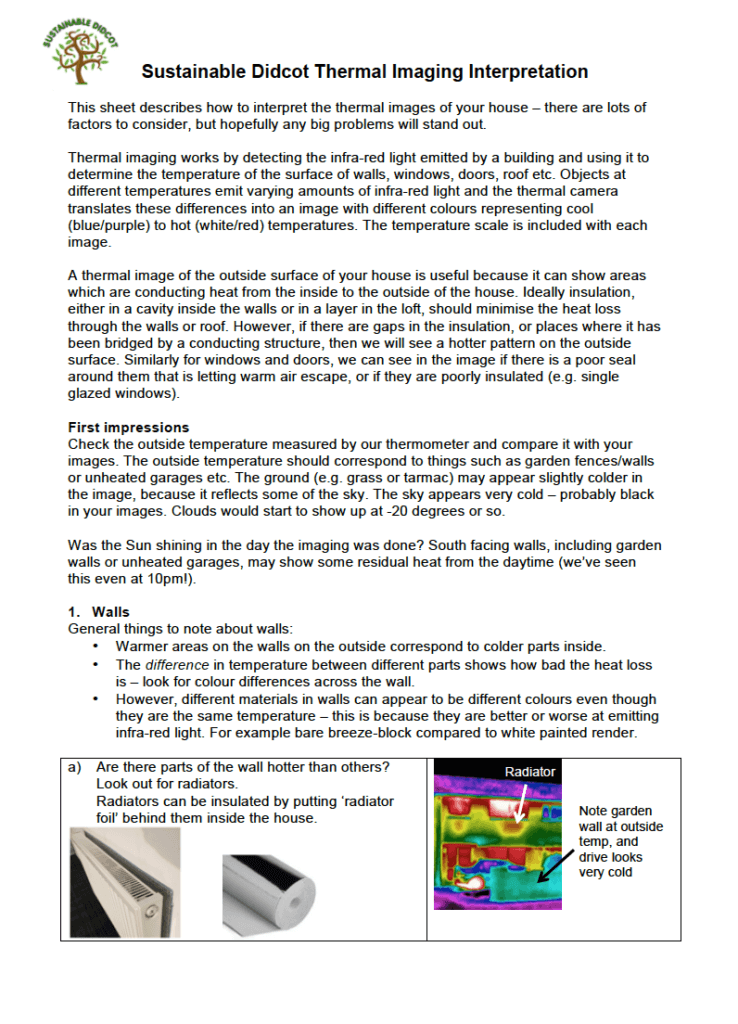 On Monday 10 June 2019 Didcot Town Council declared a Climate emergency and formed an Environment Climate Committee to set a target of reaching carbon neutrality by 2030 and carbon zero by 2050. The council decided to collaborate with partners and local communities to tackle the impact of climate change on their local area.
There are many ways to achieve this and Sustainable Didcot had the inspired idea to carry out a town-wide energy audit of the whole of Didcot, in order to find out what the priority actions should be for the town to take towards achieving zero carbon emissions over the next ten years.
The group were awarded a large grant of £5000 from the Low Carbon Hub Community Grants fund to commission the Environmental Information Exchange (EIE), to carry out the energy audit and provide a report with achievable recommendations that the community could take to reduce energy use and carbon emissions in Didcot.
EiE is a not-for-profit organisation, based at Oxford Brookes University, providing UK organisations with support to reduce their energy, water, and waste. They provide a wide range of practical information, actions, and solutions to help organisations such as schools, community buildings, and manufacturers to understand and implement energy efficiency actions.
The project culminated into a public event, Project RED, to reveal the findings in the report and set up working groups within the community to focus on each subject and set of actions. Sustainable Didcot then worked with the Town Council, other organisations, and residents to try to implement the recommendations in the context of the climate emergency.
The scope of the project included:
To assess the existing energy usage of public and private buildings in Didcot
To record and analyse responses from a survey on energy use sent to local residents
The survey and final report should focus on energy efficiency in buildings, generating renewable energy, and improving sustainable transport
Help to generate a sustainability plan with a set of potential energy saving projects that could be implemented by community volunteers in Didcot
Deliver the findings of the final report at a public event in Didcot.
Sustainable Didcot and EIE drafted and launched a town-wide survey in mid-2020 and asked Didcot residents to fill out a questionnaire about how they thought the community could reach zero emissions by 2030. They received 47 responses including 17 people who were interested in joining Sustainable Didcot.
The survey focused on three general areas: energy efficiency in buildings, generating renewable energy, and improving transport. The two most important actions from each category selected by the respondents were to:
Buildings
Improve insulation in existing buildings
Improve energy efficiency of heating systems.
Renewable energy
Increase rooftop solar PV and solar thermal installations
Increase options for community renewable schemes.
Transport
Increase cycling and walking
Improve and increase use of public transport.
Respondents also recorded that access to case studies of homes that had installed energy efficient measures, and provision of information in the form of talks and workshops from energy efficiency experts, would be the most helpful items in galvanising people to take positive action.
Key findings
Through analysis of local data sets and local community opinion, the Environmental Information Exchange (EiE) created a report that showed the areas where the biggest impact would be made were:
Transport – promoting walking and cycling
Housing – making Didcot homes more energy efficient
Community Renewables – larger-scale shared green energy schemes
Commercial Sector – helping Didcot shops and offices use less and generate more energy.
Recommendations for Sustainable Didcot from the EIE report
Improving energy use in the home:
Encourage participants to check local EPCs and make use of the Cosy Homes Oxfordshire home retrofit programme
Develop information sharing to educate and provide examples of successful home improvements and make use of available financial support and funding opportunities
Support outreach to engage wider audiences, including those less able to develop solutions.
Improving active travel:
Develop initiatives to promote cycling and walking
Develop partnerships with existing organisations such as HarBUG (Harwell Campus Bicycle Users Group) and CoHSAT (Coalition for Healthy Streets and Active Travel)
Work with local schools to encourage cycling training schemes such as Bikeability and seek support from national organisation Sustrans.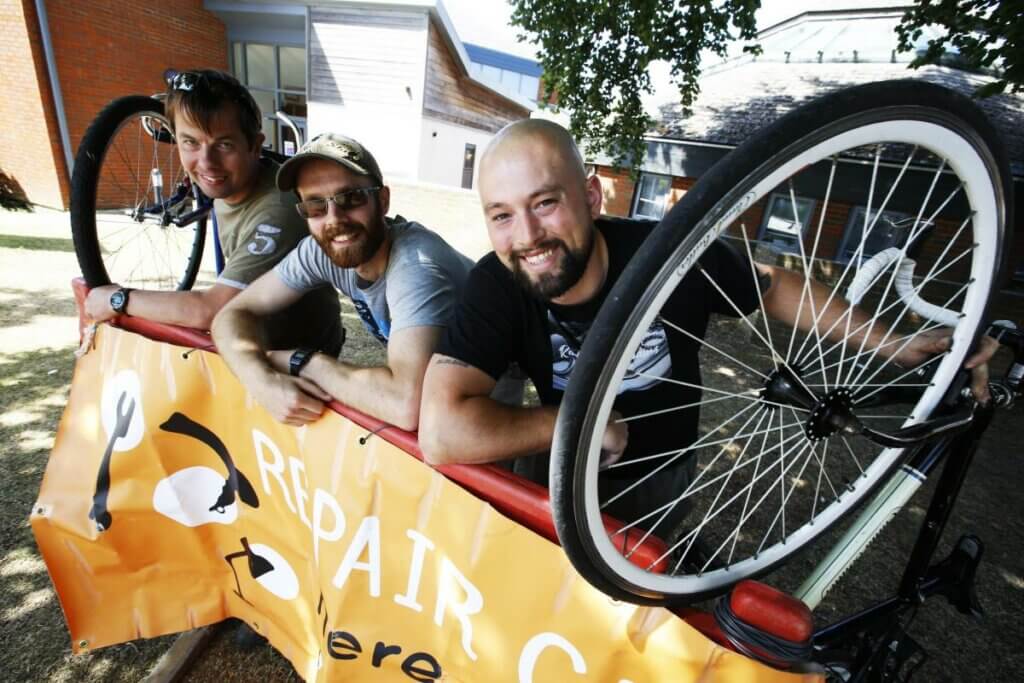 Renewable Energy projects:
Project Identification of a potential site, project feasibility, partners, and expertise
The survey indicated strong support, but even small renewable projects can be complex and time consuming
Sustainable Didcot can build on the success of its Solar Streets campaign and seek support from Low Carbon Hub for potential community owned renewable energy projects
Specification and funding. Once a project is begun there are many steps to defining the technology and how it will work as well as finding funding. Similar successful projects in Oxfordshire have involved community share offers to fund projects as well as many volunteer hours
Implementation support. Resources will be needed to obtain planning permission or to resolve other technical issues.
Project RED Public Launch – Saturday 6 August, Didcot Civic Hall
Michael Esveldt from EIE who analysed the results of the Town wide survey and compiled the final report presented a summary of his conclusions.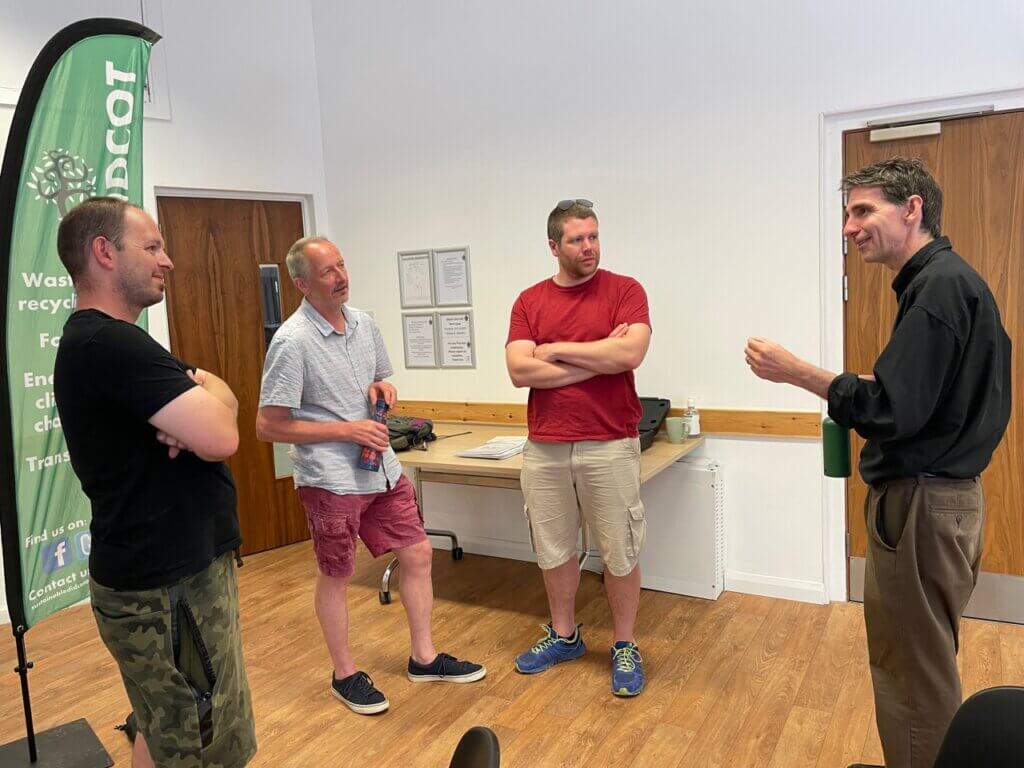 Cathy Ryan, Community Engagement Manager at Low Carbon Hub presented a summary of the Hub's programmes to encourage renewable energy generation, carbon reduction and innovation in Oxfordshire.
Cathy also presented an introduction to Cosy Homes Oxfordshire, a home retrofit service that aims to make it easier for homeowners to install energy efficient measures and renewable heating systems in their homes.
Several community group members were interested in discussing home energy assessments and showed interest in promoting Plan Builder, an online tool on the Cosy Homes Oxfordshire website. This free-to-use tool enables people interested in retrofit to gain a reasonable estimate of energy efficient measures that might be suitable for their homes, with an estimate of costs.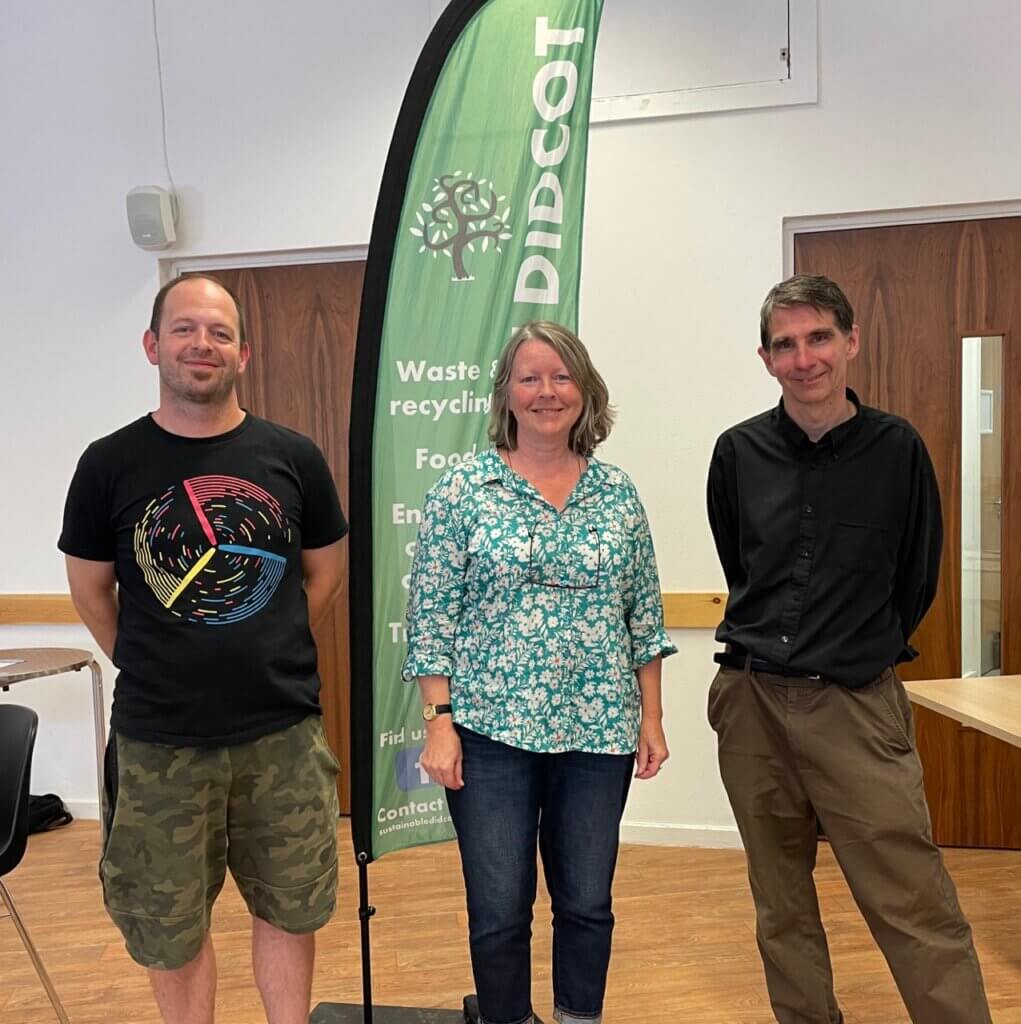 Kevin Wilkinson from HarBUG (Harwell Campus Bicycle Users Group) provided valuable information on how to start cycling, where to buy a suitable bike, and advice for new cyclists on commuting to work. He unveiled proposals for the Science Vale Cycle Network that connects the Science Vale Towns of Abingdon, Didcot, Wantage and Grove, and Wallingford with the main business parks in the area; Culham Science Centre, Harwell Campus and Milton Park. The main routes are designed with cycle commuting in mind to provide a viable transport choice for those that live, work and visit Science Vale.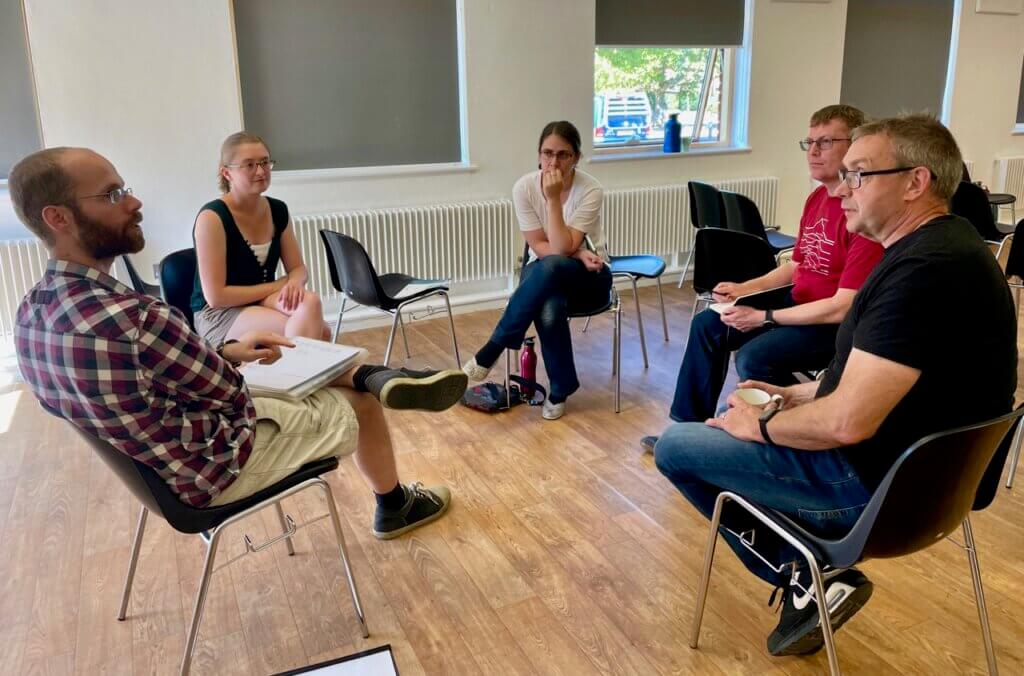 Suggested actions from the active travel discussion group were:
The next steps organise guided cycles of the lesser-known cycle paths within Didcot

Carry out checks of quality of cycle routes to and from main schools within Didcot

Collect together local knowledge and create an active list/database of known issues with Didcot cycle routes – maybe setting up a form for people to submit any cycle routes near them which need fixing or were poorly planned.
The next steps for Sustainable Didcot are to create small subgroups for the individual topics with the aim of carrying out smaller projects and setting up events to raise awareness of the actions that can be taken at a local level to reduce the effects of climate change. The main activities will focus on improving domestic insulation, low cost energy efficiency measures and advising on coping strategies for the energy crisis.
Could your community save money on energy and cut carbon emissions?
If you have any questions about saving energy or developing your own community-owned renewable energy project, we're here to help via our Helpdesk.