In 2013, the Oxford Bus Company became the first Oxfordshire business to develop a community-benefit renewables project with the Low Carbon Hub; a commitment that led to them being commended by the Prime Minister.
The company prides itself on delivering a low emission and low carbon service: 43% of the company's fleet is electric-hybrid, the highest percentage of electric in a bus fleet in the UK, and they had a public commitment to reduce carbon emissions by 3% each year in line with Oxford city's targets.
Oxford Bus Company was interested in solar PV as part of its plan to reduce its carbon emissions. However, with a projected payback period of 10 years, the business would have had to take a bus off the road to fund it.
Low Carbon Hub's proposition to the bus company (and for all businesses), was this:
Oxford Bus Company leases Low Carbon Hub their roof space
Low Carbon Hub pays the costs of the solar PV installation and maintenance of the project for the full 20 – 25 year term
Low Carbon Hub develops the project and owns the solar panels, the electricity generated and the feed-in tariff revenue.
Low Carbon Hub sells the electricity to Oxford Bus Company at a discount, and sells any surplus clean energy to the grid.
Put simply, the Hub was offering the Oxford Bus Company Solar PV for free. At 140kW, the solar PV installation on Oxford Bus Company's depot roof was, at the time of installation, the biggest solar PV scheme in Oxford. In its first year, the project generated £12,000 in community benefit funds.
Low Carbon Hub contributed this £12K of community benefit funds to a project called Warming Barton, which we developed in partnership with Oxford City Council. Barton is classified as an area of multiple deprivation. It is in the 10% most deprived neighbourhoods in the UK. Large parts of the estate consist of post-World War II steel frame pre-fabricated houses with very poor wall insulation, which leads to high fuel bills, poorly heated properties, and an adverse impact on residents' health and well being.
Through Warming Barton, Energy Performance Assessments were carried out which identified the potential for external wall insulation to save each assessed home an average of £450 on their energy bills. Low Carbon Hub contributed this first community benefit donation from the Oxford Bus Company to this project.
Before Low Carbon Hub and Oxford Bus Company created it, the legal template for a social enterprise to lease a commercial roof from a business for 25 years didn't exist. These legal templates are now available for any future business that would like to enter into a similar partnership with Low Carbon Hub.
Oxford Bus Company was keen for other businesses to follow their lead. Through talks, site visits and the sharing of lessons learned, tools and templates, the bus company has proactively recruited more businesses for this ground-breaking partnership model.
540
solar panels installed
140
kWp installed capacity
123,000
kWh annual generation
20%
company's electricity needs met
It isn't just about our buses, it's about how we run our whole business. The Low Carbon Hub project was attractive to us because it had the right investment profile and a great payback to the community.

LUKE MARION

Finance Director, Oxford Bus Company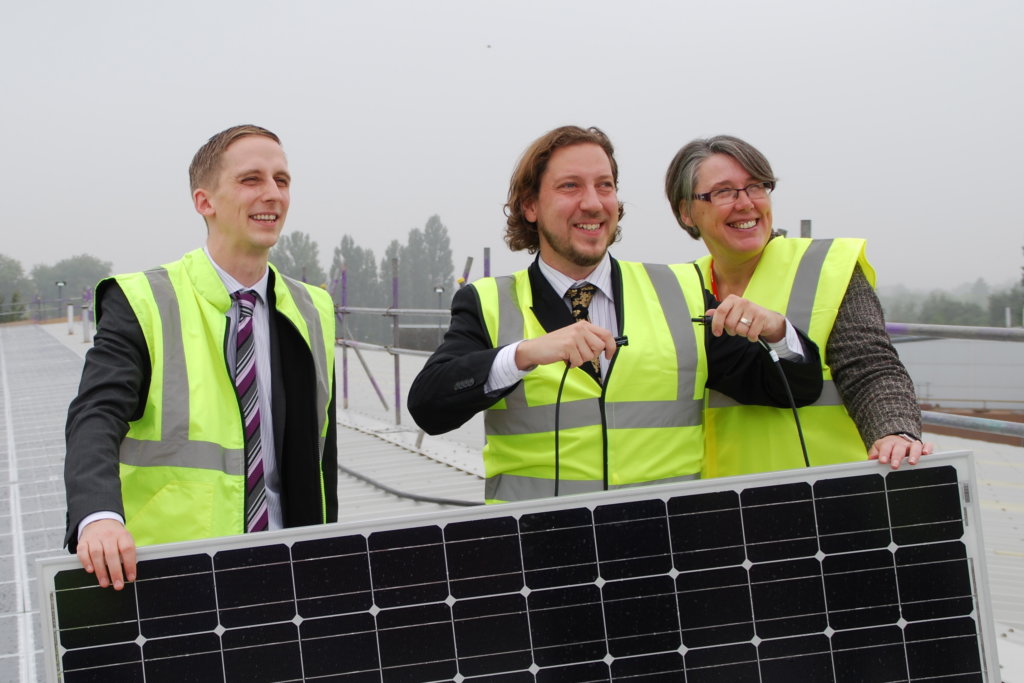 Could your business save money on energy and cut carbon emissions?
If you work in a business in Oxfordshire, and you're interested in finding out more about how you could work with us to install a solar array on your building, please get in touch.
---
Oxford Bus Company case study poster