Kirtlington Village Hall: Water Heaters
Kirtlington Village Hall wanted to save energy by replacing their old large water tank with instant water heaters. The old tank was often heated just for a few small uses by people using the hall and so was wasting energy. By installing instant water heaters, hot water is now quickly available to groups using the hall, saving on energy use as well as improving the experience of users as they no longer have to wait for water to be heated up.
Community Action Group Sustainable Kirtlington worked on this project with three members of the Village Hall Management Committee, with funding support from the Low Carbon Hub.
The instant water heaters are saving the Village Hall a considerable amount of energy, with projections of 40-60% on their previous energy use.
£1,000
grant funding from Low Carbon Hub
40-60%
projected energy saving
We are delighted with the heaters, which have already contributed to the comfort of hall users!

CELIA

Sustainable Kirtlington
Nominate a community building for a free energy audit
Thanks to a grant from Westmill Solar Co-operative, we are able to offer fully-funded energy audits for community buildings – the first step to reducing the building's energy use and increasing energy efficiency.
Here is our Kirtlington Village case study poster: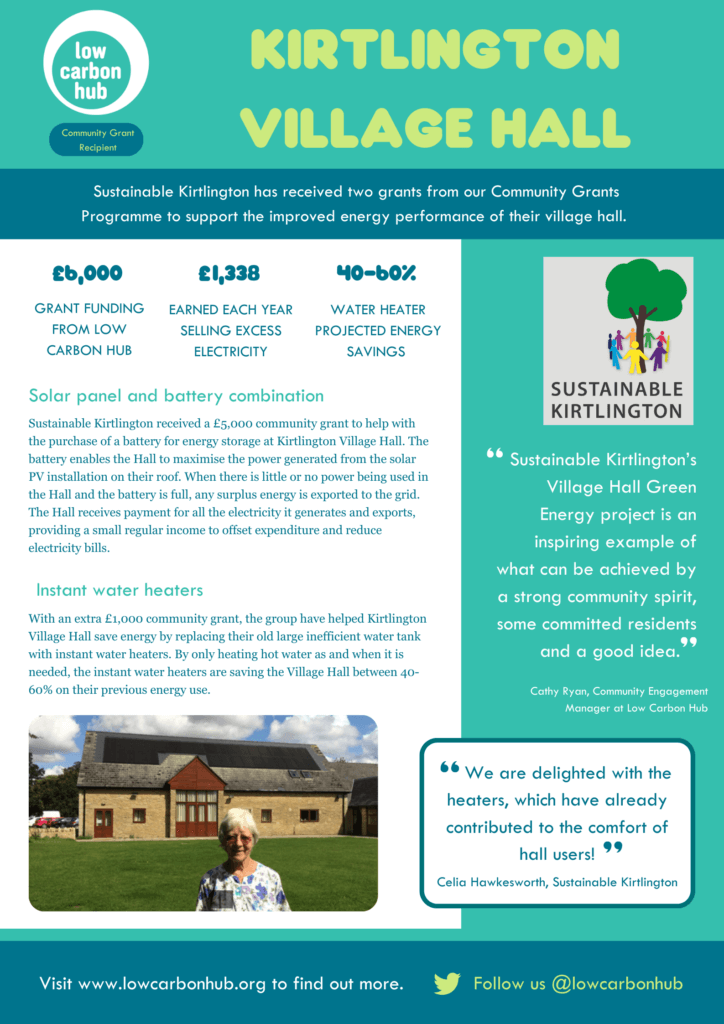 Could your community save money on energy and cut carbon emissions?
If you have any questions about saving energy or developing your own community-owned renewable energy project, we're here to help via our Helpdesk.