Duns Tew Village Hall received an OxFuture grant from GreenFund to install a variety of energy efficiency upgrades.
The Duns Tew Village Hall building was originally constructed as a schoolhouse in 1870 and later repurposed as the village hall. The space is in use for an average of 15 hours per week for a variety of activities including yoga, band practice, boot camp and dance.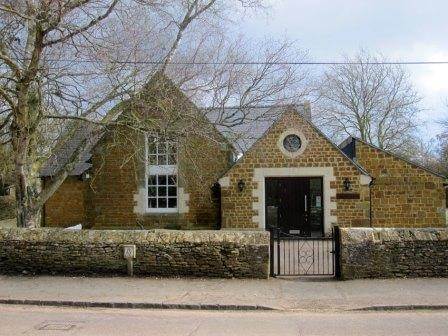 The Environmental Information Exchange (EiE), a not-for-profit organisation based at Oxford Brookes University, carried out a site visit in January 2022. The energy assessment recommended a host of measures that Duns Tew Village Hall could install to reduce their energy bills, make their workspace more comfortable and reduce their carbon emissions. Implementing all of the recommendations in this report would amount to 6.68 tonnes of carbon avoided per year – an 82% reduction in carbon emissions. OxFutures helped the organisation make decisions on what to prioritise. From the actions suggested, the following were implemented:
Double glazing
Before the energy assessment was carried out, most of the windows in the building were single glazed. However, recent repairs of the windows meant that they now fit tightly into their frames, reducing draught. The single glazed window in the storeroom, however, had not been repaired, resulting in draughts and heat loss so the decision was made to install secondary glazing (along with two other windows). All three windows reduce heat loss and draughts and help keep the building comfortable in cold weather.
LED lighting
Upgrading lighting throughout the Hall to incorporate LEDs and timer switches reduced the cost of lighting, through reduced energy consumption. The energy assessment found that whilst some halogen bulbs had already been replaced with LED bulbs, there were many non-LED lights installed in the building that could be replaced with LEDs, to reduce energy use and maintenance as well as providing improved lighting quality.
Installation of air source heat pump
Duns Tew Village Hall installed a new air source heat pump system which improved the comfort and noise level compared to their old oil boiler. There are significant carbon savings from making this switch; heat pumps run on electricity, however they use it much more efficiently than a traditional heating system making them a low carbon alternative to oil-based systems. If you put 1kW of electricity into a heat pump you will get more than 1kW of heat energy out.
Roof insulation
They made the decision to replace the 30-year-old, leaking, cold, flat roof with a new warm roof. This new water-tight, insulated roof resulted in lower carbon emissions from heating. Whilst not one of the recommendations in their energy assessment, this is mentioned in Duns Tew Village Hall's carbon reductions recommendation report with reference to potentially mounting solar panels. With their new heat pump system in place, solar panels combined with a heat pump could produce background heating at a low cost.
Overall, Duns Tew Village Hall received an OxFutures grant of £3,730.87 towards the energy efficiency changes mentioned above.