Please support our Warmer Winter Appeal
Low Carbon Hub has launched a Crowdfunder to support vulnerable households during the energy crisis.
We're all experiencing the threat of spiralling energy costs, but for people already struggling with the cost-of-living crisis, the rising cost of electricity and gas will leave many with stark choices to make this winter.
The problem
The government's pledge to cap the average bill to £2,500 will give a temporary respite for some, but still represents a doubling of energy costs over the last twelve months. Those who use more energy will face much higher bills.
Young families, tenants in private rental properties, and people in old or poorly insulated homes are among the many millions at greatest risk of fuel poverty. Many will face difficult choices – choosing between heating their home, feeding their children, or paying rent.
Around 8,500 winter deaths are caused by cold homes, and those in fuel poverty are more at risk of poor physical and mental health. With the cost-of-living crisis threatening to tip an increasing number of households into a vulnerable position.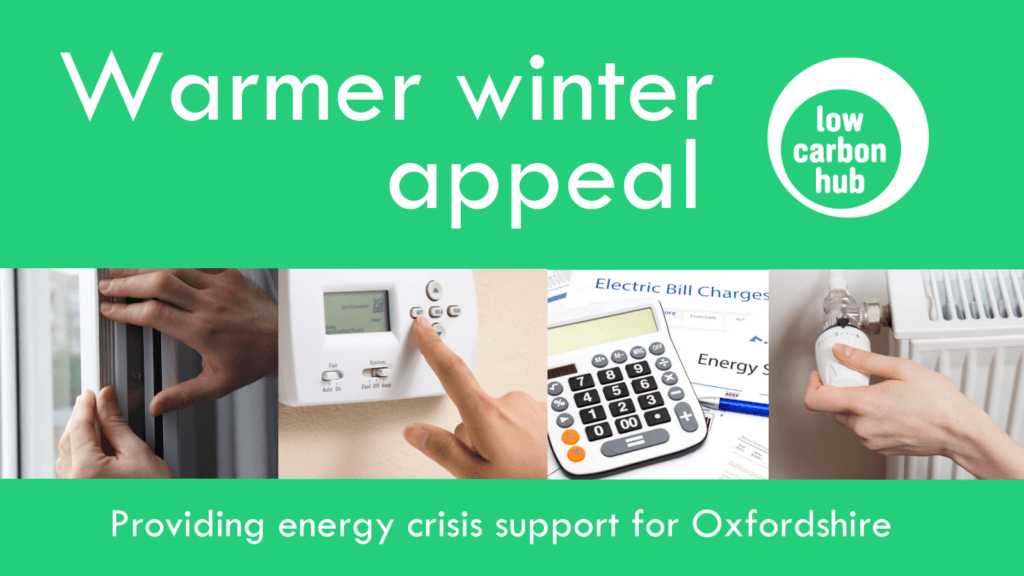 The solution
Can you help us fund energy advice in Oxfordshire this winter?
We are raising £15,000 to:
Train and pay an energy adviser to give energy advice and support
Train and support 12 volunteer community energy champions
Give 'draught-buster' starter kits to those at risk of fuel poverty
Encourage everyone to play their part in tackling the energy crisis, in the way most appropriate to them.
If you can afford to, please donate.
What your support could do:
£15 could provide an hour of energy advice for people struggling with rising energy costs
£50 could enable an energy adviser to attend a community event and offer practical advice to attendees
£400 could train five community energy champions.
If we raise more than our target we can provide more hours of energy support and train more energy champions. We believe everyone should be able to afford the energy they need. Capping the cost of energy will help in the short term but supporting energy efficiency measures is key to a long-term, sustainable approach to helping people keep warm and power their homes.
Improved energy efficiency also means lower carbon emissions, so we'll also be working together to reduce our impact on the global issue of climate change.
If you have received the £400 energy rebate but already feel able to cover your energy bills this winter, please consider supporting our campaign.
Your donation could help those at greatest risk of fuel poverty, and fund advice that will improve energy efficiency across Oxfordshire.
We're working with community energy groups and local networks to help deliver practical energy advice to people across Oxfordshire and help create more resilient low carbon communities.
We want everyone to be able to afford the energy they need, to reduce pressure on precious energy resources, and help reduce carbon emissions to combat the climate crisis. Please help if you can. Thank you.
The warmer winter appeal is being co-ordinated by the Low Carbon Hub, with support from low carbon community groups across Oxfordshire.