Great Big Energy Saver, Eynsham Great Big Green Week 2022
Green TEA, Low Carbon Hub and Project LEO (Local Energy Oxfordshire), organised the Great Big Energy Saver event during Great Big Green Week, held at St Leonard's Church Hall on Thursday 27 September, from 4pm to 9pm.
Green TEA are working with Low Carbon Hub on Smart and Fair Futures as part of Project LEO, to develop a Zero Carbon Energy Action Plan for the future of the energy system in the Eynsham Primary Substation area.
The increase in energy prices driven by the increased price of fossil fuel and the need to find a sustainable energy system for the future, combined to form an exciting and timely Great Big Energy Saver event for the people of Eynsham and the surrounding parishes.
The first part of the event began at 4pm with a drop-in session for anyone seeking advice on how to improve the insulation of their homes through simple, low-cost materials. Green TEA partnered with local DIY company, Evenlode, to provide free samples of radiator foil, draught proofing strips and internal window insulation film, that were available to take away. Green TEA also offer thermal imaging surveys and six people signed up to have a survey of their home.
Independent advice on understanding our energy bills and how to find extra support during the energy crisis was on hand from Citizens Advice West Oxfordshire, who are working with the Energy Saving Trust to suggest simple changes to the way we use energy at home that will lower our energy bills and help to tackle the climate emergency.
Communities for Zero Carbon Oxford, a partnership of nine low carbon community groups, made a series of Energy Saving Bite-Sized Films, which were available to view on a large screen. The seven short films aimed to encourage everyone to take steps to insulate their homes, by showing people in their own homes who had installed energy efficient measures, both big and small, to reduce heat loss and make their homes warmer. It was inspiring and reassuring to hear residents talking directly about their own experiences which had led to increased control of their energy use and a reduction in bills. All seven films are available to share on YouTube here.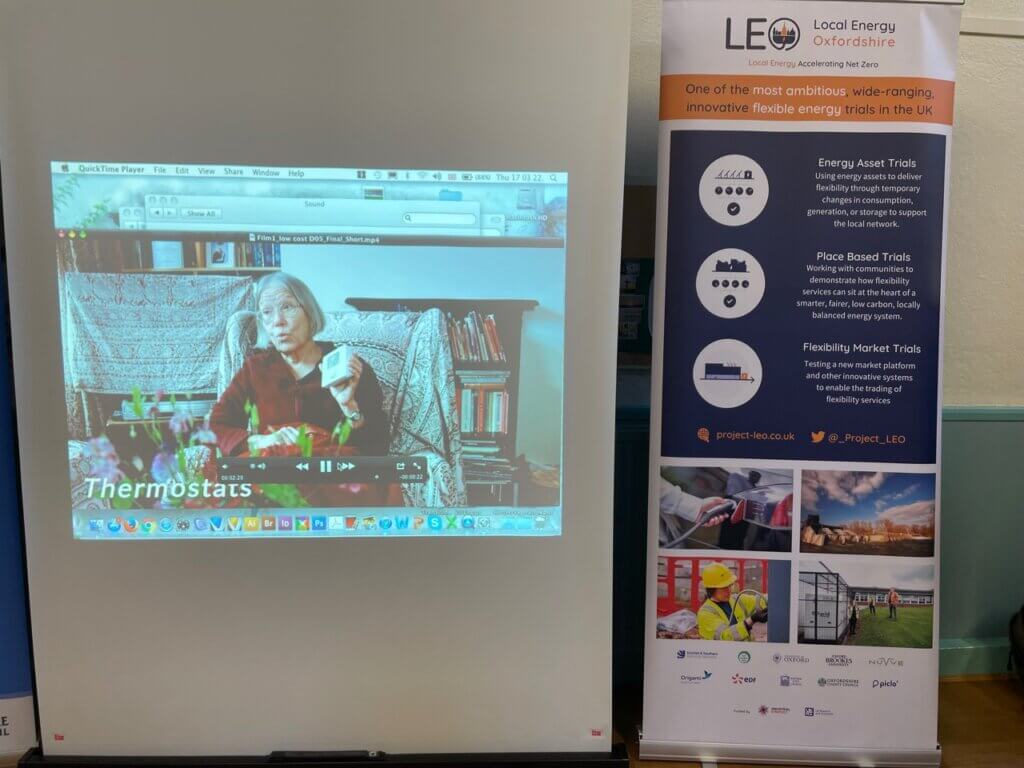 Oxford County Council promoted their Sustainable Warmth Fund, which can provide a range of energy efficiency home improvements to some homeowners with a total annual income of below £30,000 and whose home has a low EPC rating. The fund is open until March 2023. Application forms and information can be found here.
Cosy Homes Oxfordshire were on hand with a newly recruited Eynsham based Retrofit Coordinator, to provide advice on a holistic approach to home retrofit that may involve installing bigger measures such as exterior wall insulation and air source heat pumps. Cosy Homes Oxfordshire offers a one-stop-shop service that aims to make it easier for homeowners to retrofit their homes.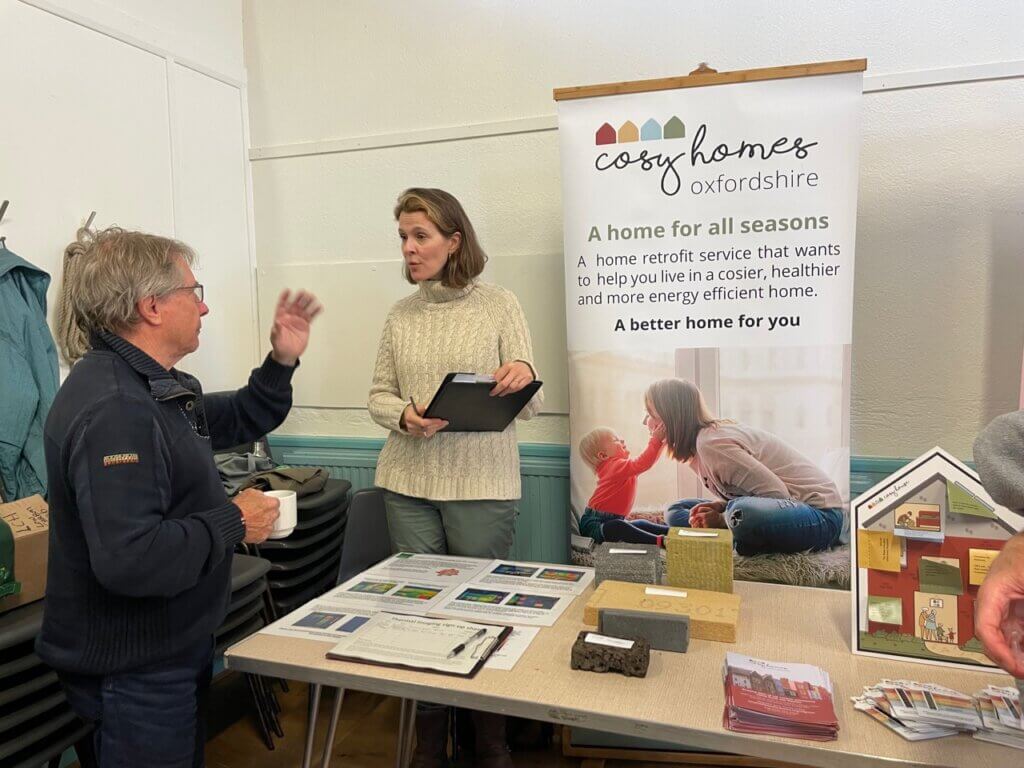 The second part of the evening at 6pm involved an informal open discussion on the future of the energy system in the Eynsham area with talks from three experts; Sam Hampton, a Social Scientist at Bath University and Oxford University's Environmental Change Institute, Scot Wheeler, a Research Scientist from the University of Oxford, with a specialism on smart local energy systems, and Barbara Hammond, CEO of Low Carbon Hub, Oxford. Many people stayed on to hear the three short presentations and take part in the discussion, chaired by Councillor Ross Macken, chair of Eynsham Parish Council.
Sam Hampton summarised the Pathways to a Zero Carbon Oxfordshire, created by the Environmental Change Institute and Bioregional, which provides a road map for a zero-carbon future for Oxfordshire by 2030 and 2050 using the following four scenarios:
Steady Progression
Societal Transformation
Technological Transformation
Oxfordshire Leading the Way
When asked when he thought that Oxfordshire would reach net-zero, he explained that net-zero meant no new greenhouse gas emissions and Oxfordshire was on target to halve its emissions by 2030, as energy demand has already been significantly reduced and the use of low carbon transport has increased.
Scot Wheeler broke the ice by providing his legendary Pint-Sized Science demonstration to illustrate balancing the grid. He engaged 2 volunteers from the audience, one to pour and one to try and drink beer through a straw with their eyes closed, in order to demonstrate how much energy is wasted. To show how a smart energy system could be more efficient by using battery storage to enable flexibility, the same 2 volunteers poured and drank the beer with their eyes open, with much greater accuracy and no spillage. Everyone enjoyed the demonstration and the video can be viewed here: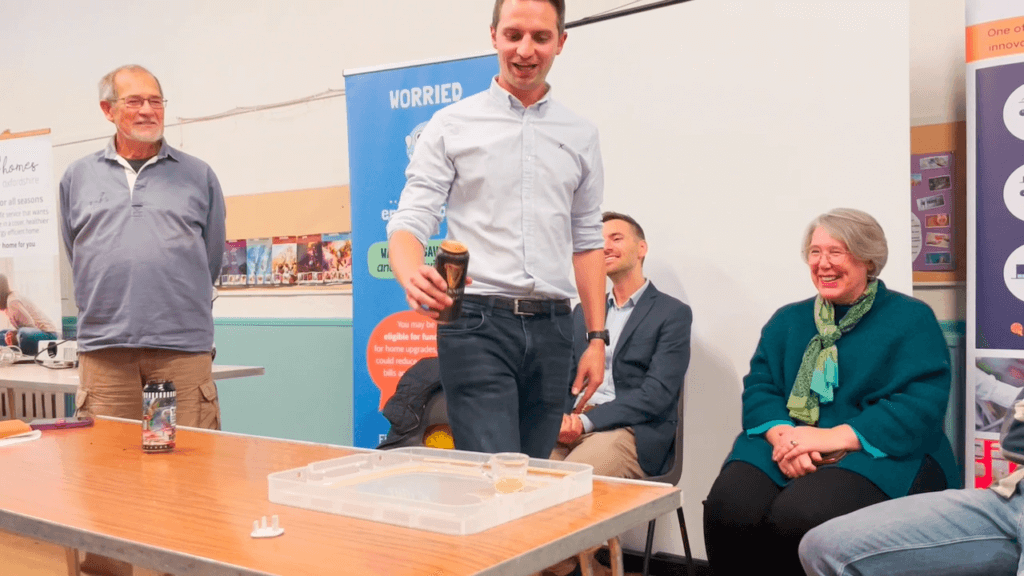 Barbara Hammond brought the discussion back to the Eynsham Primary Substation Area that includes the parishes of Eynsham, Freeland, the Hanboroughs and parts of South Leigh. There are approximately 10,500 homes in the area which is set to increase to 16,000 with the planned developments, which will put a huge strain on the grid. Barbara explained that by 2025 the predicted increase in electric heating and the use of electric vehicles will make it necessary to make room on the electricity network by reducing the energy demand in our homes and increasing storage with batteries. She described how Green TEA and Low Carbon are working with Project LEO and Energy Systems Catapult to develop a Zero Carbon Energy Action Plan for the Eynsham area. The plan, which will be available later in the year, will indicate in detail what needs to be done locally in order to achieve net-zero and will show models based on accurate data of how we can generate and balance electricity demand.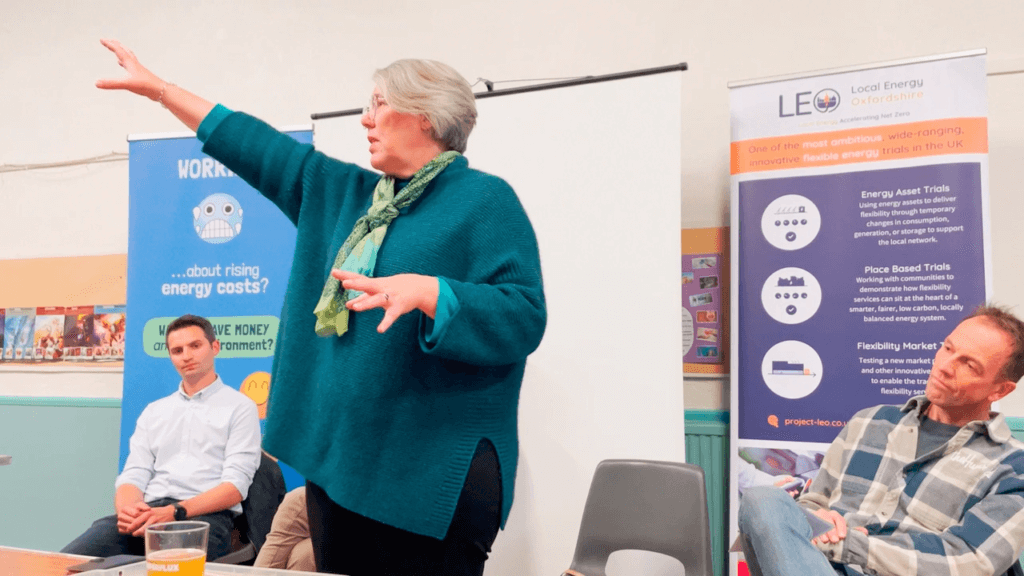 The discussion continued informally with a very engaged audience until time ran out, but it is just the beginning of the conversation as we develop the Zero Carbon Energy Action Plan.