Energy Saving Bite Sized Films launch
The launch of Communities for Zero Carbon Oxford's Energy Saving Bite Sized films took place during Great Big Green Week at the Town Hall, Oxford on 27 September 2022. The films form a vital part of the Energy Saving Homes project, carried out by a group of nine environmental community group members of Low Carbon Hub, working in partnership to help householders in Oxford save energy and money. The project was funded by grants from Low Carbon Hub and Oxford City Council.
The seven short films show people in their own homes who have installed a range of energy saving measures and who are benefiting by saving money on their heating bills. Eleanor Watts from Rose Hill & Iffley Low Carbon worked with local film maker, Benedict Robbins, to develop and produce the films, which are available to view on YouTube and can be accessed here.
They have been shared with local community associations, surgeries, bus companies, football clubs, cinemas and libraries across Oxfordshire.
The group identified that many people are not sure where to start with improving the energy efficiency of their homes and welcome hearing from others who had already taken action. The energy crisis brought on by the increase in the cost of fossil fuels has brought more urgency to reducing heat loss from our homes and reducing our energy bills.
The suggestions made by the residents in the films range from simple low-cost measures like draught proofing, to bigger projects like solar PV panels and external wall insulation. Some had made the switch from fossil fuel heating to an air source heat pump.
The films covered the following topics:
Film 1. Low-cost energy saving measures that cost less than £10
Film 2. Insulating your walls, loft and floor
Film 3. Air source heat pumps
Film 4. Solar panels and storage
Film 5. Double or triple glazing and ventilation
Film 6. Help with finance
Film 7. Opportunities for contractors.
Each film shown was followed by a short talk from an expert and a discussion of how the videos can best be used in our communities. Rose Hill & Iffley Low Carbon had the inspired idea of inviting experienced Retrofit Coordinators, contractors and members of the City Council to answer questions from the audience of around 40 people and provide advice.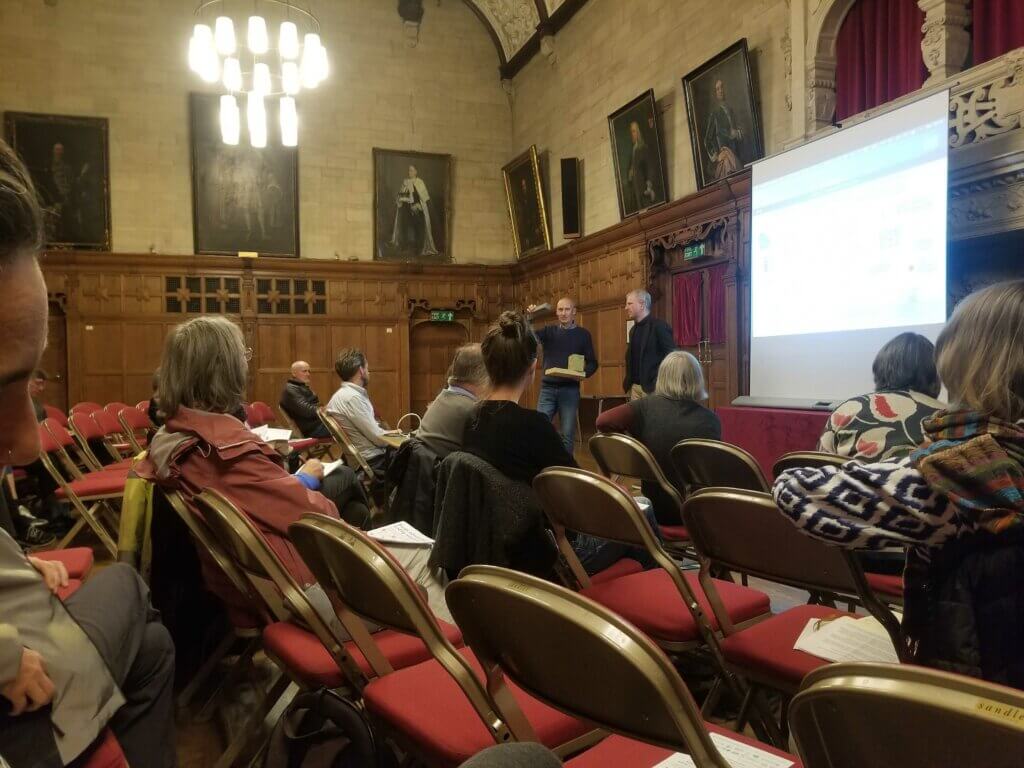 Retrofit Coordinators, Mark Saunders and Michael Huth, from Cosy Homes Oxfordshire, were asked about different types of insulation and the suitability of air source heat pumps. Mark had brought along samples of wood fibre insulation and rock wool and explained which worked best for different situations. He also advised on the technical aspects to take into consideration when switching to an air source heat pump, such as the possibility of needing to have larger radiators as the heat pumps operate at a lower temperature.
Members of the audience engaged enthusiastically with contractors, Martin Fitzgerald from Proguard Exteriors and Steve Cross from Steve Cross Plumbing and Heating. Martin reported that he is concentrating on external wall insulation, due to the high demand and Steve, who specialises in installing air source heat pumps, has taken on several new trainees to help with the increased demand.
Councillor Imogen Thomas, Oxford City Council's Cabinet Member for Zero Carbon Oxford and Climate Justice, explained that help was available to homeowners through the City Council's Sustainable Warmth campaign, which can provide a range of energy efficiency home improvements to homeowners with a total annual income of below £30,000 and whose home has a low EPC rating.
The films on YouTube have already had over 650 views and each film is followed by an online link enabling viewers to find more details about each of the measures. Viewers can be signposted to Low Carbon Oxford North's Housewarming Guides, Cosy Homes Oxfordshire and the Better Housing Better Health campaign.
The seven short films will provide a lasting legacy that will encourage and inspire people, whatever their budget, to take action to install measures that will make their homes warmer and lower their energy bills, at a time of rising energy costs.