Community Group of the Month: Sustainable Didcot
We are proud to announce that Sustainable Didcot is our August 2022 community group member of the month.
Sustainable Didcot is a community action group for Didcot residents with a shared interest in the environment, living sustainably and raising awareness of climate change. The group began life in 2010, initially as a swap shop to encourage recycling, and have since grown their activities to include a popular repair café, community allotments and a thriving energy group.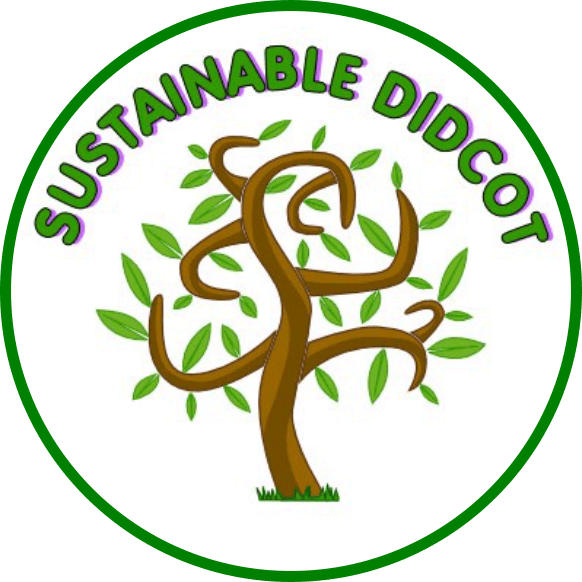 They have been members of the Low Carbon Hub CIC since 2016, when they carried out a successful thermal imaging project to raise awareness of the importance of insulation and help people to improve the energy efficiency of their houses and reduce fuel bills.
Energy
Thermal imaging project
The UK has an old and inefficient housing stock and during the Winters of 2015/2016 and 2016/2017, Sustainable Didcot ran a thermal imaging campaign within the town, to show residents how much heat was potentially escaping from their homes. They borrowed a specialist thermal imaging camera from South Oxfordshire District Council and carried out 68 surveys of homes. They also compiled an interpretation guide in order to help residents understand where the main heat loss areas of their homes were located.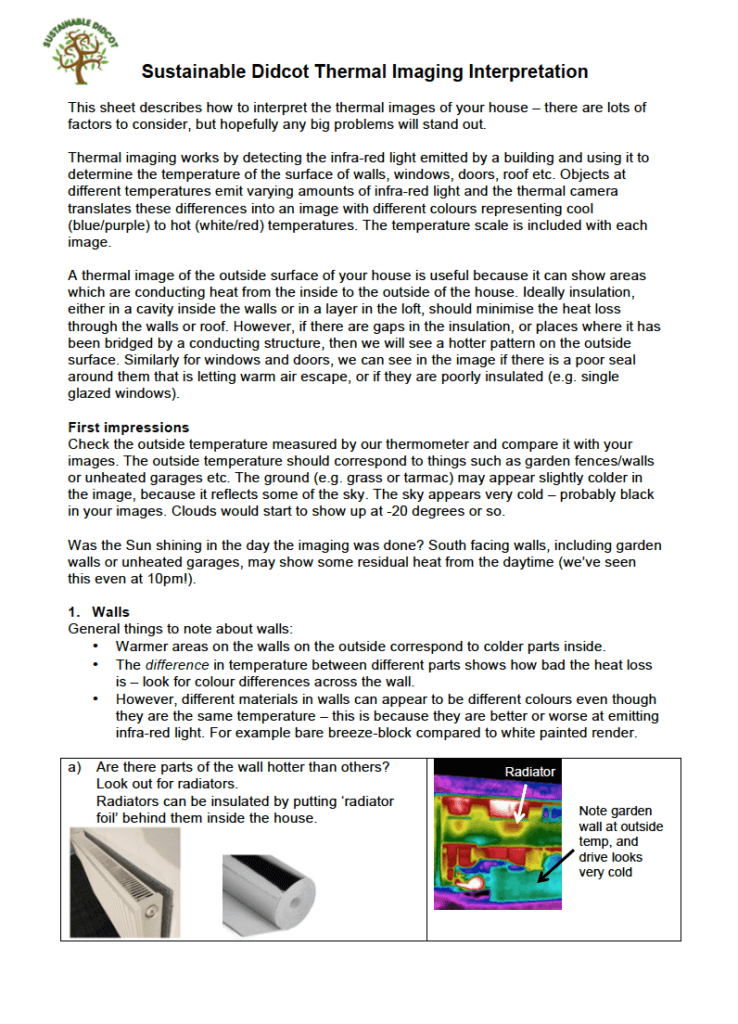 Didcot Plus Solar Streets
Having galvanised interest in energy efficiency in the home, Sustainable Didcot turned to renewable energy generation and launched the Solar Streets programme in April 2021. So far over 47 households have taken up the offer and installed solar PV on their rooftops.
The Solar Streets scheme is designed to bring affordable solar panels to communities at a discounted price by finding groups of homeowners within the same geographical location to purchase solar panels at the same time. The scheme also donates to a specially set up Community Fund, to be used for environmental projects, by donating £50 to the fund for every Residential Installation and £100 for a Commercial Installation.
Gruff Lewis, joint secretary of Sustainable Didcot, filmed this short video of his own solar installation to encourage other residents by showing exactly what the install involved.
Project RED (Reducing Energy in Didcot)
In early 2020, in response to the Town Council declaring a climate emergency, Sustainable Didcot applied for and received a large grant from the Low Carbon Hub to help the community investigate ways to lower energy usage and carbon emissions on the path to zero carbon.
The group commissioned the Environmental Information Exchange (EIE), to carry out a town-wide energy audit and provide a report with achievable recommendations that the community could take to reduce energy use and carbon emissions in Didcot.
Through analysis of local data sets and local community opinion, the EIE created a report that showed the areas where the biggest impact would be made were:
Transport – by promoting walking and cycling
Housing – making Didcot homes more energy efficient
Community Renewables – developing larger-scale green energy schemes
Commercial Sector – helping Didcot shops and offices use less and generate more energy
The project culminated recently with a public launch to reveal the findings in the report and set up working groups within the community to focus on each subject and set of actions.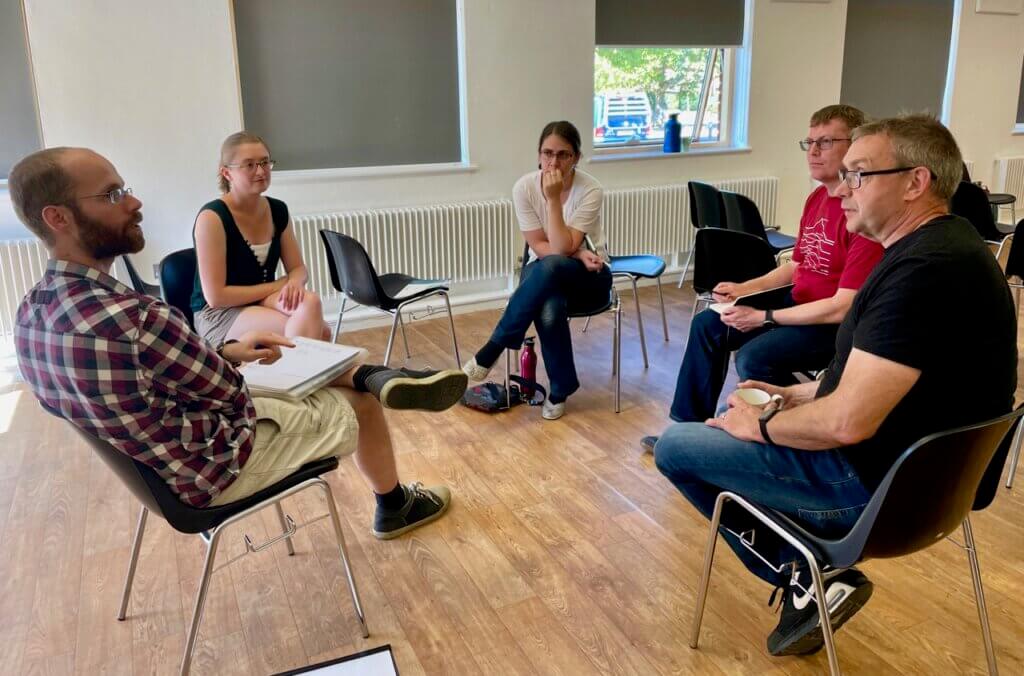 Repair and Re-use Project
Repair Café
Sustainable Didcot are known for their popular repair cafes where volunteer fixers examine and repair a huge amount of household items brought along by local residents. The cafes are sociable events with refreshments and they aim to help residents become confident to repair their own broken items and reduce the need to buy replacements.
How does the repair café work?
The repair café is usually held at Didcot Civic Hall where residents can take along a household item that requires fixing or repurposing. The volunteer repairers will try to fix anything, from clocks to lawnmowers, with the exception of white goods or objects that are too large to carry. Items are registered and weighed at the start of the café as it helps Sustainable Didcot calculate how much waste they save.
Repair Cafés organised by Sustainable Didcot and Repair Café Oxfordshire have started up again enthusiastically since the easing of Covid restrictions. A recent repair café saw volunteer experts from local businesses helping with bike repairs for free. Other popular items that were fixed included toys, clothes, clocks, watches, mechanical items and jewellery, as well as sharpening knives and tools.
A grateful customer had this to say of Sustainable Didcot's repair café:
"Thank you to everyone who gives their time at the repair café to make so many people happy and stop unnecessary landfill"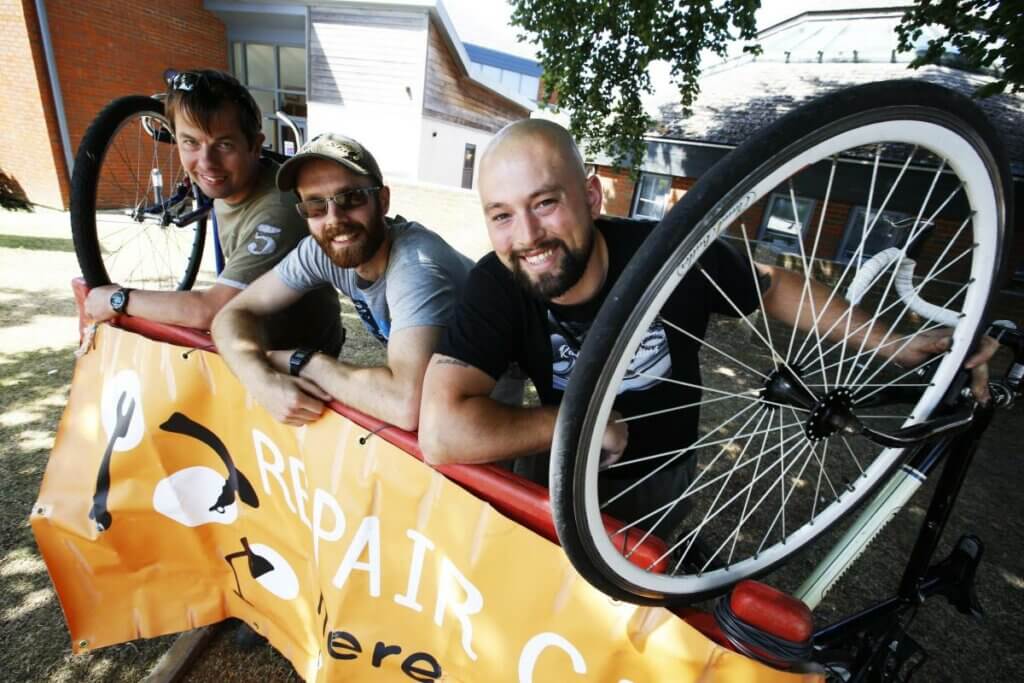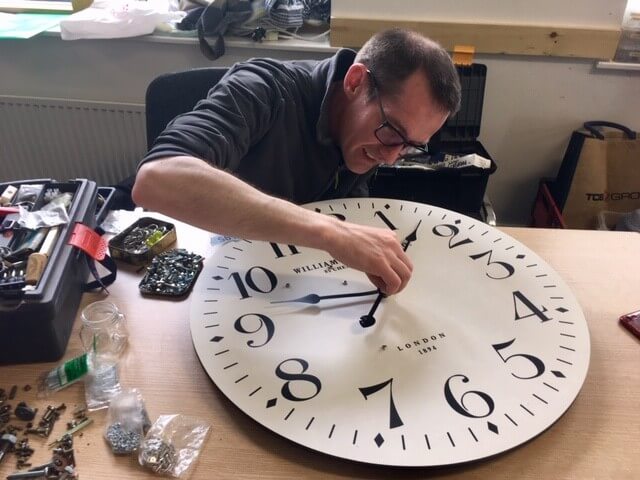 Food Growing and Green Spaces
Wild Didcot
Wild Didcot is a new initiative set up to look after existing and new green spaces in and around Didcot, as increasing urban expansion means that green space is shrinking.
They are creating a network of wildlife-friendly patches across the town, containing native trees and pollinator – friendly shrubs to support wildlife, help nature recovery and fight climate change.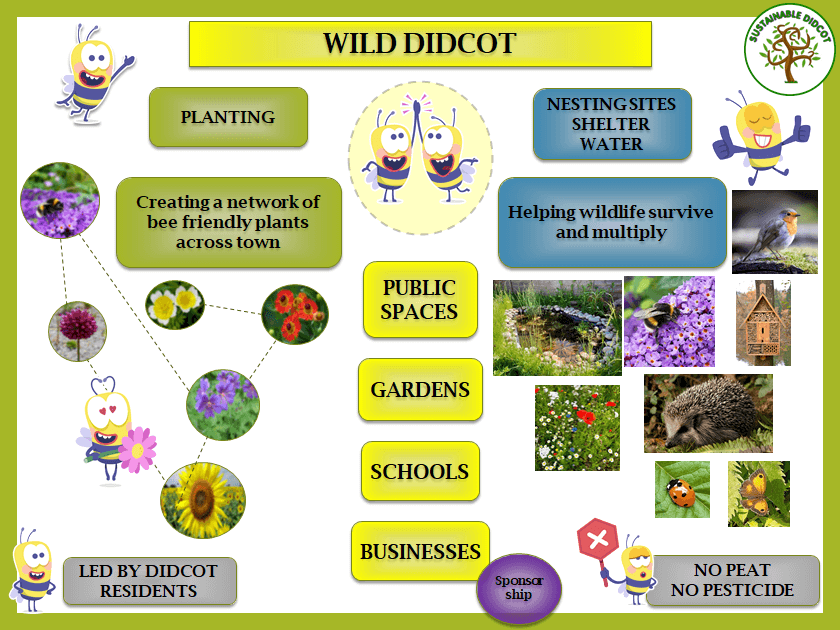 Community Allotments
Sustainable Didcot started a vibrant community allotment to encourage residents to grow their own produce. The scheme has proved to be very popular with regular shared gardening sessions to look after the poly tunnel and raised beds. The group also worked with Incredible Edible to plant a herb and fruit garden in the town centre.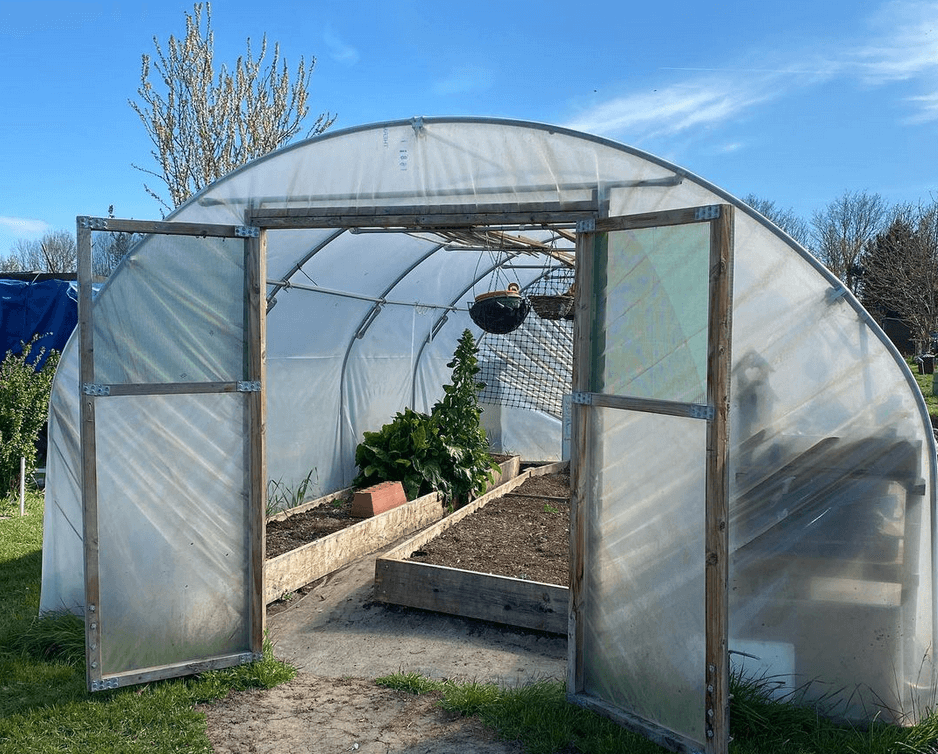 Community Awards:
Sustainable Didcot have deservedly won several community awards including:
2016 – "Raising Awareness" award at the 2016 Didcot BACAs.
2018 – OCVA "Environmental" award at the 2018 Oxfordshire Charity and Voluntary Awards.
2018 – They were awarded £1650.00 from South Oxfordshire District Council towards the Repair and Reuse Project, which helped to support the Repair Cafes through the year as well as the Freecycle and Vegcycle events.