Community Group of the Month: Sustainable Charlbury
We are delighted that Sustainable Charlbury is our community group of the month for November / December 2022.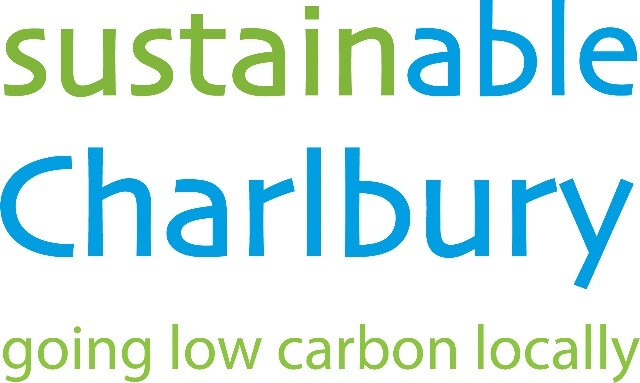 Sustainable Charlbury began in 2008 as a Community Interest Company, with the aim of addressing the big challenges the planet faces at a local level. The group is run by a small, dedicated team who hope to bring positive changes to the way energy is used in homes and buildings in Charlbury.
In 2012, influenced by the achievement at Westmill Solar Cooperative, they embarked on a hugely ambitious project to create a local community owned solar farm, Southill Solar, that would create sufficient green, renewable electricity that would be equivalent to the energy demand of homes in Charlbury and the neighbouring villages.
The project was successful and Southill Solar farm began generating clean electricity in 2016. A new community benefit society, Southill Community Energy, was formed to run the organisation. Sustainable Charlbury re-launched as a Charitable Incorporated Organisation in 2018 and works in partnership with Southill Community Energy to administer its community grant projects.
Power to the People – the story behind the development of the community owned Southill Solar Farm
Sustainable Charlbury have published their own record of the challenge to create Southill Solar farm. 'Power to the People' tells the remarkable story of how a small town in the Cotswolds came together to create the community owned and controlled solar farm.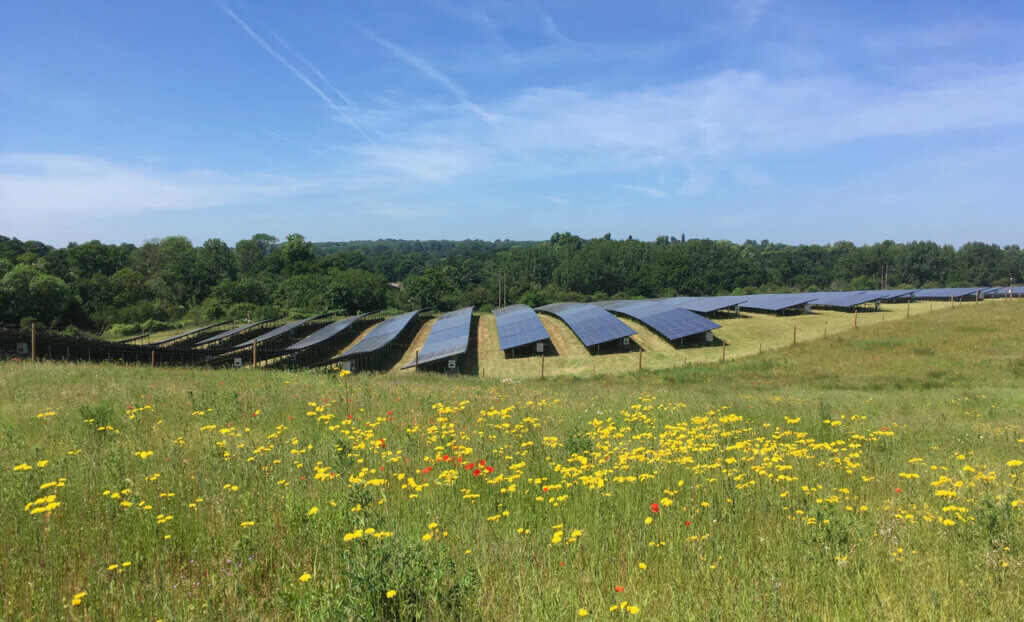 Southill Solar generates enough power to cover the equivalent electricity consumption of Charlbury and two nearby villages. The project has been run by people living locally all the way through from the initial idea, to winning planning consent, raising the money, oversight of construction, and now running the solar farm. As well as producing green renewable energy, Southill Solar manages an ambitious programme of land restoration which is transforming former arable land into a haven for plant and animal biodiversity.
Grants Programme for community environmental projects
Sustainable Charlbury is now running a grants programme that recycles the surplus revenues from Southill Community Energy into funding for low carbon projects within the community, particularly those that have an emphasis on partnerships and organisations working together.
This year they provided grant funding for two exciting local projects at Charlbury Primary School and Charlbury Bowls Club.
Charlbury Primary School used their grant to employ a Sustainability School Advisor to establish a 'Learning for Sustainability' programme and work with pupils and staff to implement a curriculum for biodiversity, ecology, and sustainability. They were awarded the Eco School Green Flag with Distinction in June. Pupils from the school have visited Southill Solar farm to see for themselves how enriched biodiversity can help the site blend into the landscape. The Sustainable School programme has been embedded into the curriculum and more teaching staff have been trained to implement the project.
Charlbury Bowls Club is a thriving amateur sports club that was established in 1934. The club has seen a significant rise in membership and needed to extend the premises. They received a grant from Sustainable Charlbury to carry out a specialist assessment of the building that involved a thermographic review and airtightness testing. They were then able to implement energy efficient measures, including loft insulation, LED lighting, and replacement of external windows and doors with argon-filled triple glazing.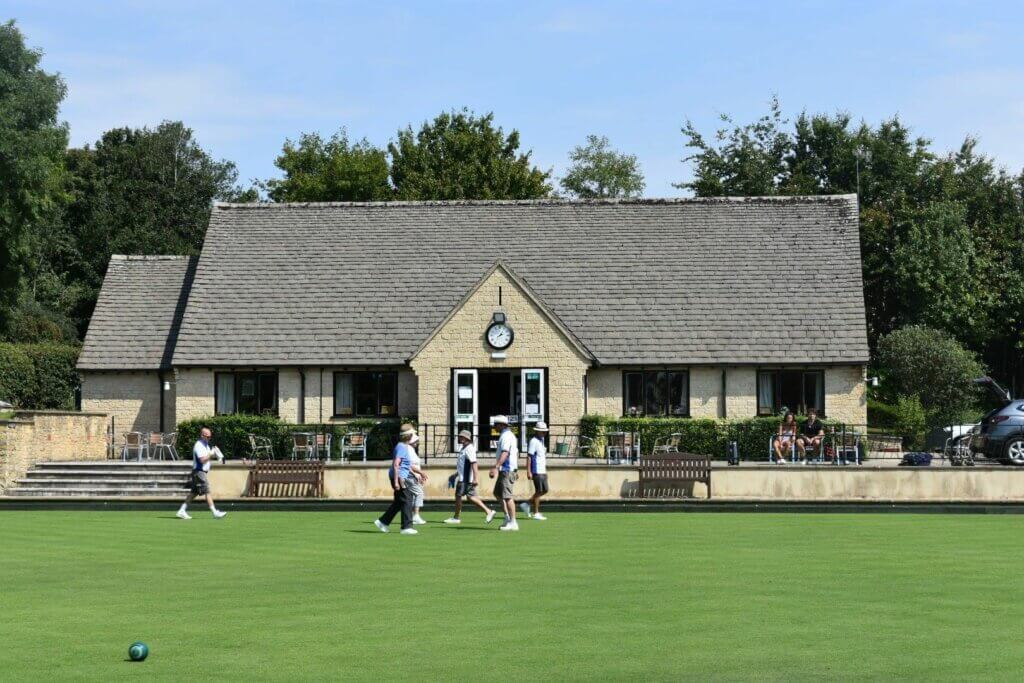 The next deadline for grant applications from Sustainable Charlbury is 31 December 2022
Find out more here.
Charlbury 2040
Charlbury Town Council declared a climate emergency in 2020 and Sustainable Charlbury play a vital role in uniting the community to visualise and take action towards a carbon neutral town by 2040. The Town Council organised a town-wide meeting and interactive discussion in February 2020 to try to collectively imagine a more sustainable Charlbury in 2040 and identify what steps might need to happen to achieve the vision. Retrofitting homes, sustainable transport, and communal food growing were the most salient themes. A visual minute artist captured the main actions and produced a fantastic image of the journey to 2040.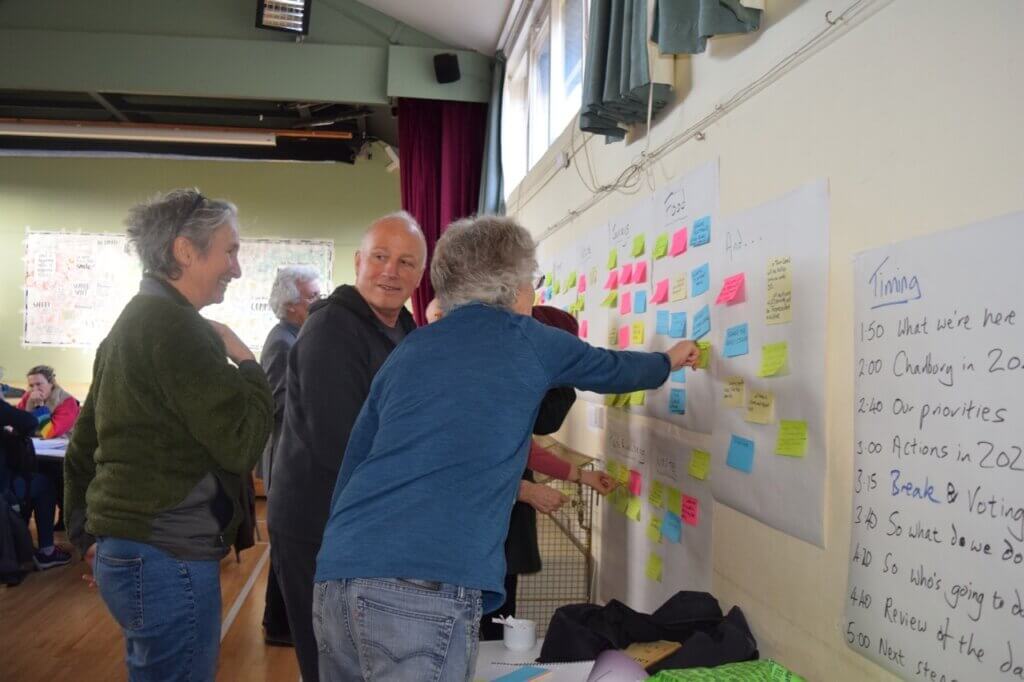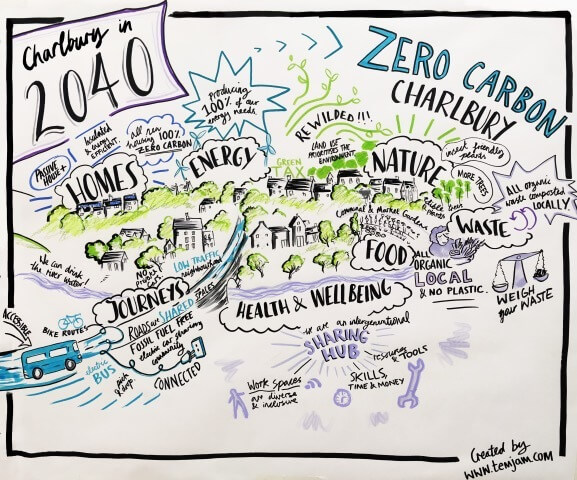 Home Energy project
Sustainable Charlbury's Home Energy Project began in 2019 with the launch of the Greener Healthier Homes campaign. Thermal imaging of selected homes on The Green was carried out, to measure air tightness, heat loss and quality of cavity wall insulation of houses of a similar style and age.
Future Plans
The group are currently helping to develop a project creating Whole House Plans for ten house typologies in Charlbury and working with the local authorities to influence local planning policy and increase support for a retrofit policy at scale in the area.
They have partnered with the Evenlode Foundation to receive funding to enable this project to develop. It is hoped that the results of the project will show how energy use can be reduced in 10 types of housing and the findings will be relevant to other communities within Oxfordshire and beyond.