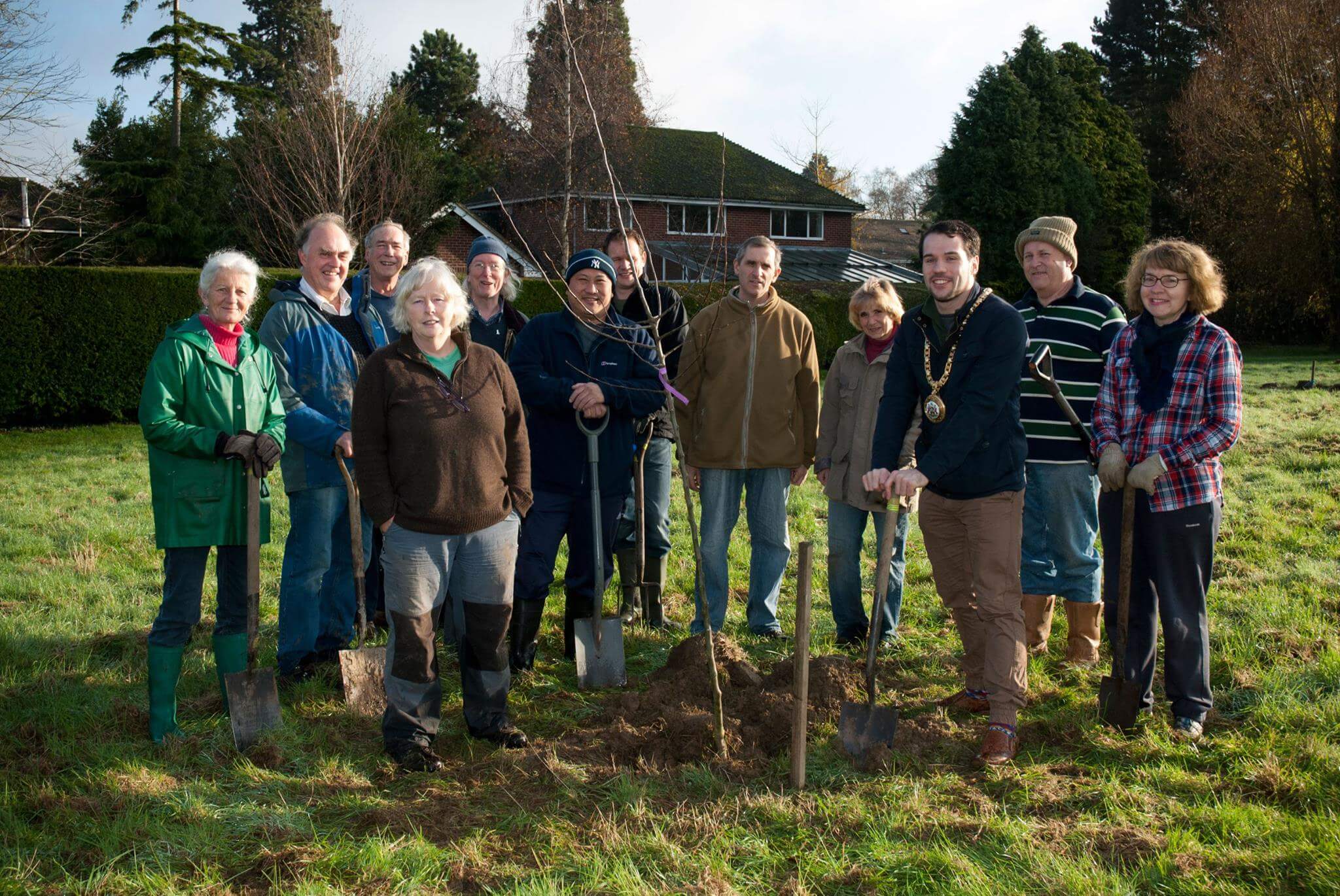 Community Group of the Month: Low Carbon West Oxford
We are delighted to announce that Low Carbon West Oxford (LCWO) is our  Community Group of the Month for November 2021!
Low Carbon West Oxford are an energetic group with a creative and inclusive approach to community activity. They play an important role in highlighting the need to live more sustainably in the community of West Oxford and organise many events that take place at the West Oxford Community Centre. The group have a busy programme of activities that are delivered in an enjoyable way that enthuses people about taking action to safeguard our environment for the future.  
LCWO's Story
Low Carbon West Oxford (LCWO) was first set up after the summer floods of 2007 in Oxford by residents concerned about climate change and local flooding. They merged with other community environmental groups such as West Oxford Waste Watchers, and the Osney Island Sustainable Group and became a registered charity in March 2010.
For a great overview of the charity's work so far, check out their 'River of life' infographic, which charts the first decade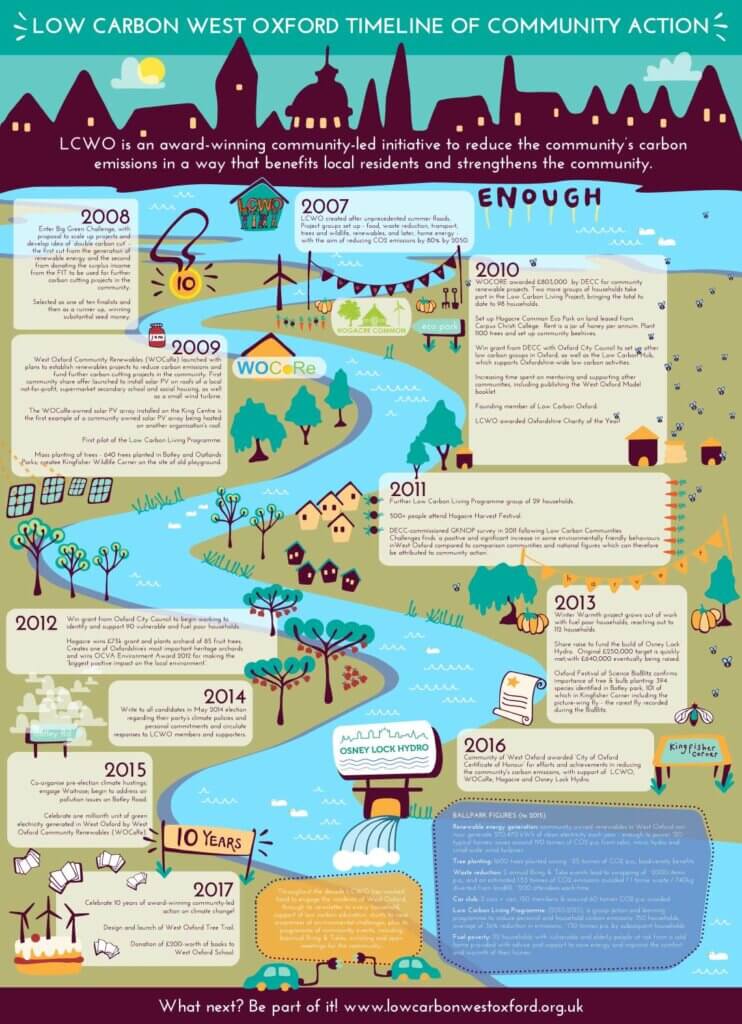 LCWO has 90 members and over 120 local volunteers plus a further 350 supporters in the community outside of the charity boundary. The group receive surplus income donated by West Oxford Community Renewables from the sale of electricity generated by its renewable energy installations and since 2016 have employed Mim Saxl as Lead Programme Manager. Mim works closely with a co-ordinating committee and an active team of volunteers running  projects including the Act Now workshops, repair cafes plus tree and wildlife, transport, waste reduction, and sustainable food projects.
ACT NOW Workshops
The ACT NOW Workshops are a series of free workshops with local experts that each explore a different aspect of our lives that affect the environment, such as home energy, waste, food, transport and money. The workshops began in person but moved online during the pandemic, with the result that they were recorded and can be viewed on the website.
Kids CAN Materials
LCWO created a new network, 'Kids Climate Action Network' (KidsCAN), to bring together local groups and individuals to create safe and empowering climate change resources and information for children, as well as for the adults looking to engage with the younger generation.
As part of this work, they have created a number of resources for use in primary schools, which are free to download, use and share. They also run workshops and school assemblies designed to remove fear and anxiety associated with climate change and encourage children and young people to feel positive about taking action.
West Oxford Apple Juice Project
This October sees a repeat of the inspired idea that uses waste and connects local organisations to make something delicious. Volunteers from LCWO collect donations of surplus apples and pears from people across West Oxford, which are then made into a pasteurised blend of juice specially labelled for the group by local micro-enterprise, Tiddly Pommes. The juice is bottled and sold online with a proportion donated to the Oxford Food Bank.
Repair Cafes
The group re-started their lively repair cafes in person at the West Oxford Community Centre with a Love Your Stuff Repair Café plus a free creative Darning Workshop. Workshop leader, Amber Grant , showed how elegant darning could prolong the life of your favourite garment or furniture item in a cool way and prevent them from being discarded.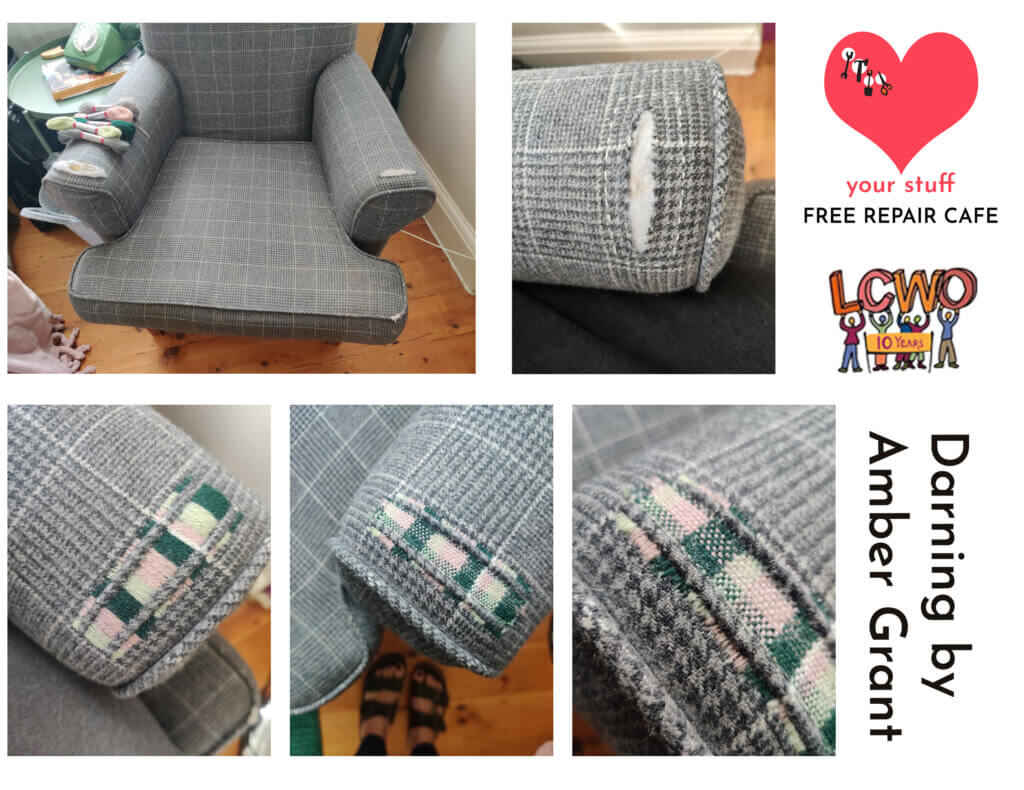 Unlocking the Power of the River
Unlocking the Power of the River is a year- long celebration of the river which is a central and important part of life in West Oxford. The first part of the project was a
Midsummer Meander in 2019 which was jointly organised by Osney Lock Hydro and Low Carbon West Oxford to raise awareness of the hydro. It was a great success and 340 visitors passed through the site over the weekend. You can read more about the project at www.osneylockhydro.org.uk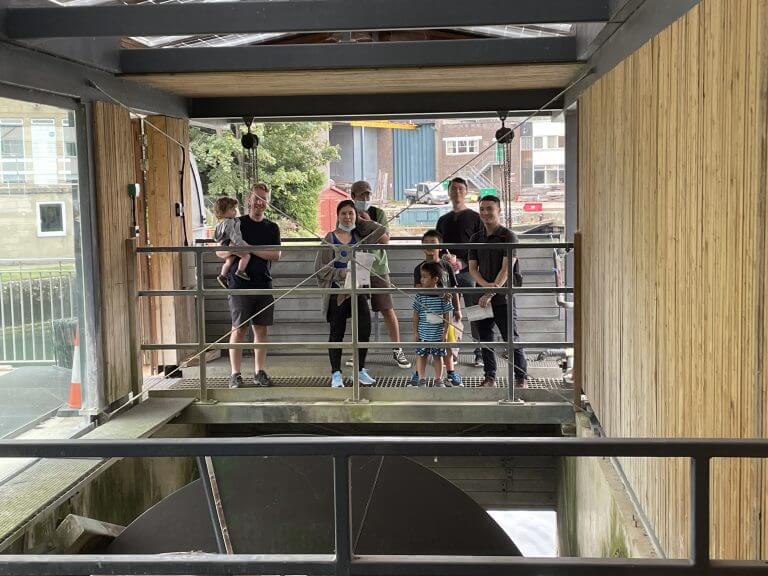 The second part of the project is to create a human sundial at Osney Lock Hydro and is funded by the National Lottery Heritage Fund. This part of the inspiring project has been delayed by Covid-19 but local artist Josie Webber has created beautiful mosaic numbers for the clock using images of creatures chosen by the local community.
The landscaping part of the project has at last re-started which will mean that the Osney Lock Hydro site will be able to be open to the public and school groups with educational information on hand to make the most of the visits.