Community group of the month: Low Carbon East Oxford
We are pleased to announce that Low Carbon East Oxford is our Community Group of the Month for March 2023

Low Carbon East Oxford is a small, friendly group of people living in East Oxford, who came together ten years ago to take small climate positive actions in the hope of encouraging others to do the same. They believe that when many people take action, no matter how small, it can make a big difference to the climate emergency.
The group had an enthusiastic start over ten years ago but there is a high turnover in the local population, which makes sustaining activity difficult. It can take a lot of hard work to attract and maintain an enthusiastic group of volunteers in a community group and it often falls to the same small group of people to keep activities going. It can be time consuming and frustrating, but ideas can gather momentum quickly and sometimes, other people and organisations are just waiting for someone to take the lead.
Since 2019 new people have arrived and the group decided to focus on a few areas to help reduce the carbon emissions of East Oxford, including thermal imaging to reduce home energy usage, investigating owning or sharing electric cars, community tree planting, plant-based diets and most recently, a repair stall.
They are steadily expanding their presence in the community and have increased their newsletters, launched the clothing Repair Stall at the East Oxford Farmers' and Community Market, signed up to Low Carbon Hub's Energy Advice programme and added useful information and resources to their website.
Energy Advice
The group participate in the Low Carbon Hub's Energy Advice campaign and have two volunteer Energy Champions, who attended the training course run by Low Carbon Hub and Chris Church, from Oxford Friends of the Earth. They have been actively taking the Energy Champions' stall and resources to events, such as the East Oxford Farmers Market and Templars Square Shopping Centre. They provided advice on how to save energy and gave free resources, such as radiator foil, to people concerned about their energy bills.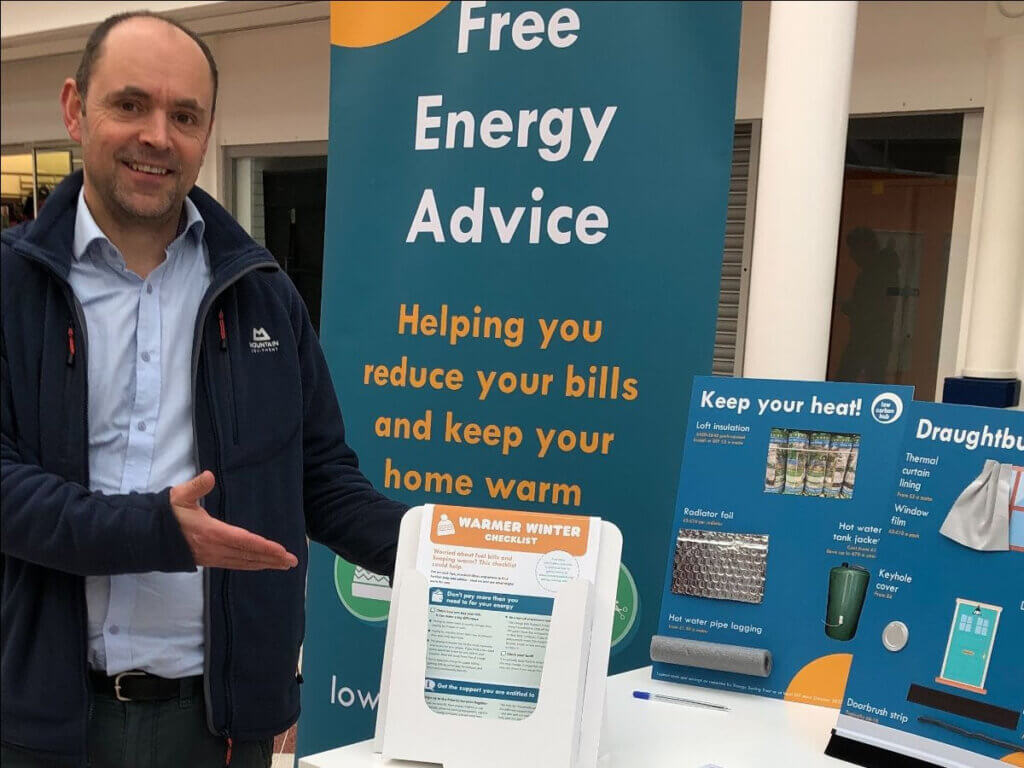 Thermal Imaging
Low Carbon East Oxford have begun a thermal imaging campaign to reduce home energy use and so far, eight properties have been thermally assessed, with the results fed back to the residents. At least one image showed an example of heat being emitted through a radiator on an external wall and the residents have been provided with reflective foil to fit behind the radiator to reduce the heat loss.
Repair Stall at East Oxford Farmers' and Community Market, East Oxford Primary School, OX4
East Oxford Farmers' Market asked Low Carbon East Oxford if they would like to run a repair stall. This launched on 14 March 2023, with several volunteers carrying out sewing and textile repairs and advising on many more. It attracted a steady stream of customers and several people have indicated that they intend to bring items to the next session. The stall proved popular, demand was high, and seems to fill a need in the community; the stall will dovetail with the Rose Hill Repair Cafes on the first Saturday every two months.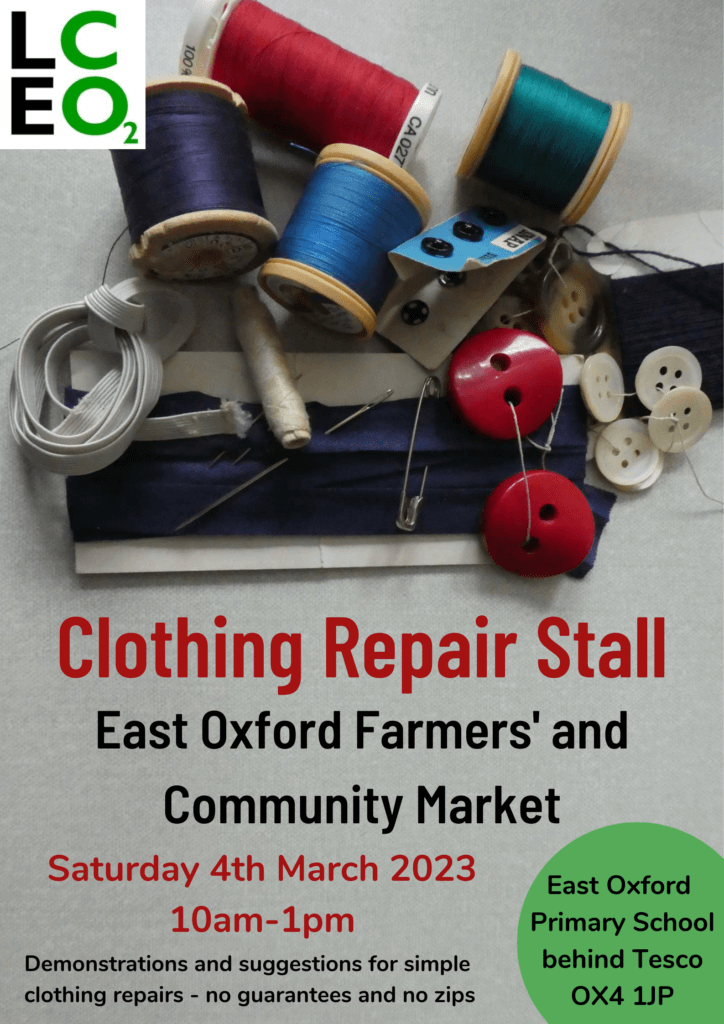 Community Tree Planting
They have an active trees group with a mission to increase the number of trees in East Oxford and double the tree cover in Oxfordshire. They are keen to support another Garden Tree Giveaway this coming autumn for residents to plant saplings in their gardens. Larger-scale plantings are not ruled out – connecting with landowners is a possibility for the future. There are helpful resources and advice on tree care on LCEO's website: here.