Community Group of the Month: Abingdon Carbon Cutters
Our community group of the month feature is one year old this month and we are celebrating with Abingdon Carbon Cutters as our May 2022 Community Group of the Month.
Abingdon Carbon Cutters are a long-standing environmental group that started in 2008 as one of Oxfordshire's Community Action Groups. They formed during a time of growing awareness of the environmental challenges we face and got together to look for ways of reducing their carbon footprint. They wanted to help the town of Abingdon adapt to a world of rising demand for limited natural resources.
Believing that more achievements happen when we work together, The Carbon Cutters hope to set an example by sharing thoughts and skills that inspire others to take action at a local level, either collectively or individually, that can make a difference and make local government take notice.
They firmly believe that working together is more fun!
The group hold monthly meetings and have established a presence in Abingdon through consistently exciting programmes of activities organised by a core group of willing and tireless volunteers.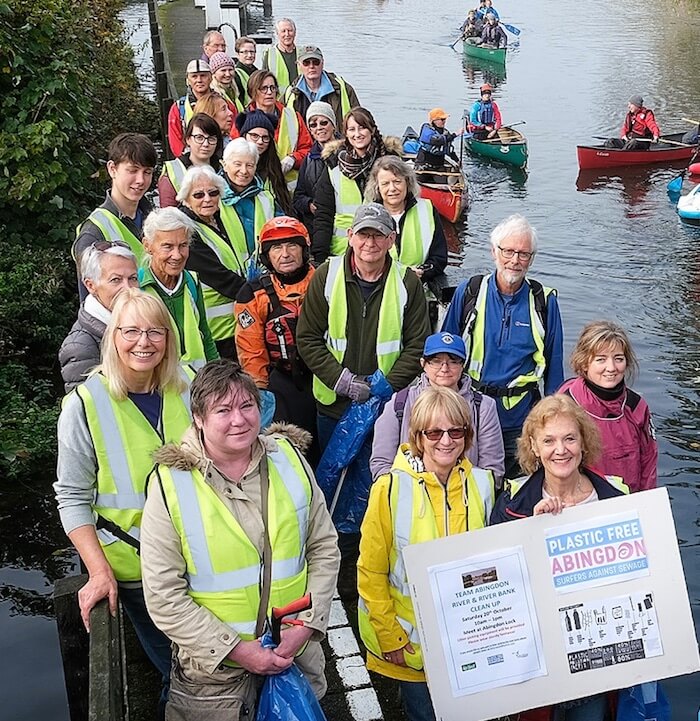 Abingdon Town Council declared a Climate Emergency in March 2019, in recognition of the crises of global warming and destruction of the natural environment. Urgent actions needed to be taken locally and the proposal of a series of Green Forums for 2022 were suggested by the Council's Green Environment and Amenities Committee. The purpose of the Forums is to promote and initiate changes which will help towards carbon neutrality within the town, reduce waste, promote the general well-being of residents and improve its Biodiversity.
A series of Forums on 4 different environmental topics:
As a result Abingdon Carbon Cutters initiated a Green Forum with other eco – groups in the town, including Sustrans, Abingdon Liveable Streets and the One Planet Abingdon Climate Emergency Centre. They hope that collectively their ideas will contribute to the Council's consultation process and policies to tackle climate change.
Abingdon Carbon Cutters have developed four active groups that concentrate on the following main areas of action during 2022:
Active Travel and Sustainable Transport
Biodiversity
Reducing Consumption
Reducing Carbon in the home
Abingdon Carbon Cutters have recently formed a Green Forum with other eco-groups in the town including the Climate Emergency Centre and Sustrans. The idea of a Green Forum was initially suggested by Cllr Gabby Barody as Chair of the Town Council Green Environment and Amenities Committee. The idea is to have a collaboration of Abingdon green groups who feed ideas into the Council's committee structure and enable collaboration with them and support from them.
Active travel and sustainable transport
The first of the Forum projects was to encourage residents of Abingdon to walk and cycle more and use their cars less, in order to reduce the carbon footprint of the town. They collaborated with representatives from local groups already active in this area, namely Abingdon Liveable Streets, Sustrans and Abibike and interviewed residents to encourage them to increase active travel.
This Forum culminated in an event in the Market Place on 26 March, showcasing the achievements of the project such as promoting electric bikes and tandems and increasing awareness of the Bikeability Scheme for schools. They promoted Oxford Cycle Network's map of cycle routes in Abingdon and Sustran's annual Big Walk and Wheel.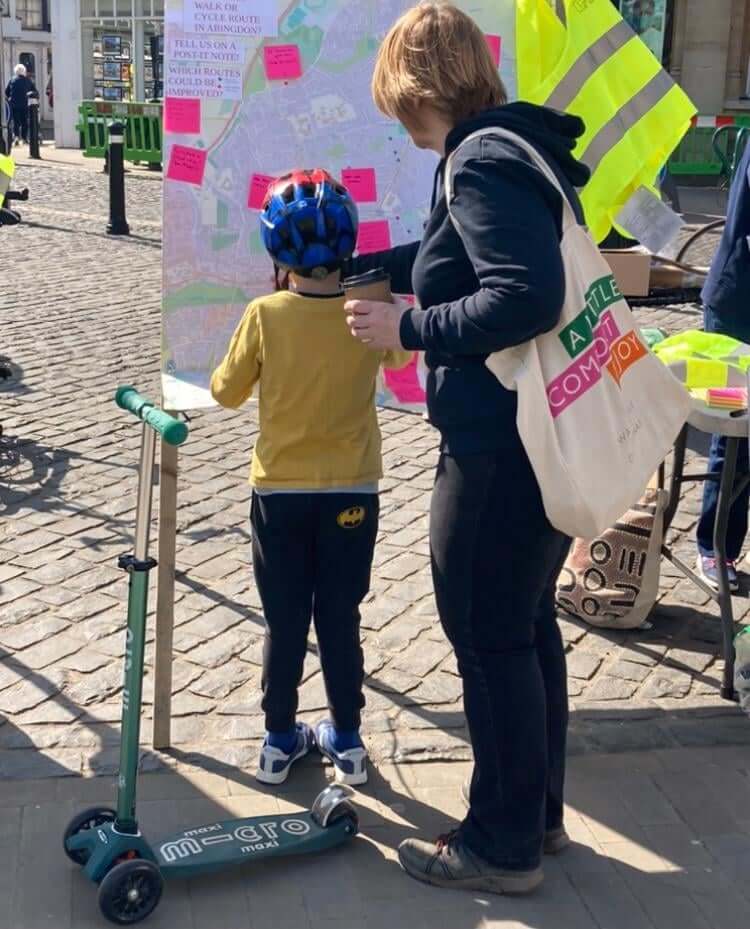 Schools competition to design high viz backpack and waistcoat.
The project was funded by a small grant from Low Carbon Hub. In order to involve younger people in the project the group held a competition for primary and secondary schools in the area to design an image or logo for a cycling hi-viz waistcoat or rucksack cover that would be visible to motorists and passers- by. The aim was for the Hi-Viz logo to draw attention to the environmental benefits of cycling and to encourage more people to cycle when possible. Fifty-three young people entered the competition from four primary different schools in the area. The winner and one of the runners up were from Fitzharrys School, Abingdon and the prizes were presented to the students by members of Abingdon Carbon Cutters and Abingdon Liveable Streets at a ceremony at the school.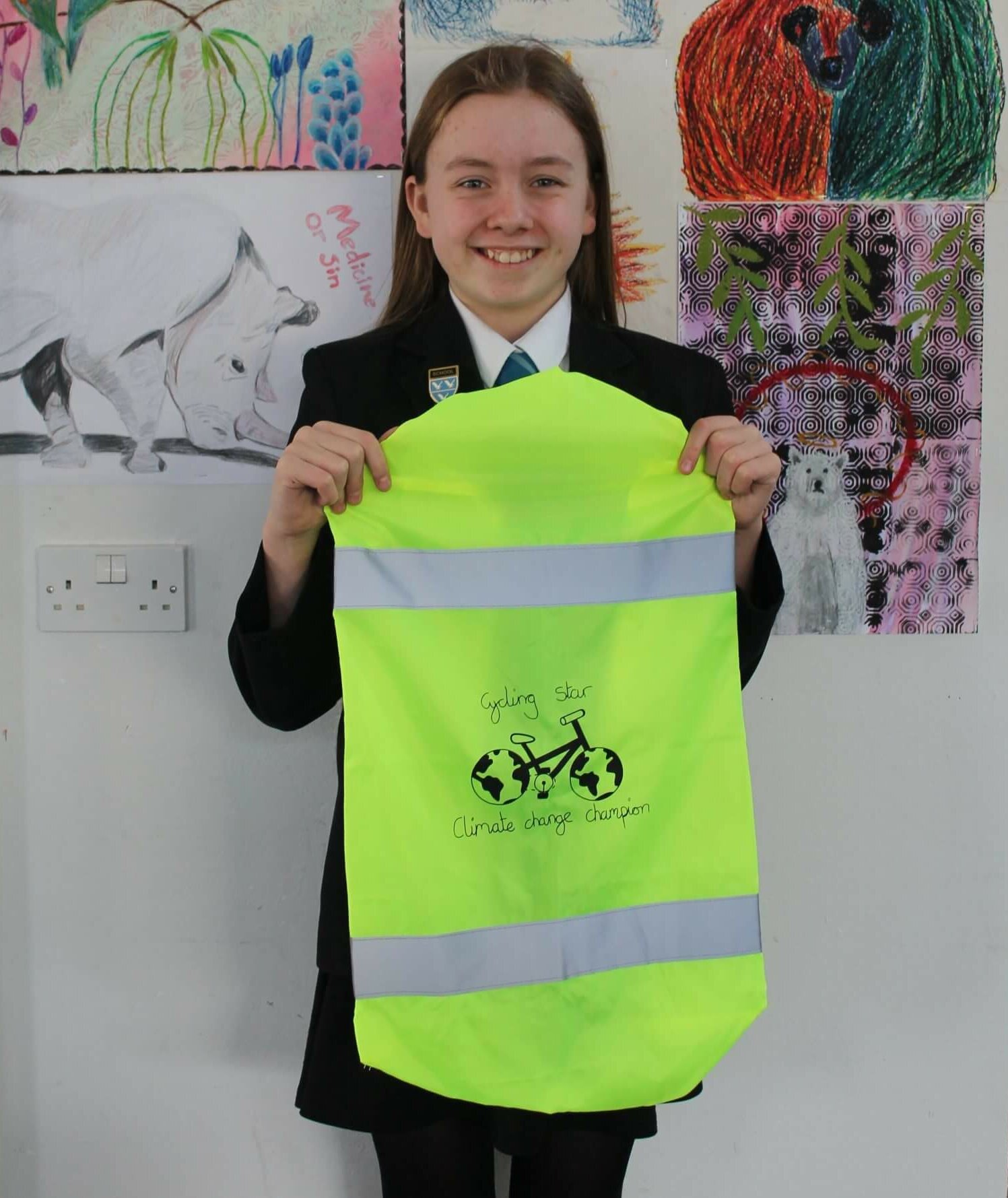 Abingdon Cuts Plastic
Abingdon Carbon Cutter's have a lively group, Abingdon Cuts Plastic, which started in January 2018 to encourage the town to limit their use of single plastics, using the slogan, "Refuse, Reduce, Refill and Re-use." The group are affiliated to the national environmental charity, Surfers Against Sewage and in summer 2019 became the 65th UK community to be granted Plastic-Free status.
They organise a twice-yearly river and riverbank clean-ups in conjunction with a litter-picking group and have persuaded 12 businesses in Abingdon to become Plastic-Free Champions. They present talks on how to reduce plastic pollution to schools and community groups and were helped by local MP Layla Moran in their campaign to get five Abingdon supermarkets and their suppliers to produce less plastic packaging.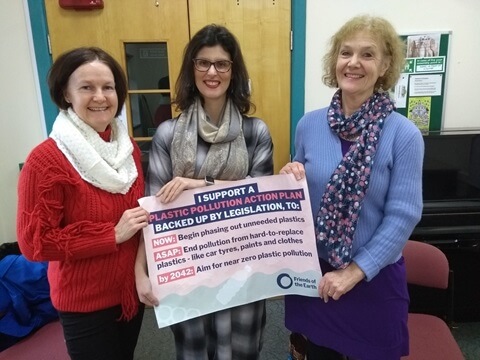 Tree Planting Group
The Carbon Cutters have an established interest in Biodiversity, with an active trees group with over 150 participants. They were given 420 "wild wood" trees by the Woodland Trust and held the first mass community tree planting event at Rye Farm Meadow earlier this year.
Food Growing Group
The Food Growing Group works with Vale of White Horse District Council to create herb and vegetable gardens that produce organic and wildlife-friendly fruit and vegetables. They hope encourage community growing and reduce dependence on fossil fuels and imported food.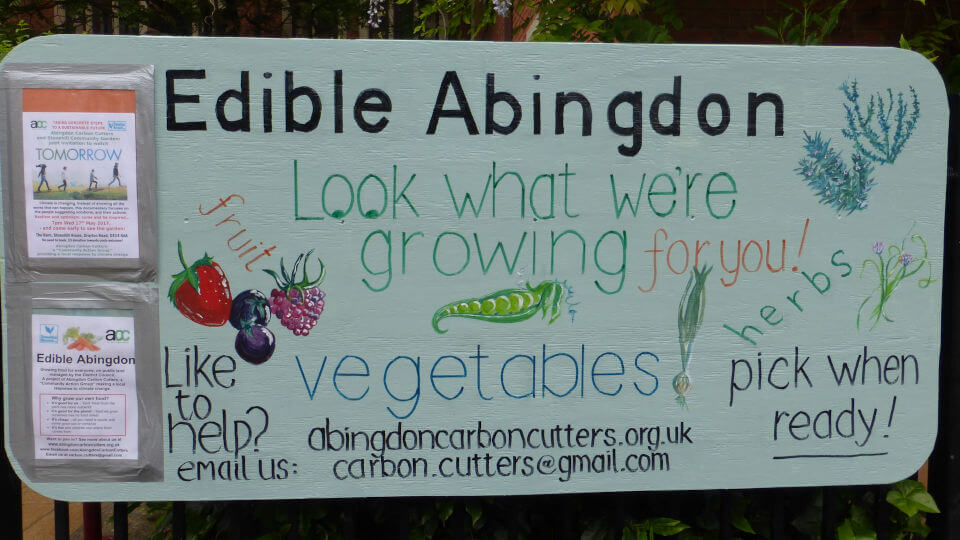 Home Energy
Abingdon Carbon Cutters are community advocates for Cosy Homes Oxfordshire, the home retrofit service that aims to make it easier for homeowners in Oxfordshire to install energy efficient measures in their homes. One of the core active group members underwent a partial home retrofit and you can find their case study on the Cosy Homes Oxfordshire here on the web site.
Micro Internships
Oxford University run micro-internships for their students which are short-term work-experience placements aimed at developing professional skills. ACC has participated in Oxford University's micro-internship programme several times –
Two students researched money and carbon-offsetting in 2020. (See Emily Passmore's: Carbon Footprint of Money and Luke Hatton's: Report on Carbon Offsetting).
Students devised a questionnaire for businesses. They asked people in Abingdon how they travel to work and considered ways to reduce the use of cars. The report of their findings is available here (pdf) – it has been shared with the Town Council and used to inform Abingdon's neighbourhood plan.