Celebrate World Book Day with these climate related books

UNESCO created World Book Day on 23 April 1995 as a worldwide celebration of books and reading. The first World Book Day in the UK and Ireland took place in 1997 to encourage young people to discover the pleasure of reading.
This year is the 25th year there has been a World Book Day, and to celebrate this, we thought we share 25 books that our team has recommended.
(listed in no particular order)
'All We Can Save' by Ayana Elizabeth Johnson and Katharine K Wilkinson (2020)
'Doughnut Economics: Seven Ways to Think Like a 21st-Century Economist' by Kate Raworth (2017)
'This Changes Everything' by Naomi Klein (2014)
'No One Is Too Small to Make a Difference' by Greta Thunberg (2019)
'How to Avoid a Climate Disaster' by Bill Gates (2021)
'Hope in the Dark' by Rebecca Solnit (2004)
'Weather' by Jenny Offil (2020)
'Less Is More' by Jason Hickel (2020)
'This Is Not A Drill: An Extinction Rebellion Handbook' by Extinction Rebellion (2019)
'Silent Spring' by Rachel Carson (1962)
'99 Maps to Save the Planet' by Katapult (2021)
'Youth to Power: Your Voice and How to Use It' by Jamie Margolin (2020)
'Race for Tomorrow: Survival, Innovation and Profit on the Front Lines of the Climate Crisis' by Simon Mundy (2021)
'Climate Change is Racist' by Jeremy Williams (2021)
'Climate Justice: Hope, Resilience and the Fight for a Sustainable Future' by Mary Robinson (2018)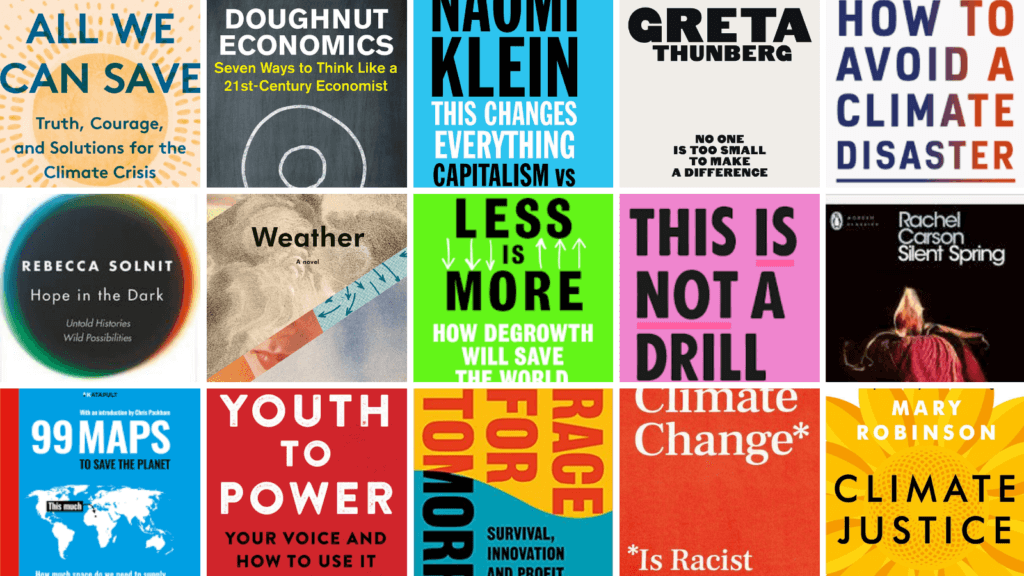 Speaking to children about the climate crisis can be extremely challenging, but it is so important. We decided to make sure our final ten books were for children!
(in age recommendation order)
'Clean Up!' by Nathan Bryon & Dapo Adeola (2020) – 2-5 years old
'Hello, Mr World' by Michael Foreman (2017) – 3+
'Old Enough to Save the Planet' by Anna Taylor (2020) – 6+
'Stuff' by Maddie Moate & Paul Boston (2021) – 7-9 years old
'The Bear in the Stars' by Alexis Snell (2020) – 7-11 years old
'Max Takes a Stand' by Tim Allman (2020) – 8+
'Climate Rebels' by Ben Lerwill (2020) – 8-11 years old
'We Have a Dream: Meet 30 Young Indigenous People and People of Colour Protecting the Planet' by 'Birdgirl' Dr Mya-Rose Craig (2021) – 9-12 years old
'The Boy Who Harnessed the Wind' by William Kamkwamba (2009) – 9-11 years old
'How You Can Save the Planet' by Hendrikus van Hensbergen (2021) – 9-12 years old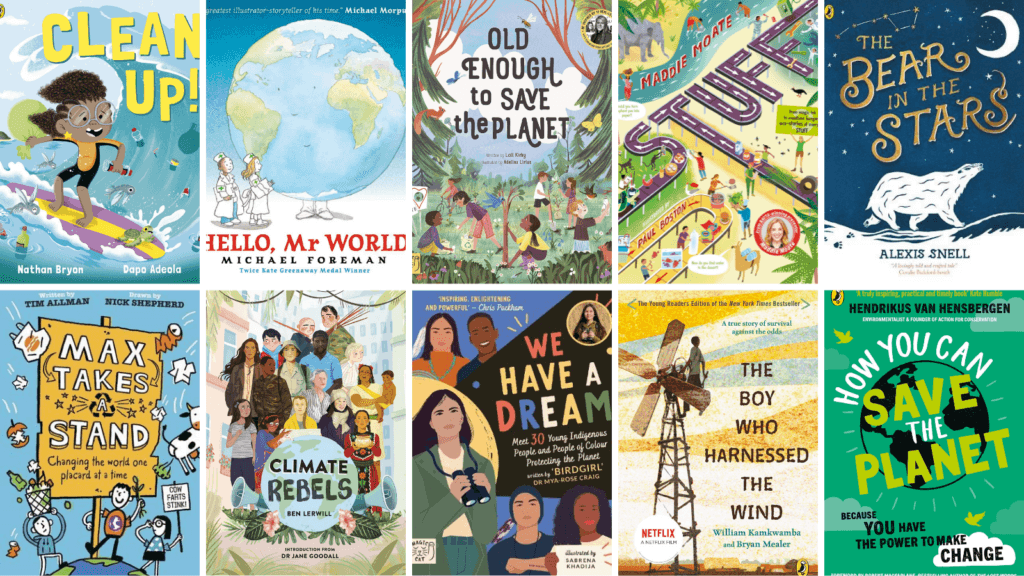 If you're still looking for more children's books, be sure to check out Low Carbon West Oxford's blog post 'Mim's top picks from the Many Voices Collection – books to educate, inspire and move'. Mim has picked out her top four books from the collection (with a few special mentions).
We know this list is nowhere near exhaustive, and there were so many more we could have included. However, we hope you might have found something new and engaging on this list.
Happy reading!