The most significant climate conference in the world may be over, but that doesn't mean you can't catch up with the many events that took place over the two weeks.
If you missed it, our CEO Barbara Hammond took part in a panel event: 'How communities can coordinate and collaborate to play a more active role in the future energy system'. The session looked at the critical role communities will play in the transition to net zero. Laura Sandys CBE chaired the event. She was joined by representatives from National Grid ESO, University of Oxford, Oxford Brookes University, Low Carbon Hub, Origami Energy, Baringa, Element Energy, and Energy Systems Catapult and Disabled Motoring UK.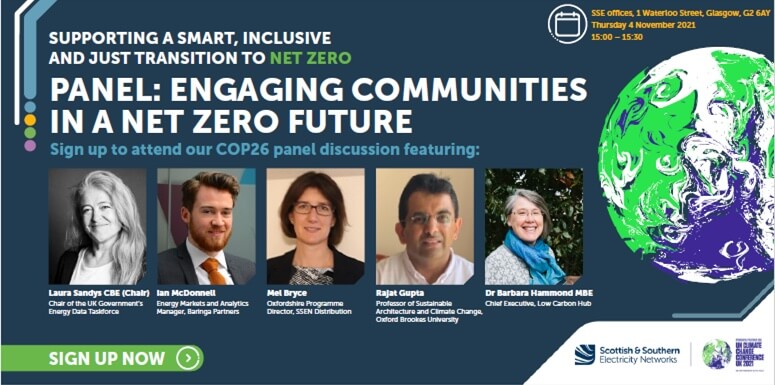 Three other panel discussions happened on the same day, hosted by Project LEO partners, SSE.
For more accounts from COP26, read our second week daily blogs from our Marketing and Communications Coordinator, Zoe.
---
News story

Word of the day: Local After Wednesday away from the Blue Zone, I was ready to get back to the hustle and bustle of the pavilions. Thursday's theme was Cities, Regions and Built Environment. Around COP26, the day was also referred to as local authority/local government day, emphasising how local governments can work with communities…