An update on Cosy Homes Oxfordshire – our home retrofit pilot project
In February 2019 we announced that Low Carbon Hub were part of a consortium (alongside RetrofitWorksand National Energy Foundation) which had won a bid with the Department for Business, Energy, and Industry Strategy (BEIS) to develop a home retrofit scheme in Oxfordshire.
This bid became Cosy Homes Oxfordshire –a home retrofit service aiming to help homeowners have healthier, more comfortable, and more energy efficient homes. It took a tried and tested method from RetrofitWorks, who were already working on similar schemes in Sussex and London, and brought this method to Oxfordshire in a pilot.
Now, 10 months down the line, we wanted to give you an update on how Cosy Homes Oxfordshire has been going.
Service update
The Cosy Homes Oxfordshire service is now up and running and proving very popular. The service is a one-stop shop for all home retrofit needs, with a Retrofit Coordinator acting as a single point of contact for the homeowner throughout the process.
The process starts with a home assessment and the development of a Whole House Plan, giving expert recommendations on how to improve the comfort and energy efficiency/performance of a home. If the homeowner decides to go ahead with any of the recommended work, they are then given quotes from the Cosy Homes list of trusted suppliers and contractors.
So far (as of November 2019) Cosy Homes Oxfordshire has had:
Referrals: 140
Whole House Plans paid for: 83
Home assessments completed: 73
Whole House Plans delivered: 56
Houses planning improvements: 16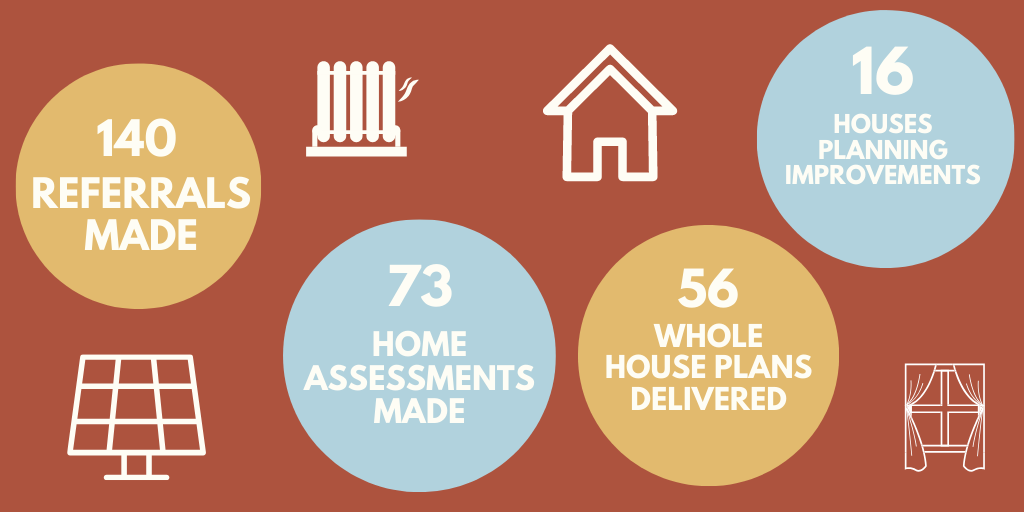 How the service works
The Cosy Homes Oxfordshire team has been working on making sure it's as clear as possible what the service and process looks like, so that home owners know what to expect when they register their homes. We now have a graphic which shows each step of the process, which can be found on the Cosy Homes website, as well as below.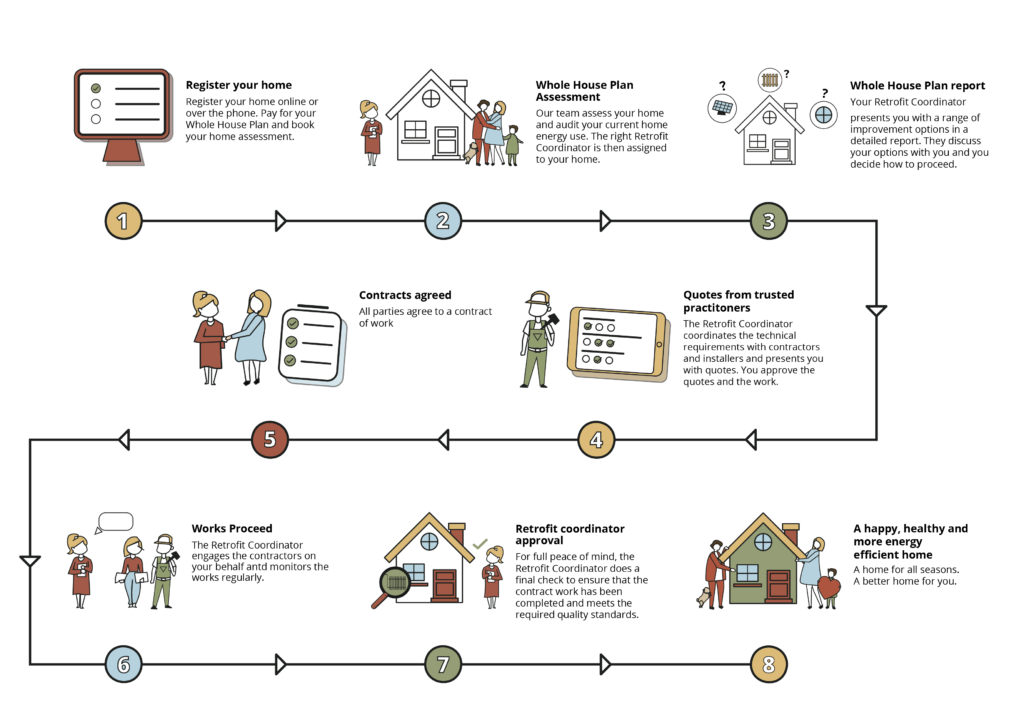 The first step in the process is to have a home assessment, carried out by a member of the RetrofitWorks team. This assessment enables us to be able to see where you are losing energy within your home and, therefore, to be able to accurately identify appropriate energy efficiency measures – which are then delivered within the Whole House Plan.
We've had lots of questions about what happens during this home assessment, so recently we did some behind-the-scenes filming during a day of home assessments in Hook Norton and produced this video so that homeowners know what to expect.
Retrofit Coordinators and trusted suppliers
As our referrals grow, we want to make sure we have the Retrofit Coordinators and trusted suppliers needed to deliver Whole House Plans and retrofit work. We're always on the look out for more people to join the team, so please do let us know if you'd like to get involved.
Retrofit Coordinators
Retrofit Coordinators are responsible for creating Whole House Plans and managing the process for the customer. To become a Retrofit Coordinator you need to have a Level 3 qualification in a built environment discipline, work experience in the building industry, and excellent customer services skill.
Trusted suppliers
As well as Retrofit Coordinators, we also want to build up our team of trusted suppliers who can deliver energy efficiency improvement work for homeowners who want to go ahead with recommendations from their Whole House Plan.
This includes: general builders, contractors, installers, energy assessors, architects, refurbishment specialists, and more.
The benefits of becoming a supplier include:
Access to leads, giving opportunities to quote for new contracts and gain new customers
Access to Building Performance Specifications designed to help you quote for the work required easily, saving you time and resources
Support with managing admin and the customer's journey, so you can focus on the work you do best
Membership to the Retrofit Works cooperative: a community of others working in the building industry
Other Cosy Homes news
RetrofitWorks opened a new office in Charlbury, meaning they're now in the heart of the project in Oxfordshire. They also hired an Administrative Assistant, Arantxa Mathias, who is now the main point of contact for homeowners and suppliers, ensuring the process is as smooth as possible.
We've been working with some of our Low Carbon Hub community groups to bring the Cosy Homes Oxfordshire service to their local community. They've been holding events and speaking to people in their local communities about the important of home retrofit – and as always, we're incredibly grateful for their support and network.
Read next…
News story

Do you have a background in the building industry? If so, would you like to train and become a Retrofit Coordinator? Cosy Homes Oxfordshire is a partnership project being delivered by Low Carbon Hub, RetrofitWorks and the National Energy Foundation to help homeowners improve the energy efficiency of their homes. It's a scheme which is new…