COP26 Day 8: Adaptation, Loss and Damage
Word of the day: Resilience
The second week of COP26 started under grey Glasgow skies on Monday. The weather didn't improve, unfortunately, but the day did! After starting with a couple of hours queueing to get in and then registering, just getting into the coveted Blue Zone felt like an achievement. It is a vast space with lots of people and feels like a hive of activity despite feeling somewhat overwhelming at first. The UK Presidency Pavilion had several exciting panel events that I attended.
UK Pavilion: International cultural heritage and adaptation: From Rome to Glasgow
A considerable amount of cultural heritage is at risk from climate change. This shared history at stake is not often considered, only second to the natural world. Unless we act quickly, the losses to our global community will be disastrous and irreplaceable. The panel session was co-hosted by the UK and Italian Culture Ministers, Nadine Dorries MP (Secretary of State, Department for Digital, Culture, Media, and Sport – UK), Dario Franceschini (Minister of Culture – Italy), and Erminia Sciacchitano (Minister of Culture – Italy). Dr Ewan Hyslop (Head of Technical Research & Science at Historic Environment Scotland) and Laurent Gaveau (Head of Google Arts & Culture Lab Paris) made up the rest of the panel.
Following the commitments made at the G20 Culture Ministerial, the panel highlighted different projects worldwide, illustrating the position of communities in protecting and conserving cultural heritage, reinforced with digital media and storytelling.
---
UK Pavilion: How can technology build resilience to climate change?
The second event of the day was an excellent panel that discussed how vital technology is when addressing the effects of climate change – from food production and ecological degradation to financial and government stability. Societies need to adapt to an uncertain and changing world and do it quickly. Technology is one of the primary ways to do this.
Andrew Harper (Special Advisor to the High Commissioner for Climate Action, the UN Refugee Agency) moderated the event. The panel consisted of Prof. Alberto Arribas (Europe Sustainability Science Lead, Microsoft), Dr Pema Gyamtsho (Director General, International Centre for Integrated Mountain Development Himalayan Consortium), Prof. Ros Cornforth (Director, Walker Institute, University of Reading), and Dr Estherine Fotabong (Director of Programmes, New Partnerships for Africa's Development).
Technology enables us to scale up local data, knowledge and approaches to have a global impact. However, the critical issue coming from the panel was that one specific question needs to be answered before any of this technology is developed: What kind of technology or innovation will benefit and be helpful for those on the ground? If the end-user is not prioritised, we will only build solutions that aren't fit for purpose. This was a theme that continued throughout the week.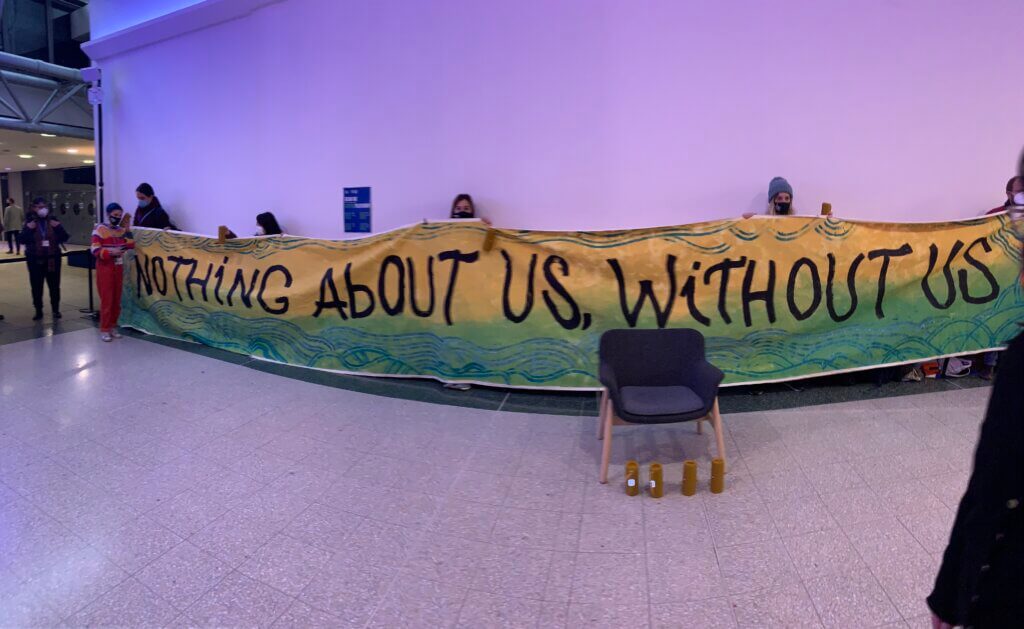 ---
UK Pavilion: Protecting the Hardest Hit: the Critical Role of Gender Equality and Social Protection
Anne-Marie Trevelyan MP (Secretary of State for International Trade of United Kingdom) gave the opening remarks at the final panel of the day and highlighted how women and girls are hit hardest from the effects of climate change, especially those who have contributed least. She also called for all climate action to be gender-responsive and for social protection to consistently be considered a crucial part of the response to climate change. Social protection builds resilience before crises occur, supports people to adapt their livelihoods and protects them from disasters when they occur.
This event brought together speakers working at the intersection of social protection, gender equality and climate change, including:
· Sunya Orre – Director, Technical Services, National Drought Management Authority, Kenya
· Idrissa Smna – Head of Safety Net Unit and Senior Advisor to the Prime Minister of Niger
· Mirai Chatterjee – Director Social Security, SEWA, India
· Kirsty McNeill – Executive Director Policy, Advocacy and Campaigns, Save the Children UK
· Bernice Van Bronkhorst – Global Director for Climate Change, World Bank, USA
Together, the speakers explored the opportunities, challenges and practical steps needed to expand climate-smart and inclusive social protection. Emphasis was made on designing for those that need it. If policy and technology solutions are viewed through the eyes of women and girls from the beginning, then they are way more likely to be effective. There was also an emphasis on knowledge sharing across countries to maximise the number of positive policies that are developed.
Social protection has vast potential to reach and empower those disproportionately affected by climate change, especially women and girls. Still, it can only do so when it is designed to benefit the marginalised.
Despite the revelation that there are more delegates at COP26 associated with the fossil fuel industry than any individual country, the day was primarily a success. It is a shame that rooms cannot be at capacity as that means many people are live-streaming the panel whilst sitting just outside the room.
The rest of the week will no doubt bring more announcements and press releases, hopefully with enough action that brings us to the 1.5C goal.
---
Follow us to catch up on Zoe's live reports from COP26 on our Facebook, Instagram and Twitter.